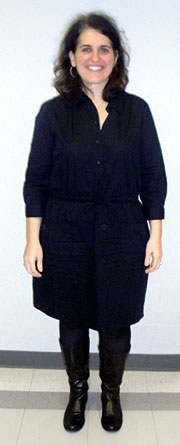 December 9: 209 pounds

Miley Cyrus 'swatted' again
Miley Cyrus has the dubious distinction of being the only two-time celebrity victim of a "swatting" prank, according to TMZ.

Report: Kristen Stewart and Robert Pattinson break up
By Sadie Gennis, Kristen Stewart and Robert Pattinson have broken up, People reports. According to a source, the Twilight stars have parted ways after more than three years of dating.

Twilight Zone actress Christine White dies at 86
Christine White, an actress best known for The Twilight Zone, passed away in Washington, D.C., the Carroll County Times reports. She was 86.

Vacation with your dog on a budget
Not only is it possible to enjoy a fun vacation with your dog, but it's also easier than ever to do so while being frugal.

ADHD in childhood may raise risk for obesity in adulthood
Boys who are diagnosed with attention deficit-hyperactivity disorder (ADHD) are twice as likely to become obese adults as those who didn't have the disorder when they were young, a new 30-year study shows.

Heart attack? Doctors soon may have an app for that
There are apps that turn your smartphone into a metal detector, a musical instrument and a GPS system, and now there's an app that may help doctors save your life if you're having a heart attack.

Managing seasonal allergies
Although spring arrived late this year in parts of the United States, the summer allergy season will still be strong, according to a sinus expert at the University of Alabama at Birmingham.

Why you need a will
Wills are not only for the wealthy or the old. Every adult should have one.

Simple weatherizing for summer
Weatherizing a home to reduce energy usage and maximize savings is something homeowners think about in cold weather. The fact is, energy efficiency is just as important during summer months,...

Cheap car or ugly car: Which would you pick?
Would you rather get a good deal on a new car that's built on a seven-year-old design, or would you prefer to wait for the sparkly, contemporary version, which should age a bit slower?

By Lisa Spodak ResultsNotTypical@worldnow.com
Provided by WorldNow
Weight loss is hard, isn't it?? You'd think that would stop surprising me at some point.
I didn't get the drastic "starting" weight loss that I'd been hoping for this week, but, I'm relieved simply to feel like I've finally stopped the creeping back up. It's time for me to stop gaining and losing the same couple of pounds over and over, and if that has to mean cycling between staying-the-same and losing for awhile, I'm cool with that.
I struggled a little more this week than I had been expecting to and I'm still trying to get the night time eating back under control, but I feel good and I'm hoping to get some momentum going soon in a downward direction. I'm still committed to trying to lose 25 pounds by March and 40-50 pounds by my brother's wedding in June, so I've got a couple of big challenges to meet.
That being said, I'm trying to be a little easier on myself and cut myself some slack about my less-than-spectacular start back on my weight loss path (without making excuses). This is a hard time of year to lose weight – it's starting to get cold out, which means I'm craving comfort foods; the days are short and dark, which makes it hard to get out of bed early to head to the gym; and it's holiday season and it feels like I'm socializing every other night! Lots of obstacles to overcome – but I know it's possible.
Last week I set some goals:
1) Meet my friend Annie at the gym in the morning at least twice
2) Make use of all the groceries I've bought this week before they go bad
3) Go to bed before midnight at least 4 times
4) Try one new recipe
5) Resist all unplanned snacks at work (ie, holiday candies/gifts)
How did I do?
1) Met Annie at the gym in the morning once – but also worked out with my trainer, walked/jogged outside one morning, and took two group classes.
2) I threw away a few things that I couldn't use fast enough, but definitely cooked at home more often than usual and focused on bringing lunch to work.
3) Did not do well with the sleep this week! Only got to bed before midnight once.
4) I didn't try a specific recipe, but I did try something new – broiling a pork chop in the toaster oven! I simply sprinkled it with salt and pepper and cooked it for about 20 minutes in the toaster and it was delicious! I ate it with some roasted asparagus.
5) It felt like the temptations at work started about five minutes after I made that goal! And, I am proud to say that I was able to resist strange Japanese candies, French fries and a donut over the course of the week! My success at home was a little less consistent, but I'm working on it!
I'll be on vacation from Friday through Thursday (which means no blog next week!) so I've got a special batch of goals this week:
1) Work out at least 3 times while I'm away
2) Continue to track all my food while on vacation
3) Choose one nice dinner with my family to have a glass of wine, but no drinking on vacation beyond that
4) Sleep for 8 hours a night while on vacation (I may not go to bed by midnight, but I can sleep in!)
5) We'll be staying in a timeshare with a kitchen, so I want to eat breakfast every day and lunch at least half the days in the room
Week 2 Weigh In:
Starting weight: 209
Last week: 209
This week: 209
Change: 0
Overall change: 0