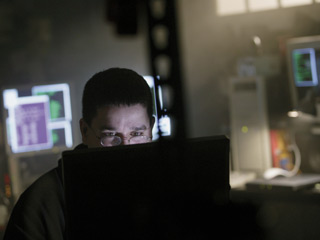 An "observer" of an Internet Relay Chat (IRC) channel used by the hackers oversaw the group's planning of another attack against Sony's website (© Comstock / Thinkstock)

How to stay anonymous online
Pretty soon, just about everything we do on the Web will be logged, analyzed, and used for things outside of our control. Here are some ways to help stop that.

Six tips to bombproof your password
How can we make our passwords more hack-resistant and manage all the passwords we need?

Facebook cuts off Social Roulette
True to its name, Social Roulette is a game of roulette in which you're gambling your digital life. After giving the app permissions, you then take a one-in-six chance of letting it delete your Facebook account.

7 bizarre Airbnb rentals that are almost too weird to believe
Weird accommodation options are part of Airbnb's charm, so we'd like to propose seven current listings that should be verified immediately.

Will a spotless inbox really supercharge your productivity?
Inbox Zero is the theory that an empty e-mail inbox is good for peace of mind and productivity. So is it?

Best iPhone 5 accessories
When it comes to iPhone 5 accessories, the options just keep on coming, and there are a lot of little extras that can really improve your experience.

Man arrested after selling his grandson on Facebook
Facebook is basically integrated into every part of our lives. You use it to catch up on friends' lives, meet people, find events, message people but it's also a place where people go to sell live human babies online.

Scan these smart pajamas to launch a bedtime story for the kids
Using the camera on a smartphone or tablet, a parent or child can scan one of forty-seven dot patterns printed on kids pajamas to launch a story.

There was no White House bombing; AP's Twitter hacked
If you're wondering why the Associated Press tweeted that there was an explosion at the White House, it's because its account was hacked.

Facebook Home reaches 500,000 downloads
Mobile analyst Ben Evans has noted a milestone of 500,000 Facebook Home downloads since the service launched on Google Play.

It ain't over till it's over: A group of unidentified hackers is reportedly planning a third attack against Sony, which is still trying to clean up a security breach that left the personal data of more than 77 million PlayStation Network and Qriocity gamers exposed and the network itself in shambles.
According to CNet, an "observer" of an Internet Relay Chat (IRC) channel used by the hackers oversaw the group's planning of another attack against Sony's website. The source says that the group already has access to Sony's servers, and plans to publish whatever information the obtain from those servers online. That, says the source, could include customer names, credit card numbers and addresses.
It is not yet clear whether the hacker group is, in fact, that of Anonymous, which recently waged a distributed denial of service (DDoS) attack against Sony's websites in retaliation against the electronics giant's lawsuit against PlayStation 3 jailbreaker George "GeoHot" Hotz. But, of course, Anonymous is the first suspect that comes to mind.
Earlier this week, Sony issued a letter to Congress in response to questions about the massive security breach of the PlayStation Network that put 12.6 million credit card numbers at risk. In the letter, Sony board chairman Kazuo Hirai said that the company's security team had found two files — one labeled "Anonymous, the other labeled with the Anonymous slogan "We are legion" — on its servers. While Sony admits that it has no idea whether Anonymous is the same group who broke into their system, the company places the blame on Anonymous.
"Whether those who participated in the denial of services attacks were conspirators or whether they were simply duped into providing cover for a very clever thief, we may never know," wrote Hirai in the letter. "In any case, those who participated in the denial of serve attacks should understand that – whether they knew it or not – they were aiding a well planned, well executed, large-scale theft that left not only Sony a victim, but also Sony's many customers around the world."
Anonymous, which called off its "Operation Sony" DDoS attack days before the PSN breach took place, has firmly and repeatedly denied having played a role in the PlayStation Network breach, and says any evidence that they were involved is the work of their enemies.
"Whoever broke into Sony's servers to steal the credit card info and left a document blaming Anonymous clearly wanted Anonymous to be blamed for the most significant digital theft in history. No one who is actually associated with our movement would do something that would prompt a massive law enforcement response," writes Anonymous spokesman Barrett Brown in a press release published Wednesday afternoon. "On the other hand, a group of standard online thieves would have every reason to frame Anonymous in order to put law enforcement off the track. The framing of others for crimes has been a common practice throughout history."
With the threat of a new attack hanging in the air, Sony is already working frantically to clean up the mess that hackers already created. Thursday, Sony CEO Howard Stringer issued a letter of apology to PSN users, saying that he and the company are sorry "for the inconvenience and concern caused by this attack," and that Sony has "teams working around the clock and around the world to restore your access to those services as quickly, and as safely, as possible."
In addition, Sony has announced that it will offer US users of the PSN identity theft protection free for one year through the AllClear ID Plus service.
Sony's problems don't stop with customers, however. Today, New York Attorney General Eric Schneiderman issued Sony a subpoena over the breach and resulting data theft.