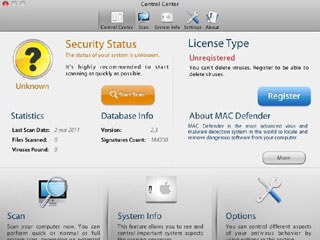 The Mac Defender virus attacks users if they click on an infected link on the Web, usually in a search engine like Google. (Image courtesy of Digital Trends)

Pizza on Mars: NASA funds development of 3D printer that can knock out pizza
NASA has awarded a mechanical engineer a grant worth $125,000 to help him create a 3D printer for food.

How to stay anonymous online
Pretty soon, just about everything we do on the Web will be logged, analyzed, and used for things outside of our control. Here are some ways to help stop that.

Six tips to bombproof your password
How can we make our passwords more hack-resistant and manage all the passwords we need?

Facebook cuts off Social Roulette
True to its name, Social Roulette is a game of roulette in which you're gambling your digital life. After giving the app permissions, you then take a one-in-six chance of letting it delete your Facebook account.

7 bizarre Airbnb rentals that are almost too weird to believe
Weird accommodation options are part of Airbnb's charm, so we'd like to propose seven current listings that should be verified immediately.

Will a spotless inbox really supercharge your productivity?
Inbox Zero is the theory that an empty e-mail inbox is good for peace of mind and productivity. So is it?

Best iPhone 5 accessories
When it comes to iPhone 5 accessories, the options just keep on coming, and there are a lot of little extras that can really improve your experience.

Man arrested after selling his grandson on Facebook
Facebook is basically integrated into every part of our lives. You use it to catch up on friends' lives, meet people, find events, message people but it's also a place where people go to sell live human babies online.

Scan these smart pajamas to launch a bedtime story for the kids
Using the camera on a smartphone or tablet, a parent or child can scan one of forty-seven dot patterns printed on kids pajamas to launch a story.

There was no White House bombing; AP's Twitter hacked
If you're wondering why the Associated Press tweeted that there was an explosion at the White House, it's because its account was hacked.

By Jeffrey Van Camp
Provided by

In the next few days, Apple plans to release a patch to its Mac OS X to kill the "Mac Defender" virus that has been tricking Apple users into giving away their credit card information. News of the patch comes from Apple's Support site, which now has an entire page dedicated to the malware, which has been spreading across the Mac world.
"In the coming days, Apple will deliver a Mac OS X software update that will automatically find and remove Mac Defender malware and its known variants," says Apple. " The update will also help protect users by providing an explicit warning if they download this malware."
However, for those with more immediate problems, Apple has provided a guide to avoid installing the malicious software, which also goes by the names MacSecurity and MacProtecter, and how to remove it if you've already made a huge mistake and installed it. If you haven't yet installed Mac Defender, Apple recommends Force Quitting your browser before it installs or aborting the installation and dragging the installer out of your downloads folder and into the Trash. If you've already installed it, follow the steps on the site, which we've also included below.
The Mac Defender virus attacks users if they click on an infected link on the Web, usually in a search engine like Google. Many of the infected websites have been positioned using search engine optimization (SEO), so they appear high in results. Once infected, a window pops up telling a user that the computer is infected with a virus. The real virus is, of course, Mac Defender, which masquerades as an antivirus problem that will supposedly delete the virus for a fee of somewhere between $59.95 and $79.95. The virus also hijacks your browser and displays pornography.
Oddly, the Mac Defender scanning window resembles a Windows XP application, but this doesn't seem to have stopped Mac users from being tricked, likely because they are not used to such attacks. ZDNet estimates that as many as 125,000 users have been infected. Until now, Apple computers have not been attacked by a virus at this scale. Most users do not have antivirus programs installed, nor do most Apple experts recommend malware programs. This tricky kind of attack is fairly routine in the Windows world.
If you've been infected by Mac Defender or know more about it, please comment below.
Steps to remove Mac Defender
Move or close the Scan Window
Go to the Utilities folder in the Applications folder and launch Activity Monitor
Choose All Processes from the pop up menu in the upper right corner of the window
Under the Process Name column, look for the name of the app and click to select it; common app names include: MacDefender, MacSecurity or MacProtector
Click the Quit Process button in the upper left corner of the window and select Quit
Quit Activity Monitor application
Open the Applications folder
Locate the app ex. MacDefender, MacSecurity, MacProtector or other name
Drag to Trash, and empty Trash
Malware also installs a login item in your account in System Preferences. Removal of the login item is not necessary, but you can remove it by following the steps below.
Open System Preferences, select Accounts, then Login Items
Select the name of the app you removed in the steps above ex. MacDefender, MacSecurity, MacProtector
Click the minus button