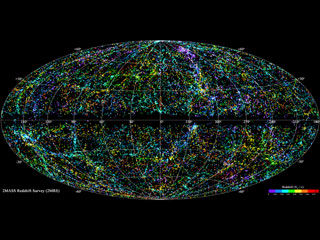 © T.H. Jarrett (IPAC/SSC)

Six tips to bombproof your password
How can we make our passwords more hack-resistant and manage all the passwords we need?

Facebook cuts off Social Roulette
True to its name, Social Roulette is a game of roulette in which you're gambling your digital life. After giving the app permissions, you then take a one-in-six chance of letting it delete your Facebook account.

7 bizarre Airbnb rentals that are almost too weird to believe
Weird accommodation options are part of Airbnb's charm, so we'd like to propose seven current listings that should be verified immediately.

Will a spotless inbox really supercharge your productivity?
Inbox Zero is the theory that an empty e-mail inbox is good for peace of mind and productivity. So is it?

Best iPhone 5 accessories
When it comes to iPhone 5 accessories, the options just keep on coming, and there are a lot of little extras that can really improve your experience.

Man arrested after selling his grandson on Facebook
Facebook is basically integrated into every part of our lives. You use it to catch up on friends' lives, meet people, find events, message people but it's also a place where people go to sell live human babies online.

Scan these smart pajamas to launch a bedtime story for the kids
Using the camera on a smartphone or tablet, a parent or child can scan one of forty-seven dot patterns printed on kids pajamas to launch a story.

There was no White House bombing; AP's Twitter hacked
If you're wondering why the Associated Press tweeted that there was an explosion at the White House, it's because its account was hacked.

Facebook Home reaches 500,000 downloads
Mobile analyst Ben Evans has noted a milestone of 500,000 Facebook Home downloads since the service launched on Google Play.

Smart fabric turns people into electronic chameleons
A group of researchers is investigating ways to weave electronic fabric into clothes to allow the clothes to become "smart garments" – clothes that could change the way they look.

By Jeffrey Van Camp
Provided by

If you'd like to see what 10 years of hard work looks like, we've got it right here. For a decade, a group of astronomers has worked to complete what you see here, a screenshot of the 2MASS Redshift Survey (2MRS), which attempts to map out our entire known galaxy in 3D space. Extending to a distance of 380 million light-years, this new study uses infrared technology and 'redshifts' to determine the distance of more than 43,000 galaxies, covering 95 percent of our sky. The only thing we can't yet see are the galaxies hidden behind our own Milky Way galaxy, which blocks our view. The black band in the middle of the above image represents everything currently blocked by the Milky Way.
To get this 3D image of the universe, a team led by John Huchra spent the last decade taking a detailed 2D view of the universe, called the "Two-Micron All-Sky Survey" (2MASS), and mapping all of the galaxies out in 3D space by scanning the entire sky in three near-infrared wavelength bands. According to the Harvard-Smithsonian release, "near-infrared light penetrates intervening dust better than visible light, allowing astronomers to see more of the sky."
Sadly, Huchra did not live to see his work completed. The final observations were finished shortly after Huchra's death in October 2010.
Still, for the Star Trek geeks out there, keep this in mind. In all of Star Trek, humanity never finishes exploring even a quarter of our own galaxy (the alpha quadrant). One can only imagine how much there is to see and how many strange and new things exist in 43,000 of them.