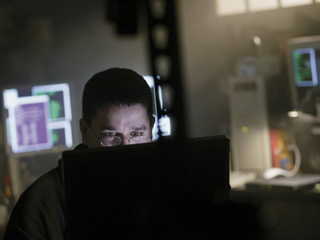 © Comstock / Thinkstock

Pizza on Mars: NASA funds development of 3D printer that can knock out pizza
NASA has awarded a mechanical engineer a grant worth $125,000 to help him create a 3D printer for food.

How to stay anonymous online
Pretty soon, just about everything we do on the Web will be logged, analyzed, and used for things outside of our control. Here are some ways to help stop that.

Six tips to bombproof your password
How can we make our passwords more hack-resistant and manage all the passwords we need?

Facebook cuts off Social Roulette
True to its name, Social Roulette is a game of roulette in which you're gambling your digital life. After giving the app permissions, you then take a one-in-six chance of letting it delete your Facebook account.

7 bizarre Airbnb rentals that are almost too weird to believe
Weird accommodation options are part of Airbnb's charm, so we'd like to propose seven current listings that should be verified immediately.

Will a spotless inbox really supercharge your productivity?
Inbox Zero is the theory that an empty e-mail inbox is good for peace of mind and productivity. So is it?

Best iPhone 5 accessories
When it comes to iPhone 5 accessories, the options just keep on coming, and there are a lot of little extras that can really improve your experience.

Man arrested after selling his grandson on Facebook
Facebook is basically integrated into every part of our lives. You use it to catch up on friends' lives, meet people, find events, message people but it's also a place where people go to sell live human babies online.

Scan these smart pajamas to launch a bedtime story for the kids
Using the camera on a smartphone or tablet, a parent or child can scan one of forty-seven dot patterns printed on kids pajamas to launch a story.

There was no White House bombing; AP's Twitter hacked
If you're wondering why the Associated Press tweeted that there was an explosion at the White House, it's because its account was hacked.

According to a study out of the United Kingdom from Credit Sesame, approximately 78 percent of ex-burglars use Twitter, Foursquare and Facebook to identify properties with absent homeowners. This includes people that use location-enabled status updates or pictures to identify when they are at work or on an extended vacation. In addition, nearly three out of four ex-burglars use Google Street View to check out the quality of the home in addition to various escape routes within a neighborhood. The typical home invasion costs the homeowner just over $2,000 in the United States and robbery that occurs during the day usually yields higher losses than burglars that break in during the night.
The demographic most likely to tweet a location are Americans between 18 to 34 years old and approximately 15 percent of Americans regularly use social networks to state when they have left the home. According to the ex-burglars, 80 percent of first attempts to break into a home are typically unsuccessful and 78 percent would be driven off by a simple alarm system. On average, it takes a burglar about two minutes to break into a home and the average amount of time spent within the home is about ten minutes. Some of the the most common mistakes that homeowners make besides social updates include hiding a key near the front entrance, leaving UPS or Fedex deliveries on the front porch, leaving windows open and leaving valuables out in plain view of people walking through the neighborhood.
The ex-burglars also recommended steps to ensure greater social security including altering Facebook privacy settings to make sure the public can't see location updates and restricting friend list additions to actual friends. Other steps include refraining from updates about extended vacations and avoiding posting photos of expensive items taken within the home or photos that list the location of the home.