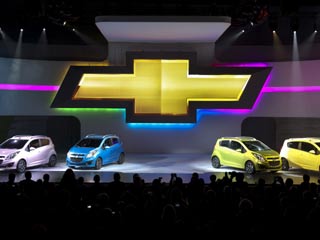 The Spark will come in Lemonade, Techno Pink, Denim, Jalapeno & Salsa colors. (©Steve Fecht for Chevrolet/GM Corp.)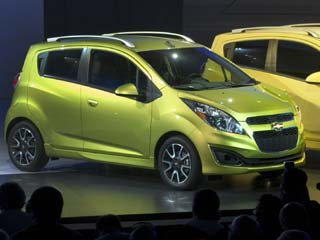 Exterior styling uses the distinctive Chevy two-section grille in the front, with slightly bug-eyed headlamps. (©Steve Fecht for Chevrolet/GM Corp.)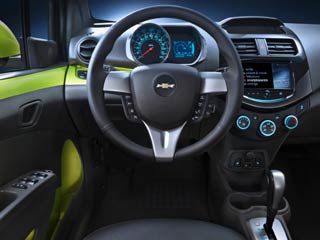 The instrument cluster is an even simpler version of the "motorcycle inspired" cluster also used in the Sonic. (©GM Corp.)

| | |
| --- | --- |
| | More from High Gear Media |
| | | |
| --- | --- | --- |
| | Green Car Reports archives | more>> |
Electric cars: Eight important things everyone should know (but may not)
Sometime in the next few weeks, the 100,000th plug-in electric car will be sold in the U.S.


Obama administration to add 10,000 hybrids to government fleet
President Barack Obama may not achieve his goal of 1 million plug-in electric cars on U.S. roads by the end of 2015. But his administration continues to try to green the U.S. vehicle fleet.


Americans are driving less, have been since 2005
There's a far more effective way of reducing pollution and dependency on oil than buying more efficient cars or going electric: Driving less.

Ford Focus tops Toyota Corolla as planet's most popular vehicle
Thanks to the U.S. and Corolla-loving eastern markets, the Japanese compact is a familiar face on top-seller lists, but one market in particular has really helped Ford knock the Corolla into second place--China.

Next Ford F-150: Advanced materials likely
The new Atlas Concept that Ford Motor Co. unveiled at Detroit on January 15 revealed several interesting technologies that altogether could save fuel.

Review: 2013 Volkswagen Beetle TDI Convertible
The new Beetle Convertible TDI may be the most "Beetle-y" Beetle offered. Priced from $27,895, it's not exactly inexpensive, but it's in range of its nearest competitive set.

Romney slams Tesla, Fisker again in final presidential debate
The CEOs of Tesla and Fisker may have thought they were home free -- but it was not to be.

2013 green car buyers guide
With gas prices high and new fuel-economy standards in effect, automakers are rolling out new green cars of every type. Here are the ones you should be looking at.

Renault blesses Pope Benedict with a new electric Popemobile
The current head of the Catholic church, Pope Benedict XVI, is rather fond of electric cars.

2014 Tesla Model X vs. 2012 Toyota RAV4 EV: Electric SUV showdown
The 2012 Toyota RAV4 EV has been compared to a Tesla for half the price, so how does Toyota's all-electric compact SUV compare to the Model X?

It's the smallest car ever sold as a Chevrolet. It's already a huge hit in India (where it's fitted with a tiny 0.9-liter three-cylinder turbodiesel). And now it's coming to the U.S.
At the Los Angeles Auto Show media days, the 2013 Chevrolet Spark minicar shared the stage with a Chevrolet Camaro ZL1 convertible -- an odd couple if ever there was one.
But Chevy media event provided more details on the production Spark after it was unveiling last month at a 100th-birthday celebration for the brand.
The engine is a 1.2-liter four-cylinder that puts out 85 horsepower, powering the front wheels through a five-speed manual transmission. An automatic transmission is optional, though it only has four speeds.
The EPA hasn't yet rated the Spark, but Chevrolet expects it to do better than every other minicar -- including the Smart ForTwo, the Mini Cooper, and the Fiat 500 -- and a few subcompacts as well.
(There's also a low-volume electric version of the Spark on the way, though it didn't make an appearance on stage in L.A. and was barely mentioned in the presentation.)
Shorter than a Mini Cooper
The 2013 Spark is exactly 12 feet long, a couple of inches shorter than a Mini Cooper and a full 15 inches shorter than the subcompact 2012 Chevrolet Sonic hatchback. It weighs about 2,300 pounds.
Like virtually every new small car these days, it comes with electric power steering as standard. Brakes are discs in front, drums in the rear.
Exterior styling uses the distinctive Chevy two-section grille in the front, with slightly bug-eyed headlamps swept well back along the tops of the fenders.
The rear of the five-door hatchback is almost vertical (there's no sedan model), and the rear door handles are hidden in the trim a la Sonic.
And it's far roomier than you might expect. With front seats moved forward only a couple of notches, there's room in the rear for 6-foot-tall adults to sit upright comfortably. Because the Spark is tall for its length, the seating position avoids the knees-under-chin position of some small cars.
7-inch touch screen, no CDs
Inside, the instrument cluster is an even simpler version of the "motorcycle inspired" cluster also used in the Sonic. A body-color accent in the passenger-side dash molding is actually an open tray, and the stereo unit dispenses with a CD player in favor of standard music player connectivity.
That infotainment system includes a 7-inch color touch screen -- definitely an exclusive on a car this small -- along with the MyLink system, offering Stitcher and Pandora audio streaming through a smartphone data connection. SiriusXM satellite radio will be optional.
Air conditioning comes standard on the 2013 Chevy Spark, as do power windows. Options include a leather-wrapped steering wheel and even heated seats.
10 airbags standard
As for safety in a car that appears this diminutive, a full complement of 10 airbags comes standard, as does stability control and the Onstar telematics system.
The four Sparks rolled out by Chevy included a pair in what can only called "nail-polish colors," one a bright creamy yellow, the other in what can only be described as lilac metallic. The list of available colors deems those Lemonade and Techno Pink, joined by Denim, Jalapeno, and Salsa.
Chevrolet hasn't said much about how it will price the 2013 Spark, beyond noting that it will be less expensive than the Sonic, which starts at $13,735 for the four-door sedan (plus a mandatory $700 delivery fee).
+++++++++++
Follow GreenCarReports on Facebook and Twitter.
This story originally appeared at Green Car Reports