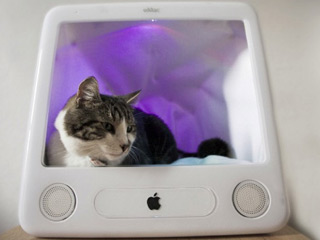 Image courtesy of Digital Trends

Miley Cyrus 'swatted' again
Miley Cyrus has the dubious distinction of being the only two-time celebrity victim of a "swatting" prank, according to TMZ.

Report: Kristen Stewart and Robert Pattinson break up
By Sadie Gennis, Kristen Stewart and Robert Pattinson have broken up, People reports. According to a source, the Twilight stars have parted ways after more than three years of dating.

Twilight Zone actress Christine White dies at 86
Christine White, an actress best known for The Twilight Zone, passed away in Washington, D.C., the Carroll County Times reports. She was 86.

Vacation with your dog on a budget
Not only is it possible to enjoy a fun vacation with your dog, but it's also easier than ever to do so while being frugal.

ADHD in childhood may raise risk for obesity in adulthood
Boys who are diagnosed with attention deficit-hyperactivity disorder (ADHD) are twice as likely to become obese adults as those who didn't have the disorder when they were young, a new 30-year study shows.

Heart attack? Doctors soon may have an app for that
There are apps that turn your smartphone into a metal detector, a musical instrument and a GPS system, and now there's an app that may help doctors save your life if you're having a heart attack.

Managing seasonal allergies
Although spring arrived late this year in parts of the United States, the summer allergy season will still be strong, according to a sinus expert at the University of Alabama at Birmingham.

Why you need a will
Wills are not only for the wealthy or the old. Every adult should have one.

Simple weatherizing for summer
Weatherizing a home to reduce energy usage and maximize savings is something homeowners think about in cold weather. The fact is, energy efficiency is just as important during summer months,...

Cheap car or ugly car: Which would you pick?
Would you rather get a good deal on a new car that's built on a seven-year-old design, or would you prefer to wait for the sparkly, contemporary version, which should age a bit slower?

How to stay anonymous online
Pretty soon, just about everything we do on the Web will be logged, analyzed, and used for things outside of our control. Here are some ways to help stop that.

Six tips to bombproof your password
How can we make our passwords more hack-resistant and manage all the passwords we need?

Facebook cuts off Social Roulette
True to its name, Social Roulette is a game of roulette in which you're gambling your digital life. After giving the app permissions, you then take a one-in-six chance of letting it delete your Facebook account.

7 bizarre Airbnb rentals that are almost too weird to believe
Weird accommodation options are part of Airbnb's charm, so we'd like to propose seven current listings that should be verified immediately.

Will a spotless inbox really supercharge your productivity?
Inbox Zero is the theory that an empty e-mail inbox is good for peace of mind and productivity. So is it?

Best iPhone 5 accessories
When it comes to iPhone 5 accessories, the options just keep on coming, and there are a lot of little extras that can really improve your experience.

Man arrested after selling his grandson on Facebook
Facebook is basically integrated into every part of our lives. You use it to catch up on friends' lives, meet people, find events, message people but it's also a place where people go to sell live human babies online.

Scan these smart pajamas to launch a bedtime story for the kids
Using the camera on a smartphone or tablet, a parent or child can scan one of forty-seven dot patterns printed on kids pajamas to launch a story.

There was no White House bombing; AP's Twitter hacked
If you're wondering why the Associated Press tweeted that there was an explosion at the White House, it's because its account was hacked.

Facebook Home reaches 500,000 downloads
Mobile analyst Ben Evans has noted a milestone of 500,000 Facebook Home downloads since the service launched on Google Play.

By Kelly Montgomery
Provided by

In an installment of cool projects that unfortunately can't be purchased, we bring you the eSleeper cat bed from designer Samuel Cox. Most cats do their daily napping on a chair, couch, or in an uninteresting cushy cat basket. We never saw that as much of a problem, but designer Samuel Cox wanted his cat to have a more evolved napping site, so he took an old eMac, threw in some Arduino, spoken Tweets, and ambient lighting and created the eSleeper.
The fancy cat bed was made from a hollowed-out eMac shell that is lined with cushy fabric for his feline friend; inside the shell there is an Arduino Ethernet connected to an infrared sensor. When the cat steps into the eSleeper, breaking the sensor beam, ambient LED lights create a nap-friendly glow and the classic Mac chime plays. In perhaps the strangest twist of the design, the eSleeper Tweets a random phrase as well as the time and how long your kitty was napping when said cat awakes and steps out of the eSleeper. There's no evidence of this being put into any sort of production, but it's just the kind of DIY goodness that we couldn't resist sharing.

This article was originally posted on Digital Trends