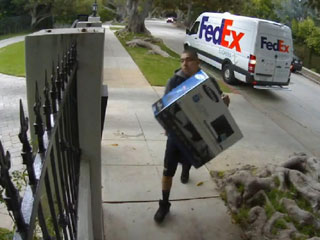 © Image courtesy of Digital Trends

Pizza on Mars: NASA funds development of 3D printer that can knock out pizza
NASA has awarded a mechanical engineer a grant worth $125,000 to help him create a 3D printer for food.

How to stay anonymous online
Pretty soon, just about everything we do on the Web will be logged, analyzed, and used for things outside of our control. Here are some ways to help stop that.

Six tips to bombproof your password
How can we make our passwords more hack-resistant and manage all the passwords we need?

Facebook cuts off Social Roulette
True to its name, Social Roulette is a game of roulette in which you're gambling your digital life. After giving the app permissions, you then take a one-in-six chance of letting it delete your Facebook account.

7 bizarre Airbnb rentals that are almost too weird to believe
Weird accommodation options are part of Airbnb's charm, so we'd like to propose seven current listings that should be verified immediately.

Will a spotless inbox really supercharge your productivity?
Inbox Zero is the theory that an empty e-mail inbox is good for peace of mind and productivity. So is it?

Best iPhone 5 accessories
When it comes to iPhone 5 accessories, the options just keep on coming, and there are a lot of little extras that can really improve your experience.

Man arrested after selling his grandson on Facebook
Facebook is basically integrated into every part of our lives. You use it to catch up on friends' lives, meet people, find events, message people but it's also a place where people go to sell live human babies online.

Scan these smart pajamas to launch a bedtime story for the kids
Using the camera on a smartphone or tablet, a parent or child can scan one of forty-seven dot patterns printed on kids pajamas to launch a story.

There was no White House bombing; AP's Twitter hacked
If you're wondering why the Associated Press tweeted that there was an explosion at the White House, it's because its account was hacked.

Racking up over one million YouTube views in approximately 24 hours, a YouTube user named Goobie55 posted a video (shown here) recording a FedEx employee chucking a Samsung computer monitor over a fence in order to deliver the package. The camera was mounted next to the front gate and pointed at the doorbell buzzer designed to view anyone visiting the residence. The video captures the FedEx employee removing the Samsung monitor from the back of a FedEx Express van and walking up to the area of the front gate with the buzzer. He then lifts the monitor over the iron fence and throws the box into the yard without using the buzzer. When Goobie55 discovered the poorly delivered package on his front lawn, the Samsung monitor was broken and had to be returned for a replacement.
In the video description, Goobie55 writes "The sad part is that I was home at the time with the front door wide open. All he would have had to do was ring the bell on the gate." After being posted on YouTube, the video has attracted many comments relating to the plight of the homeowner and users are sharing negative delivery stories about FedEx through video responses as well. YouTube users have also responded by adding music to reposts of the video, the most timely being "You're a Mean One, Mr. Grinch."
According to The Daily Mail, FedEx Senior Communications Specialist Shea Leordeanu stated "All of us here at FedEx have seen the video and quite frankly we were shocked." Company officials plan to track down the delivery driver in addition to getting in touch with the YouTube user that posted the video in order to offer compensation for the monitor as well as an official apology.
With comScore tracking of approximately $32 billion in online purchases this holiday, it's likely that shipping companies like FedEx and UPS are struggling to keep up with the rush. That amount of money is approximately 15 percent higher than the previous year, thus shipping companies likely have an increased number of packages to deliver.
View the original video here.

This article was originally posted on Digital Trends