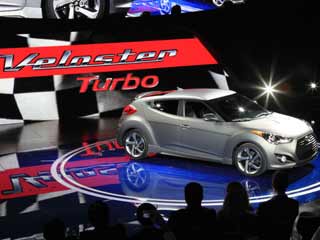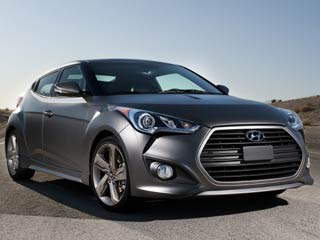 The 2013 Hyundai. Veloster Turbo (images ©Hyundai Motor America)

| | |
| --- | --- |
| | More from High Gear Media |
| | | |
| --- | --- | --- |
| | Motor Authority archives | more>> |
Volkswagen iBeetle integrates iPhone, gets iNamed
The new iBeetle includes an iPhone docking station.

2013 Buick Encore recalled because of steering wheels that may detach
Buick has issued a recall on its Encore compact crossover because of a problem that could cause the steering wheel of some of the cars to come loose or even detach from the steering column.

New Stingray coming to Geneva
Chevrolet will debut the 2014 Corvette Stingray convertible on March 5, at Switzerland's Geneva Motor Show.

Super Bowl MVP Joe Flacco wins Chevy Stingray
The new 2014 Chevrolet Corvette Stingray had a starring role at Super Bowl XLVII with the game's MVP, quarterback Joe Flacco, winning one.

Car makers join forces for cleaner fuel studies
Daimler has announced it's formed an alliance with Ford and Nissan to help accelerate the development and eventual launch of hydrogen fuel cell technology for cars.

2014 Cadillac ELR preview
You've likely noticed and perhaps even lusted after the stylish Cadillac CTS-V Coupe.


2014 Mercedes-Benz E Class Coupe & Cabriolet preview
Mercedes-Benz has some more of the E Class range to bring us, as a sort of belated holiday gift: the 2014 E Class Coupe and Cabriolet.

Bill Ford, Jr. is buyer of oldest Ford still in existence
Last October the world's oldest known Ford in existence, a 1903 Model A, sold at auction for the relative bargain price of price of $264,000.

2013 SRT Viper: Review and test drive
The 2013 SRT Viper is almost completely different from the old Dodge Viper, and yet it's almost exactly the same.

Chevy Camaro Hot Wheels Edition can be yours
We've seen plenty of life-size Hot Wheels cars in the past, including a previous Camaro, but none of these have ever been offered for sale. That is until now.

The Hyundai Veloster that arrived at dealerships this past fall has a lot going for it -- including a standout three-door layout; curvaceous styling; connectivity and infotainment features that are way ahead of the pack; and an EPA highway rating of up to 40 mpg. But what it lacks, as we point out in our review -- and most sources agree -- is that it could use just a bit more gusto under the hood to match its racy look.
Rumors have been swirling for months about a turbocharged Veloster, and now it's confirmed. The 2013 Veloster Turbo will join the lineup, packing a new 201-horsepower version of the automaker's 1.6-liter direct-injection four-cylinder engine, paired with either a six-speed automatic transmission or a six-speed manual gearbox.
The Gamma Turbo GDI engine includes a twin-scroll turbocharger and wastegate system for quick spool up and near-instantaneous power delivery. Maximum boost is 18 psi. An integrated exhaust manifold helps with heat transfer, while additional piston cooling jets help maintain durability as well as performance. There's a side-by-side intercooler as well, and the turbo model gets a stainless-steel exhaust manifold.
What's particularly amazing, considering all the additional power, is that the Veloster Turbo returns a best-in-class EPA highway rating of 38 mpg (27 mpg city, 38 highway), and it's designed to run on regular-grade gasoline.
Veloster Turbo models get special Kumho Solus V-rated 18-inch performance tires that deliver increased performance without compromising ride quality. Steering components were also upgraded, with a different calibration for the Veloster Turbo.
Appearance-wise, the Veloster Turbo gets eight individual LED accent lights around the headlamps, and the Turbo will be the first model available in a new Matte Gray hue. From the back, freer-flowing round tailpipes complete the look. And inside, 'Turbo' is stitched into the seatbacks, while the instrument panel is enhanced with TFT screens between the speedometer and tachometer. The interior scheme is Graphite Black with or without Blue accents.
Features and equipment aren't much different in the Veloster Turbo, compared to the standard versions. As in the rest of the lineup, there's a standard screen-based infotainment system, with integrated Pandora listening (through a smartphone's data connection) plus full iPod control, a USB port, and even video-in and an AC outlet. Voice control is included, as is full Gracenote integration, and the Veloster Turbo steps up to a standard 450-watt Dimension Premium Audio system with eight speakers and a subwoofer and external amp. It also includes a rear-view camera and backup-warning sensors, while navigation is optional as it is in the rest of the lineup. Heated front seats, yet unavailable on the rest of the Veloster lineup, are standard on the Veloster Turbo.
It should be noted that Hyundai specifies an automatic in the Veloster Turbo, rather than the dual-clutch automated manual gearbox that's offered in the standard Veloster models. That's because of the turbo engine's much greater torque output (195 pound-feet at just 1,750 rpm); but the automatic also offers a narrower ratio spread for performance.
Altogether, the Veloster Turbo weighs just 2,800 pounds, which Hyundai points out is 234 pounds lighter than the VW GTI. Which yields a better power-to-weight ratio than the Mini Cooper S and Clubman S, the Volkswagen GTI, or the Honda Civic Si.
The 2013 Veloster Turbo will arrive in Summer 2012. Stay tuned for performance numbers, as soon as we can glean them -- as well as live shots from the show floor and a video walkaround, as we cover all that's new at the Detroit auto show.
This story originally appeared at Motor Authority