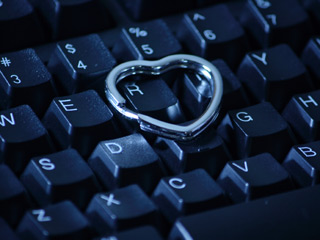 © Hemera / Thinkstock

Pizza on Mars: NASA funds development of 3D printer that can knock out pizza
NASA has awarded a mechanical engineer a grant worth $125,000 to help him create a 3D printer for food.

How to stay anonymous online
Pretty soon, just about everything we do on the Web will be logged, analyzed, and used for things outside of our control. Here are some ways to help stop that.

Six tips to bombproof your password
How can we make our passwords more hack-resistant and manage all the passwords we need?

Facebook cuts off Social Roulette
True to its name, Social Roulette is a game of roulette in which you're gambling your digital life. After giving the app permissions, you then take a one-in-six chance of letting it delete your Facebook account.

7 bizarre Airbnb rentals that are almost too weird to believe
Weird accommodation options are part of Airbnb's charm, so we'd like to propose seven current listings that should be verified immediately.

Will a spotless inbox really supercharge your productivity?
Inbox Zero is the theory that an empty e-mail inbox is good for peace of mind and productivity. So is it?

Best iPhone 5 accessories
When it comes to iPhone 5 accessories, the options just keep on coming, and there are a lot of little extras that can really improve your experience.

Man arrested after selling his grandson on Facebook
Facebook is basically integrated into every part of our lives. You use it to catch up on friends' lives, meet people, find events, message people but it's also a place where people go to sell live human babies online.

Scan these smart pajamas to launch a bedtime story for the kids
Using the camera on a smartphone or tablet, a parent or child can scan one of forty-seven dot patterns printed on kids pajamas to launch a story.

There was no White House bombing; AP's Twitter hacked
If you're wondering why the Associated Press tweeted that there was an explosion at the White House, it's because its account was hacked.

Ever tried to find love through your computer? Online dating has grown into a large, billion dollar industry over the past 15 years, and has become a mainstream way to meet your future mate. However, a new study, led by Northwestern University Associate Professor of Social Psychology, Eli Finkel, examines the truth behind online dating sites, and the bold claims that science-based algorithms will find your soulmate.
Finkel, along with four other co-authors, reviewed over 400 psychological studies in their 64-page analysis. The scope of the article covers general sites like Match and OkCupid, as well as niche sites, family matchmaker sites like Kizmeet, video/virtual dating sites like WooMe, self-report algorithm sites like eHarmony, websites like ScientificMatch and even mobile dating apps such as Zoosk and Badoo. Beyond the scope of the article are sites like Craigslist, hookup sites, infidelity sites, websites for group dates, social networking Facebook-esque destinations and MMORPGs like WOW.
The report begins by showing that the stigma of dating websites being an online cantina of the unsociable, the inept and the sleezy anti-social, has been shed in recent years. Since 1997, and more drastically in the early 2000s, a substantial number of singles have met partners through online dating sites. Match claims that at least 1 in 5 relationships begin online.
In fact, since online dating managed to dissociate itself from the more socially unacceptable printed personal advertisements and video dating of the last decades, meeting on the Internet has become the second most common way to meet a mate. According to a study conducted in 2009 with a national sample of 4,002 adults, 22% said they had met on the Internet; making the Internet the premier way to find a partner, after meeting through friends. The statistic carries on the trend from 2006′s 20%, and is assumed to be greater today thanks to technological progress.
Signup Now and find your soulmate!
However, the study states that the shift in attitude can be partially attributed to the millions of dollars that online dating sites spend to promote the services. Two problems brought up by the claims advertised by online dating sites concern the encouragement of 'soulmates', and the authority of "science-based" algorithm matching.
According to the authors, the soulmate idea pushed onto users by various online dating sites can have a negative impact on romantic relationships. By encouraging users to find that perfect match, websites promote a seed of thought associated with relationship dysfunction: "Indeed, people with strong beliefs in romantic destiny (sometimes called soulmate beliefs)–that a relationship between two people either is or is not "meant to be"–are especially likely to exit a romantic relationship when problems arise." The authors assert that the long-term, healthy relationship emerges from overcoming challenges.
Many sites other than eHarmony (like Match) have begun to offer suggested matches based on algorithms. The basic problem which the study's authors have with scientific claims is that the research is not valid; dating sites are riding the authority of the science claims, but haven't "[reported] research methods and statistical analyses in sufficient detail to allow for independent replication," or adhered to standards for interpreting data. The authors also drop an FTC bomb for good measure; pointing to deceptive advertising in regards to scientific claims and consumer testimonials. In addition, the authors point out that the algorithms focus on short-term versus long term, and fails to take into account how partners grow and mature over time or life circumstances that could help or hurt the relationship.
But online dating isn't all bad. Aside from the advertising of dating sites, dating profiles relegate "three-dimensional people" to two-dimensional summations; an argument similar to m00t's multi-faceted identity argument against Google and Facebook at last years Web 2.0 Summit. However, online dating has enormous potential to expedite a time-consuming affair, according to the authors. Also, the medium offers unprecedented access to large numbers of potential partners. While dating sites have had problems weeding out the deception and the criminal, ultimately, users have confidence that they can screen and communicate with potential partners in a safe and comfortable setting. With those positives in mind, and the pitfalls outlined, there are "substantial opportunities" to improve online dating in the future. Finkel's study will be appearing in a forthcoming journal of the Association for Psychological Science.
This article was originally posted on Digital Trends
In Case You Missed It:
Assault victim satisfied with Match.com member screening
Everyday Twitter users are prone to breakups
NFL using "social media command center" to manage Super Bowl chatter
Sports are going social, and it's a winning combination