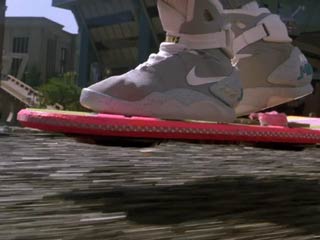 Mattel has announced that the company will be creating a 1:1 replica of the hover board used by Michael J. Fox's character in Back to the Future II. (Courtesy of Digital Trends)

Pizza on Mars: NASA funds development of 3D printer that can knock out pizza
NASA has awarded a mechanical engineer a grant worth $125,000 to help him create a 3D printer for food.

How to stay anonymous online
Pretty soon, just about everything we do on the Web will be logged, analyzed, and used for things outside of our control. Here are some ways to help stop that.

Six tips to bombproof your password
How can we make our passwords more hack-resistant and manage all the passwords we need?

Facebook cuts off Social Roulette
True to its name, Social Roulette is a game of roulette in which you're gambling your digital life. After giving the app permissions, you then take a one-in-six chance of letting it delete your Facebook account.

7 bizarre Airbnb rentals that are almost too weird to believe
Weird accommodation options are part of Airbnb's charm, so we'd like to propose seven current listings that should be verified immediately.

Will a spotless inbox really supercharge your productivity?
Inbox Zero is the theory that an empty e-mail inbox is good for peace of mind and productivity. So is it?

Best iPhone 5 accessories
When it comes to iPhone 5 accessories, the options just keep on coming, and there are a lot of little extras that can really improve your experience.

Man arrested after selling his grandson on Facebook
Facebook is basically integrated into every part of our lives. You use it to catch up on friends' lives, meet people, find events, message people but it's also a place where people go to sell live human babies online.

Scan these smart pajamas to launch a bedtime story for the kids
Using the camera on a smartphone or tablet, a parent or child can scan one of forty-seven dot patterns printed on kids pajamas to launch a story.

There was no White House bombing; AP's Twitter hacked
If you're wondering why the Associated Press tweeted that there was an explosion at the White House, it's because its account was hacked.


By Mike Flacy
Provided by

Likely hoping to capture the same frenzied, nostalgic excitement that was created by the release of the Nike Mags, Mattel has announced that the company will be creating a 1:1 replica of the hover board used by Michael J. Fox's character in both Back to the Future II and Back to the Future III. As mentioned on the Matty Collector blog, Mattel will be taking preorders for the hover board between March 1 to March 20, 2012. The board will make "whooshing" sounds similar to the films and Mattel mentioned that the board will "glide over most surfaces," but not actually hover. Mattel is targeting a November or December 2012 release window; somewhat late for anyone that was planning an amazing Marty McFly Halloween costume this year.
Pricing has yet to be announced by the toy company, but is likely going to be high. On the blog post, Mattel states "Because this is such a high-cost item, there will be a minimum number of orders required to go into production. If we don't receive the minimum orders, won't go into production and customers will not be charged."
The iconic hover board was first seen in Back to the Future II when Marty McFly had to escape from Griff Tannen, the grandson of Biff Tannen. It was also used at the end of Back to the Future III when Marty needed to help Doc Brown, played by Christopher Lloyd, save Mary Steenburgen's character Clara Clayton from dropping off a speeding locomotive.
Mattel officials haven't indicated if the company will be partnering with the Michael J. Fox Foundation for Parkinson's Research in order to both raise money for the foundation and promote the product at the same time. After Nike took this approach to promote the Mags, the company ended up raising over 5.6 million dollars after selling 1,500 pairs of the shoes over a 10-day period. In addition, Sergey Brin, co-founder of Google, matched that number to help raise over 11 million dollars for the foundation.
In 2010, a french artist named Nils Guadagnin recreated the pink hover board for an exhibition aptly named "Back to the Future." Built into the structure of the board, an electromagnetic system actually levitates the board and a system of lasers stabilizes the board while it is hovering on the display. Within the video, Guadagnin slides a plastic ruler underneath the floating board and pushes down on top of the board with his hand to show how the lasers auto-correct the positioning. However, it's highly unlikely that the board could hold up any significant amount of weight.
When it comes to actually developing hovering technology, a study published by a group of New York University researchers is claiming to have made progress in artificially replicating how hummingbirds and dragonflies effortlessly dart through the air and seem to hover in a single place. Using an example that used a "pyramid-shaped object hovering in a vertically oscillating airflow," the researchers were able to fly the object more effectively when the weight distribution was on the top rather than the bottom; quite the opposite from a aircraft like a helicopter. However, researchers still have to run tests on larger versions of this object in order to determine if the design would apply to larger structures.
In Case You Missed It:
Great Scott! Nike hints at 'Marty McFly' self-lacing shoe release [update]
Nike's Back to the Future shoe is official, and only 1,500 will be sold for charity
Display your Transformers fandom with the ridiculously-packaged trilogy set
Marvel Avengers desk is the ultimate in geeky goodness
This article was originally posted on Digital Trends