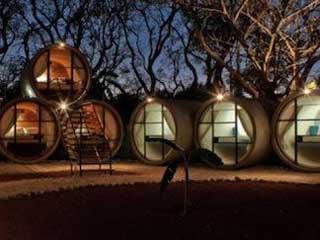 Tubohotel is built to stack like tube pipes and gives you an illusion of living in a sphere bowl. (Image courtesy of Digital Trends)

How to stay anonymous online
Pretty soon, just about everything we do on the Web will be logged, analyzed, and used for things outside of our control. Here are some ways to help stop that.

Six tips to bombproof your password
How can we make our passwords more hack-resistant and manage all the passwords we need?

Facebook cuts off Social Roulette
True to its name, Social Roulette is a game of roulette in which you're gambling your digital life. After giving the app permissions, you then take a one-in-six chance of letting it delete your Facebook account.

7 bizarre Airbnb rentals that are almost too weird to believe
Weird accommodation options are part of Airbnb's charm, so we'd like to propose seven current listings that should be verified immediately.

Will a spotless inbox really supercharge your productivity?
Inbox Zero is the theory that an empty e-mail inbox is good for peace of mind and productivity. So is it?

Best iPhone 5 accessories
When it comes to iPhone 5 accessories, the options just keep on coming, and there are a lot of little extras that can really improve your experience.

Man arrested after selling his grandson on Facebook
Facebook is basically integrated into every part of our lives. You use it to catch up on friends' lives, meet people, find events, message people but it's also a place where people go to sell live human babies online.

Scan these smart pajamas to launch a bedtime story for the kids
Using the camera on a smartphone or tablet, a parent or child can scan one of forty-seven dot patterns printed on kids pajamas to launch a story.

There was no White House bombing; AP's Twitter hacked
If you're wondering why the Associated Press tweeted that there was an explosion at the White House, it's because its account was hacked.

Facebook Home reaches 500,000 downloads
Mobile analyst Ben Evans has noted a milestone of 500,000 Facebook Home downloads since the service launched on Google Play.

When I was growing up in Bangkok, Thailand, the city was beginning to build its first ever overhead public transportation system. On my way to school, I would often see massive tube pipes lined up along the road and get this childish urge to run and play inside the hollow tunnels. Of course, because those things weren't actually toys, my mother wouldn't allow me to play remotely near a construction site, and I never got to live out my weird childhood fantasies. Or could I?
Think of the Tubohotel as a glorified concrete tube pipe. Located in Tepoztlán, Mexico, or approximately 45 minute south of Mexico City, this unique architectural hotel is built to stack like tube pipes and gives you an illusion of living in a sphere bowl. Each of the hotel rooms are made from recycled tube pipe materials, so not only is it unique, it's also green and environmentally-conscious. Just a visual of the hotel grounds feels like you're in an oversized playground or construction area.
However, not to be fooled, the amenities are on par with most hostels abroad. Each of the hotel's 20 tube pipe rooms contains a queen size bed, desk light, fan, towel rack, an under-bed storage, and curtains for privacy. While you don't get an en-suite toilet or shower, the hotel does have a common bathroom where you can have a private booth for cleansing purposes. You will have to provide your own shampoo, soap, and flip flops though.
But don't get discouraged from the lack of amenities just yet! A night at a ground level tube starts at just 300 pesos per double occupancy, or $24 USD. That's more or less the price of a dinner for two in New York City. Prices can fluctuate up to 600 pesos a night on holidays and weekends, and upper level tube pipes cost anywhere between 400 to 700 pesos. That's still approximately $55 USD for the most expensive category of room during the hotel's most exclusive dates. Though the hotel has no on-site restaurant, you will be served meals made with the finest ingredients from the city's local chefs.
The Tubohotel also offers packages that includes camp ground hiking and culinary lessons, if you choose to get more in touch with the Mexican culture once you're there. While the tube pipe rooms seem interesting to be in, sleeping overnight might get a bit claustrophobic. Still, the rooms can't get worse than a Japanese style capsule hotel, which is basically a coffin for the living with no windows, desks, or storage racks. The Tubohotel is a neat choice for travelers who want to camp, but need something a little extra to add just a touch of luxury to their stay. If anyone chooses to stay at the very affordable hotel, please send us a postcard and let us know how your experience went.
In Case You Missed It:
- Nissan ponders reviving Datsun brand
- $2 billion Azerbaijan Tower to usurp Saudi Arabia's Kingdom Tower as world's tallest
- Outrage emerges as Dutch firm is accused of using World Trade Center as inspiration for "The Cloud"
This article was originally posted on Digital Trends