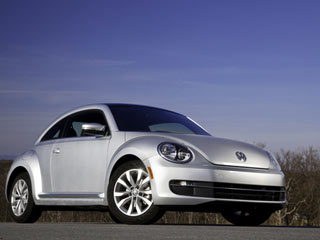 VW's 2013 Beetle TDI (©Volkswagen of America, Inc.)

| | |
| --- | --- |
| | More from High Gear Media |
| | | |
| --- | --- | --- |
| | The Car Connection archives | more>> |
To combat drunk driving, NTSB wants tougher blood-alcohol limits
Seeking to toughen the allowable alcohol limit for drivers, the National Transportation Safety Board (NTSB) is calling on states to lower the legal blood alcohol content (BAC) to 0.05 or lower from the current 0.08.






Cheap car or ugly car: Which would you pick?
Would you rather get a good deal on a new car that's built on a seven-year-old design, or would you prefer to wait for the sparkly, contemporary version, which should age a bit slower?

Black box recorders: Groundbreaking safety devices or end of privacy?
The vast majority of vehicles sold in the U.S. today come with black box recorders, and soon the gizmos will be found on all of them.


Death list 2014: The cars you won't see next year
It's time to wave some more goodbyes--some fond, some not so much--to the clutch of vehicles that won't be hitting the road next year.

Hands-free texting is no safer than typing
A debate is raging about taking and making hands-free calls behind the wheel.


Screen test: Five frustrating infotainment in-car interfaces
So-called infotainment interfaces are becoming a center point to the in-car experience—an essential part, if you ask some vehicle shoppers.

Hyundai, Kia recall affects 1.7 Million vehicles with electrical problems
In the largest-ever recall affecting Korean automakers Hyundai and Kia, Hyundai is recalling more than one million vehicles for electrical problems.


Ford tops General Motors, Toyota in loyalty; Hybrids gain traction
Ford Motor Company may not be as big as General Motors, Toyota, or Volkswagen, but when it comes to the loyalty of American customers, Ford has the competition beat.

Louisiana tops list of most expensive states for car insurance
According to a new study from Insure.com, Louisianans pay nearly three times as much for car insurance as drivers in some states.

Ford recalls 2013 Focus, C-Max, Escape for faulty child safety lock
Ford is conducting a voluntary safety recall of 5,675 2013 model year Ford Focus sedans, C-Max hybrids and Escape SUVs in the U.S. due to faulty child safety door locks.

Forget for a few minutes about your urge to make the absolute smartest fiscal choice. Yes, the economics of diesel ownership often take many, many years to work out as positive. Yes, diesels, as in the 2013 Volkswagen Beetle TDI, do generally cost thousands more initially; and yes, diesel fuel across the U.S. costs more than gasoline.
Now let that go -- after all, if you were going for the lowest costs, you probably wouldn't be looking at a more fashionable vehicle like the Beetle. That hurdle dismissed, we'd surely pick VW's TDI version of the latest Beetle over the base car -- and probably over the Beetle Turbo we just drove a few weeks ago.
If there was one engine that best fit the character of the first-generation (New) Beetle, it was the TDI diesel four that was offered in the New Beetle through the 2006 model year. Unlike the original base gasoline four- or five-cylinder engines in the Beetle, it had a relaxed, torquey character, a relatively narrow rev range, and just a bit of mechanical noise to both remind us of the original air-cooled Beetles and be satisfying on its own.
The 2013 Beetle TDI, which won't be out until later this summer, will get the latest version of VW's 2.0-liter turbo-diesel four-cylinder, making 140 horsepower and 236 pound-feet of torque. And like the 2.0T gasoline engine, it will be hooked up to either a six-speed manual or a six-speed DSG (dual-clutch) automated manual gearbox (not the five-speed manual or conventional automatic of the base five-cylinder Beetle models). In recent years, in Jetta, Golf, Passat, and even the Audi A3, we've found this engine to be both a perky performer and almost incredibly economical.
So it's not surprising that in the 2013 Beetle the engine delivers a tremendously strong kick of torque, from standstill, along with a turbine-like whoosh of passing power, most of the time without the need even to downshift, at highway speeds. Plus, as we experienced on some two-lane stretches around Half Moon Bay, California, the TDI takes well to being revved and driven hard in the same way as you would a gasoline engine if the spirit strikes you.
Handling feels about the same as that of the Beetle Turbo we'd recently driven (if a slight bit heavier in front), with rather quick-ratio steering and a light feel, as well as much crisper response than we ever expected from the former New Beetle. Part of the appeal of this package is that when you're not in the mood to downshift, you can simply let that wave of torque take you confidently out of one corner and on to the next. Ride quality was great; there's really no shudder at idle or excessive noise when you rev it; and interior appointments were as we've described for the 2012 VW Beetle models that are otherwise out at dealerships now.
Economical operation is of course part of that story, as much as we're trying not to make it the only story here. EPA ratings for the latest Beetle TDI ring in at 29 mpg city, 39 highway. While those city ratings are about what you'll see in shorter trips or urban commutes, we have a long history of seeing much higher real-world highway results in TDI models compared to their EPA ratings -- so don't think 45 mpg is out of the question. In about 30 miles of some of the hardest, worst-case-scenario driving the TDI might encounter, we averaged about 25 mpg
Interestingly, while we drove the 2013 Beetle TDI, we don't yet have a price for it. VW officials confirmed that we can expect the TDI to fit into the lineup in the same way it did when it was last sold in the U.S., and in the same way it's positioned in some of VW's current model lines (above the base engine, but just below the turbo) -- so count starting prices in the low to mid twenties.
This story originally appeared at The Car Connection