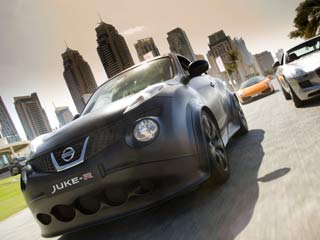 The production Juke-R will use the more powerful 545-horsepower engine from the latest 2013 GT-R. (©Nissan North America, Inc.)

| | |
| --- | --- |
| | More from High Gear Media |
| | | |
| --- | --- | --- |
| | Motor Authority archives | more>> |
Volkswagen iBeetle integrates iPhone, gets iNamed
The new iBeetle includes an iPhone docking station.

2013 Buick Encore recalled because of steering wheels that may detach
Buick has issued a recall on its Encore compact crossover because of a problem that could cause the steering wheel of some of the cars to come loose or even detach from the steering column.

New Stingray coming to Geneva
Chevrolet will debut the 2014 Corvette Stingray convertible on March 5, at Switzerland's Geneva Motor Show.

Super Bowl MVP Joe Flacco wins Chevy Stingray
The new 2014 Chevrolet Corvette Stingray had a starring role at Super Bowl XLVII with the game's MVP, quarterback Joe Flacco, winning one.

Car makers join forces for cleaner fuel studies
Daimler has announced it's formed an alliance with Ford and Nissan to help accelerate the development and eventual launch of hydrogen fuel cell technology for cars.

2014 Cadillac ELR preview
You've likely noticed and perhaps even lusted after the stylish Cadillac CTS-V Coupe.


2014 Mercedes-Benz E Class Coupe & Cabriolet preview
Mercedes-Benz has some more of the E Class range to bring us, as a sort of belated holiday gift: the 2014 E Class Coupe and Cabriolet.

Bill Ford, Jr. is buyer of oldest Ford still in existence
Last October the world's oldest known Ford in existence, a 1903 Model A, sold at auction for the relative bargain price of price of $264,000.

2013 SRT Viper: Review and test drive
The 2013 SRT Viper is almost completely different from the old Dodge Viper, and yet it's almost exactly the same.

Chevy Camaro Hot Wheels Edition can be yours
We've seen plenty of life-size Hot Wheels cars in the past, including a previous Camaro, but none of these have ever been offered for sale. That is until now.

Nissan has announced that its insane Juke-R super-crossover will be built, but in a very limited run and on a build-to-order basis.

The production version will stay true to the original concept, complete with a twin-turbocharged V-6 engine sourced from a GT-R supercar, advanced all-wheel drive system and top speed of 160 mph.

One difference, however, is that the production Juke-R will use the more powerful 545-horsepower engine from the latest 2013 GT-R while the concept version used the previous 485-horsepower engine.

Nissan has already received three orders for the Juke-R, which is estimated to cost close to $200,000. Two of those orders, the automaker has revealed, come from high-profile members of Dubai society.

The announcement of the Juke-R's production was made during the presentation of a cinematic online movie starring the souped-up crossover and Nissan's inaugural GT Academy winner, Lucas Ordonez.

The short movie, Desert Nemesis, follows Ordonez as he takes on the world's best supercars in a secret street race held in Dubai. The actual race took place in January on the eve of the 2012 Dubai 24 Hours endurance race and saw the Juke-R decimate popular supercars like the Ferrari 458 Italia, Lamborghini Gallardo and Mercedes-Benz SLS AMG.

The Juke-R was built on behalf of Nissan by motorsports and engineering firm Ray Mallock Limited (RML) in the UK. Shoehorned into its chassis is the drivetrain of a Nissan GT-R, which as you may have guessed is no easy task considering the GT-R has a shorter but wider overall footprint than the Juke.

Some of the modifications include widened wheel arches, a full bodykit, a fixed rear roof wing, the GT-R's 20-inch wheels, Brembo brakes, and a custom roll cage. The interior was also given an extensive makeover, receiving a 4WD controller, the GT-R's touch-screen interface with all of the PS3-like goodies, and the engine control system.

Speaking at today's announcement, Gareth Dunsmore, European marketing chief for the Juke, said: "The Juke-R was originally intended as a one-off concept to marry two of Nissan's most innovative models. But the reaction we had to the car in Dubai was amazing--people were making offers for the original on the street."

If you happen to have a spare $200k lying around and are interested in owning this very unique vehicle, you can send in your request to Juke-R@Nissan.co.uk. Deliveries are scheduled to start this summer.
This story originally appeared at Motor Authority