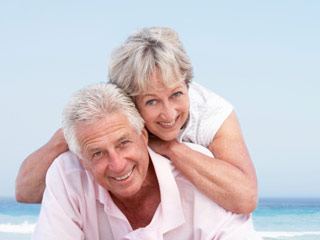 © iStockphoto / Thinkstock

Diet soda habit as bad for teeth as meth addiction
Heavy consumption of diet soda can damage teeth as badly as methamphetamine or crack cocaine, a new study contends.

U.S. teen birth rate plummets
Teen birth rates in the United States are dropping sharply, especially among Hispanic teens, according to a new government report.

Too few kids use fast-food calorie info
Kids who eat fast food at least twice a week are 50 percent less likely to use calorie and nutritional information than kids who eat fast food less often.

American Cancer Society celebrates 100 years of progress
The American Cancer Society, which is celebrating on Wednesday a century of fighting a disease once viewed as a death sentence, is making a pledge to put itself out of business.

Simple steps can protect pets in weather disasters
In the aftermath of this week's deadly tornado, many people in Oklahoma are not only struggling to care for children and relatives, but also their pets.

More kids getting donor organs, but gaps persist
Over the last decade, the number of American children who die each year awaiting an organ donation dropped by more than half, new research reveals. And increasing numbers of children are receiving donor organs.

Americans still making unhealthy choices
The overall health of Americans isn't improving much, with about six in 10 people either overweight or obese and large numbers engaging in unhealthy behaviors like smoking, heavy drinking or not exercising.

Weather worries can threaten a child's mental health
The monstrous tornado that devastated Moore, Okla., on Monday, killing dozens of adults and children, is a stunning example of violent weather that can affect a child's mental well-being.

Student suicide may spur similar thoughts in teens
When a classmate commits suicide, teens are more likely to consider or attempt suicide themselves, according to a new study.

Sleepless nights may hurt school performance of kids with asthma
Urban elementary school children with poorly controlled asthma are likely to experience sleep problems and suffer academically, new research indicates.

SATURDAY, May 26 (HealthDay News) -- People tend to exercise less as they grow older, but keeping physically active is essential for remaining healthy and independent, an expert says.
"Exercise is important for almost everyone. There are very few medical conditions that exercise won't benefit. In fact, I sometimes write a prescription to get my patients to start taking this seriously and help them understand exercise can be just as helpful as medication," Dr. Keith Veselik, director of primary care at Loyola University Health System, said in a Loyola news release.
Aging can present challenges to exercise, so Veselik offers suggestions on how to deal with certain issues.
Muscle and joint aches and pains start becoming more noticeable in your 50s, so you may need to try cardiovascular exercises that boost your heart rate but are easy on the joints. For example, try swimming or cycling instead of running. If you do run, invest in good shoes that cushion the impact.
Cardiovascular exercise helps prevent medical problems such as heart disease, asthma and chronic obstructive pulmonary disease. But if you've been inactive, you need to talk to your doctor, ask about risk factors and create a cardiovascular exercise plan that's right for you.
Back pain is another common problem among people in their 50s.
"The best way to protect your back is to build strong core muscles and make sure you are lifting heavy objects correctly," Veselik advised.
Balance and leg-strengthening exercises should be emphasized as people enter their 60s, to increase flexibility and help prevent accidental falls. Weight-bearing exercises are critical to keep bones healthy and prevent osteoporosis.
Many adults in their 60s have symptoms of arthritis, which can make exercise difficult.
"Exercise has been proven to help people deal with their arthritis. It's just making sure your exercise routine is working for you, not against you. Some people forget that walking is a great form of exercise -- just make sure you get your heart rate up. Also, aquatic classes or swimming are a great way for people with arthritis or fibromyalgia to exercise," Veselik said in the news release.
"The biggest worry I hear from my patients who are entering their 70s, 80s and beyond is dementia. The two most common forms are Alzheimer's and vascular dementia," he said.
And, he added, exercise may help prevent those conditions.
"Exercise is important, but it's not the end all. It needs to be coupled with eating right and incorporating other healthy habits to lead to a better quality of life," Veselik concluded.
More information
The U.S. National Institute on Aging has more about exercise and physical activity.

Copyright © 2012 HealthDay. All rights reserved.