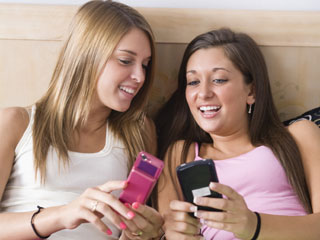 © Comstock / Thinkstock

Diet soda habit as bad for teeth as meth addiction
Heavy consumption of diet soda can damage teeth as badly as methamphetamine or crack cocaine, a new study contends.

U.S. teen birth rate plummets
Teen birth rates in the United States are dropping sharply, especially among Hispanic teens, according to a new government report.

Too few kids use fast-food calorie info
Kids who eat fast food at least twice a week are 50 percent less likely to use calorie and nutritional information than kids who eat fast food less often.

American Cancer Society celebrates 100 years of progress
The American Cancer Society, which is celebrating on Wednesday a century of fighting a disease once viewed as a death sentence, is making a pledge to put itself out of business.

Simple steps can protect pets in weather disasters
In the aftermath of this week's deadly tornado, many people in Oklahoma are not only struggling to care for children and relatives, but also their pets.

More kids getting donor organs, but gaps persist
Over the last decade, the number of American children who die each year awaiting an organ donation dropped by more than half, new research reveals. And increasing numbers of children are receiving donor organs.

Americans still making unhealthy choices
The overall health of Americans isn't improving much, with about six in 10 people either overweight or obese and large numbers engaging in unhealthy behaviors like smoking, heavy drinking or not exercising.

Weather worries can threaten a child's mental health
The monstrous tornado that devastated Moore, Okla., on Monday, killing dozens of adults and children, is a stunning example of violent weather that can affect a child's mental well-being.

Student suicide may spur similar thoughts in teens
When a classmate commits suicide, teens are more likely to consider or attempt suicide themselves, according to a new study.

Sleepless nights may hurt school performance of kids with asthma
Urban elementary school children with poorly controlled asthma are likely to experience sleep problems and suffer academically, new research indicates.

FRIDAY, June 15 (HealthDay News) -- Many teens send and receive sexually explicit photos on their cellphones and have little to no awareness of the possible mental health, social or legal consequences of doing so, a new study warns.
Researchers asked 606 students, some as young as 14, at a private high school in the southwestern United States about their experiences with "sexting" and the potential risks associated with being caught sexting.
Nearly 20 percent of the students said they had sent a sexually explicit image of themselves via cellphone, and nearly twice as many said they had received a sexually explicit picture. More than 25 percent of those who received a sexually explicit picture forwarded it to others.
Of those who had sent a sexually explicit picture, more than one-third did so despite believing that they could face serious legal and other consequences if they were caught.
The study also found that students who sent a sexually explicit picture by cellphone were more likely than others to believe it was an acceptable activity.
The study was published online June 7 in the journal Archives of Sexual Behavior.
"These results argue for educational efforts such as cellphone safety assemblies, awareness days, integration into class curriculum and teacher training, designed to raise awareness about the potential consequences of sexting among young people," wrote Donald Strassberg, of the University of Utah, and colleagues.
In many states, those who send or receive nude pictures of people under age 18 could face charges as serious as possession or distribution of child pornography. Penalties include being listed on a sex offender registry. The researchers also noted that people in sexually explicit photos may suffer serious mental health consequences.
More information
The American Academy of Pediatrics explains how to talk to children and teens about social media and sexting.

Copyright © 2012 HealthDay. All rights reserved.