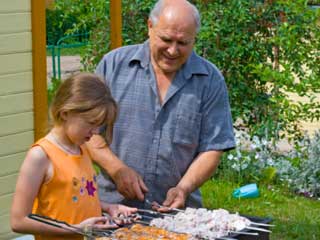 © Hemera / Thinkstock

Diet soda habit as bad for teeth as meth addiction
Heavy consumption of diet soda can damage teeth as badly as methamphetamine or crack cocaine, a new study contends.

U.S. teen birth rate plummets
Teen birth rates in the United States are dropping sharply, especially among Hispanic teens, according to a new government report.

Too few kids use fast-food calorie info
Kids who eat fast food at least twice a week are 50 percent less likely to use calorie and nutritional information than kids who eat fast food less often.

American Cancer Society celebrates 100 years of progress
The American Cancer Society, which is celebrating on Wednesday a century of fighting a disease once viewed as a death sentence, is making a pledge to put itself out of business.

Simple steps can protect pets in weather disasters
In the aftermath of this week's deadly tornado, many people in Oklahoma are not only struggling to care for children and relatives, but also their pets.

More kids getting donor organs, but gaps persist
Over the last decade, the number of American children who die each year awaiting an organ donation dropped by more than half, new research reveals. And increasing numbers of children are receiving donor organs.

Americans still making unhealthy choices
The overall health of Americans isn't improving much, with about six in 10 people either overweight or obese and large numbers engaging in unhealthy behaviors like smoking, heavy drinking or not exercising.

Weather worries can threaten a child's mental health
The monstrous tornado that devastated Moore, Okla., on Monday, killing dozens of adults and children, is a stunning example of violent weather that can affect a child's mental well-being.

Student suicide may spur similar thoughts in teens
When a classmate commits suicide, teens are more likely to consider or attempt suicide themselves, according to a new study.

Sleepless nights may hurt school performance of kids with asthma
Urban elementary school children with poorly controlled asthma are likely to experience sleep problems and suffer academically, new research indicates.

SUNDAY, June 17 (HealthDay News) -- A few simple changes in how people grill outdoors, such as avoiding too much beef or processed meats and not charring foods, can aid in cancer prevention, according to an expert.
"Two aspects of the traditional American cookout, what you grill and how you grill it, can potentially raise cancer risk," Alice Bender, a dietitian with the American Institute for Cancer Research, said in an institute news release. "Diets that feature big portions of red and processed meat have been shown to make colorectal cancer more likely. Evidence that grilling itself is a risk factor is less strong, but it only makes sense to take some easy cancer-protective precautions," she added.
One way to help prevent cancer is to avoid overcooking foods on the grill, Bender said. Charring, she explained, results in the formation of cancer-causing compounds called heterocyclic amines (HCAs) and polycyclic aromatic hydrocarbons (PAHs).
Bender offered four other ways to grill more safely:
Add color (but not red meat). By cutting back on red meat and grilling a wider variety of colorful fruits and vegetables, people will increase their intake of phytochemicals. These naturally occurring compounds found in plants offer protection against cancer, Bender said. She suggested grilling vegetables like asparagus, onions, mushrooms, zucchini, eggplant and corn on the cob, which can be grilled whole, in chunks or in a basket. When grilling fruits, she noted, brush them with olive oil so they won't stick. Bender added that fruits should be grilled a day or two before they are completely ripe so they retain their texture.
Mix it up. Opt for chicken or fish instead of hamburgers or hotdogs.
Marinate. Marinating meat reduces the formation of HCAs, Bender advised. Marinating meats in seasoned vinegar or lemon juice for even just 30 minutes can be beneficial, she noted.
Pre-cook (partially). Pre-cooking meat will reduce the amount of time it spends exposed to high heat on the grill and reduce the formation of HCAs. Bender cautioned that partially pre-cooked meats should be transferred from the kitchen to the grill right away.
Cook slowly. By grilling meats slowly at a lower heat, they are less likely to burn or char. Bender said this will reduce the amount of HCAs and PAHs that end up on people's plates.
Bender added that visible fat should be trimmed off meats to avoid high flames or flare-ups, and that any charred portions of meat should also be cut off.
More information
The U.S. Department of Health and Human Services has more about grilling safety.

Copyright © 2012 HealthDay. All rights reserved.