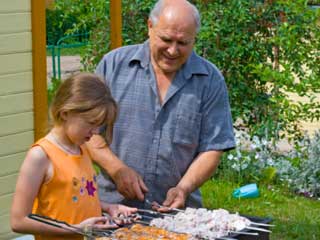 © Hemera / Thinkstock

Genes may boost woman's risk of postpartum depression
Pregnant women with specific alterations in two genes may be at increased risk of suffering depression after giving birth, a small new study suggests.

Racial disparities seen in U.S. lung cancer treatment
Racial disparities exist in the treatment of non-small cell lung cancer among hospitals in the United States, according to a large new study.

Favorite music may ease anxiety for patients
Music can help soothe the fear and anxiety of critically ill patients who have been placed on ventilators, reducing both their stress and their need for sedatives, according to a new study.

Revised sunscreen labels should help consumers make wiser choices
Dermatologists are saying that new federally mandated labeling laws for sunscreens should help Americans make smarter choices when it comes to products that provide the best sun protection.

Living near major roadways in pregnancy tied to respiratory woes in children
A child whose mother lived near heavy traffic while pregnant faces a relatively higher risk for developing a respiratory infection before the age of 3, a new study suggests.

Noise, dirty air may be double whammy for the heart
Air pollution and noise pollution both may boost the risk of heart disease, new research from Germany suggests.

Many can blame family for their bunions
If you've got bunions, chances are others in your family suffer from the common foot disorder, with a new study finding the condition is often passed down from parents to children.

ADHD in childhood may raise risk for obesity in adulthood
Boys who are diagnosed with attention deficit-hyperactivity disorder (ADHD) are twice as likely to become obese adults as those who didn't have the disorder when they were young, a new 30-year study shows.

Latest edition of psychiatry's 'bible' launched amid controversy
As the American Psychiatric Association unveils the latest edition of what is considered the "bible" of modern psychiatry this weekend, the uproar over its many changes continues.

Swallowing magnets can be fatal for children
Children who swallow high-powered magnets often need surgery and other invasive procedures to remove the objects, according to a new study.

SUNDAY, June 17 (HealthDay News) -- A few simple changes in how people grill outdoors, such as avoiding too much beef or processed meats and not charring foods, can aid in cancer prevention, according to an expert.
"Two aspects of the traditional American cookout, what you grill and how you grill it, can potentially raise cancer risk," Alice Bender, a dietitian with the American Institute for Cancer Research, said in an institute news release. "Diets that feature big portions of red and processed meat have been shown to make colorectal cancer more likely. Evidence that grilling itself is a risk factor is less strong, but it only makes sense to take some easy cancer-protective precautions," she added.
One way to help prevent cancer is to avoid overcooking foods on the grill, Bender said. Charring, she explained, results in the formation of cancer-causing compounds called heterocyclic amines (HCAs) and polycyclic aromatic hydrocarbons (PAHs).
Bender offered four other ways to grill more safely:
Add color (but not red meat). By cutting back on red meat and grilling a wider variety of colorful fruits and vegetables, people will increase their intake of phytochemicals. These naturally occurring compounds found in plants offer protection against cancer, Bender said. She suggested grilling vegetables like asparagus, onions, mushrooms, zucchini, eggplant and corn on the cob, which can be grilled whole, in chunks or in a basket. When grilling fruits, she noted, brush them with olive oil so they won't stick. Bender added that fruits should be grilled a day or two before they are completely ripe so they retain their texture.
Mix it up. Opt for chicken or fish instead of hamburgers or hotdogs.
Marinate. Marinating meat reduces the formation of HCAs, Bender advised. Marinating meats in seasoned vinegar or lemon juice for even just 30 minutes can be beneficial, she noted.
Pre-cook (partially). Pre-cooking meat will reduce the amount of time it spends exposed to high heat on the grill and reduce the formation of HCAs. Bender cautioned that partially pre-cooked meats should be transferred from the kitchen to the grill right away.
Cook slowly. By grilling meats slowly at a lower heat, they are less likely to burn or char. Bender said this will reduce the amount of HCAs and PAHs that end up on people's plates.
Bender added that visible fat should be trimmed off meats to avoid high flames or flare-ups, and that any charred portions of meat should also be cut off.
More information
The U.S. Department of Health and Human Services has more about grilling safety.

Copyright © 2012 HealthDay. All rights reserved.