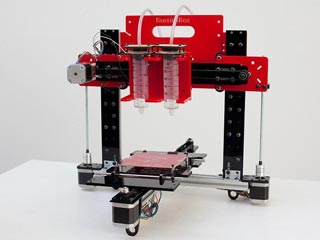 The Burritobot is much like assembly line machine but on a much smaller scale. (Image courtesy of Digital Trends)

Pizza on Mars: NASA funds development of 3D printer that can knock out pizza
NASA has awarded a mechanical engineer a grant worth $125,000 to help him create a 3D printer for food.

How to stay anonymous online
Pretty soon, just about everything we do on the Web will be logged, analyzed, and used for things outside of our control. Here are some ways to help stop that.

Six tips to bombproof your password
How can we make our passwords more hack-resistant and manage all the passwords we need?

Facebook cuts off Social Roulette
True to its name, Social Roulette is a game of roulette in which you're gambling your digital life. After giving the app permissions, you then take a one-in-six chance of letting it delete your Facebook account.

7 bizarre Airbnb rentals that are almost too weird to believe
Weird accommodation options are part of Airbnb's charm, so we'd like to propose seven current listings that should be verified immediately.

Will a spotless inbox really supercharge your productivity?
Inbox Zero is the theory that an empty e-mail inbox is good for peace of mind and productivity. So is it?

Best iPhone 5 accessories
When it comes to iPhone 5 accessories, the options just keep on coming, and there are a lot of little extras that can really improve your experience.

Man arrested after selling his grandson on Facebook
Facebook is basically integrated into every part of our lives. You use it to catch up on friends' lives, meet people, find events, message people but it's also a place where people go to sell live human babies online.

Scan these smart pajamas to launch a bedtime story for the kids
Using the camera on a smartphone or tablet, a parent or child can scan one of forty-seven dot patterns printed on kids pajamas to launch a story.

There was no White House bombing; AP's Twitter hacked
If you're wondering why the Associated Press tweeted that there was an explosion at the White House, it's because its account was hacked.

The future of 3D food printing is closer than you might imagine. We've already seen printers that churn out chocolate delights, and we've read many more stories on 3D printed cakes, pasta, and cookies. But a burrito made by a 3D printer? This seems a bit new.
Unlike previous food 3D printers that make relatively dry, low ingredient food, the Burritobot will print all the toppings you'd find on a typical burrito or taco. Designed by New York University graduate student Marko Manriquez, the Burritobot can pump out black beans, pinto beans, cheese, pico de gallo, cream, mild salsa, and hot salsa onto a pre-made tortilla. All the user has to do is select the desired topping and amount via an iOS or Ruby web-based app to customize their dish before letting Burritobot do the work.
The Burritobot is much like assembly line machine but on a much smaller scale. The prototype parts are mostly plastic, and the only thing that makes the printed item edible is replacing "inks" with ingredients. Creating food via 3D printers also takes quite some time. Depending on the intricacies, some items could take up to hours for one complete piece. Manriquez's design relies solely on changing the way fast food can be customized and automated, and allowing robots to handle the small details of a food order. After all, how many times have you walked into a McDonald's and ask that they put no pickle in your hamburger, but find it there anyway?
Of course, one of the more important factors is taste. How does 3D-printed food compare with handcrafted confections?
"Any food that can be converted into paste form can be extruded and hence 3-D printed… The main limitation in this design is that the ingredients have to that paste-like (or Play Dough) consistency to go through the printer's syringe," Manriquez explains to Fast Co.Design. "So unfortunately, ingredients like lettuce, or chunky bits of meat or salsa are not going to extrude out of a tiny 18 gauge syringe hole. You're just not going to get that desired mouth feel of carne asada. [The burritos are] alright."
Manriquez hopes that with a few extra touches and changes, robots might soon be able to replicate the skills of a human chef. Still, Burritobot is a benchmark for 3D food printing as companies may now try to adapt the idea to produce low-cost and quick machines that can crank out perfect orders of fast food even with unique customer requests.
The question, of course, is if you would be willing to pay for food made by robots. In terms of fast food, it may make sense, but we'd imagine you would rather pay premiums at a restaurant for the skills of a real, live chef. If 3D food printers don't make it as fast food robots, they may likely to become a new category of home appliances.
In Case You Missed It:
- What if the 'Taxi of Tomorrow' also had a vending machine?
- Aeroshot gives users a boost of caffeine in aerosol form
- Samsung announces E-commerce enabled smart refrigerator in Korea
- MIT's new food packaging coating ends violent ketchup bottle shaking