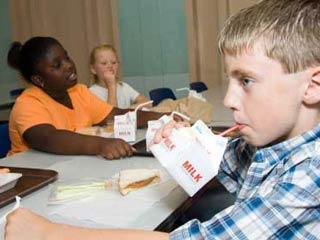 © iStockphoto.com / Bonnie Jacobs

Pizza on Mars: NASA funds development of 3D printer that can knock out pizza
NASA has awarded a mechanical engineer a grant worth $125,000 to help him create a 3D printer for food.

How to stay anonymous online
Pretty soon, just about everything we do on the Web will be logged, analyzed, and used for things outside of our control. Here are some ways to help stop that.

Six tips to bombproof your password
How can we make our passwords more hack-resistant and manage all the passwords we need?

Facebook cuts off Social Roulette
True to its name, Social Roulette is a game of roulette in which you're gambling your digital life. After giving the app permissions, you then take a one-in-six chance of letting it delete your Facebook account.

7 bizarre Airbnb rentals that are almost too weird to believe
Weird accommodation options are part of Airbnb's charm, so we'd like to propose seven current listings that should be verified immediately.

Will a spotless inbox really supercharge your productivity?
Inbox Zero is the theory that an empty e-mail inbox is good for peace of mind and productivity. So is it?

Best iPhone 5 accessories
When it comes to iPhone 5 accessories, the options just keep on coming, and there are a lot of little extras that can really improve your experience.

Man arrested after selling his grandson on Facebook
Facebook is basically integrated into every part of our lives. You use it to catch up on friends' lives, meet people, find events, message people but it's also a place where people go to sell live human babies online.

Scan these smart pajamas to launch a bedtime story for the kids
Using the camera on a smartphone or tablet, a parent or child can scan one of forty-seven dot patterns printed on kids pajamas to launch a story.

There was no White House bombing; AP's Twitter hacked
If you're wondering why the Associated Press tweeted that there was an explosion at the White House, it's because its account was hacked.


A Scottish girl's blog about the quality of her school meals had been getting a huge number of hits after news outlets around the world got hold of the story last month. Then her local council told her to stop. And that's when things really kicked off.
When nine-year-old Brit Martha Payne first started her Never Seconds blog back in April, she could never have imagined what a stir it would cause.
The blog is a record of Martha's lunches at her school in Scotland, with each post comprising a photo, some comments and a rating based on taste and healthiness. Adding a bit of humor, she also lists how many "pieces of hair" she finds in each meal. Her school had given her permission to go ahead with the blog.
While some of Martha's lunches look rather tasty, it has to be said that a fair few look a little on the sad side.
Celebrity chef Jamie Oliver, known as much for his campaigns to improve school meals as for his culinary skills, introduced Martha's blog a wider audience last month when he tweeted to his millions of followers, "Shocking but inspirational blog. Keep going. Big love from Jamie x."
A big part of the blog also involves Martha's efforts to raise money for charity Mary's Meals, an international movement which helps set up school feeding projects in some of the world's poorest communities.
However, despite Martha's honest food-related comments — both good and bad — her local council this week decided to ban her from taking any more photographs of the meals.
"The photographic images uploaded appear to only represent a fraction of the choices available to pupils," it said in a statement, "so a decision has been made by the council to stop photos being taken in the school canteen."
The council also claimed some of the catering staff at the school were worried they might lose their jobs after an article with the headline 'Time to fire the dinner ladies' appeared in the Scottish Daily Record newspaper.
On Thursday, Martha posted an entry on her blog about what had happened:
This morning in maths I got taken out of class by my head teacher and taken to her office. I was told that I could not take any more photos of my school dinners because of a headline in a newspaper today.
I only write my blog not newspapers and I am sad I am no longer allowed to take photos. I will miss sharing and rating my school dinners and I'll miss seeing the dinners you send me too. I don't think I will be able to finish raising enough money for a kitchen for Mary's Meals either.
Goodbye, VEG

Reaction
You can probably guess what happened next. Users of social networking sites weighed in, demanding the ban be overturned. A local lawmaker joined in too, calling the decision "daft." Even Jamie Oliver returned to the fray, tweeting, "Stay strong Martha", before urging his army of followers to retweet the message.
It was all starting to get rather serious. Meetings were arranged between the council and Martha's father, while reports emerged of the catering staff being reduced to tears over the news coverage. By the middle of Friday, however, the council announced it had reversed its decision.
"It is a good thing to do, to change your mind, and I have certainly done that," council leader Roddy McCuish told the BBC.
Martha was understandably overjoyed about the council's U-turn, blogging, "Thanks to everyone that has helped to get my blog back on track. I would have missed writing it a lot and I'm looking forward to sharing my dinners and yours."
One of the happy results of all the publicity is that donations through the schoolgirl's blog to the Mary's Meals charity have skyrocketed this week.
And would you believe, Martha's efforts also appear to have had an effect on the quality of the dishes served at her school. "I've been following this blog since the third entry and I have to say I've noticed a vast improvement in the meals," a commenter wrote on the BBC website.

This article was originally posted on Digital Trends