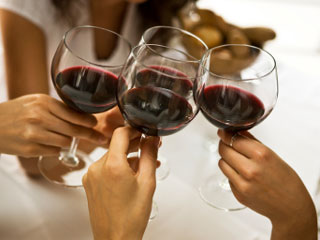 © iStockphoto.com

U.S. teen birth rate plummets
Teen birth rates in the United States are dropping sharply, especially among Hispanic teens, according to a new government report.

Too few kids use fast-food calorie info
Kids who eat fast food at least twice a week are 50 percent less likely to use calorie and nutritional information than kids who eat fast food less often.

American Cancer Society celebrates 100 years of progress
The American Cancer Society, which is celebrating on Wednesday a century of fighting a disease once viewed as a death sentence, is making a pledge to put itself out of business.

Simple steps can protect pets in weather disasters
In the aftermath of this week's deadly tornado, many people in Oklahoma are not only struggling to care for children and relatives, but also their pets.

More kids getting donor organs, but gaps persist
Over the last decade, the number of American children who die each year awaiting an organ donation dropped by more than half, new research reveals. And increasing numbers of children are receiving donor organs.

Americans still making unhealthy choices
The overall health of Americans isn't improving much, with about six in 10 people either overweight or obese and large numbers engaging in unhealthy behaviors like smoking, heavy drinking or not exercising.

Weather worries can threaten a child's mental health
The monstrous tornado that devastated Moore, Okla., on Monday, killing dozens of adults and children, is a stunning example of violent weather that can affect a child's mental well-being.

Student suicide may spur similar thoughts in teens
When a classmate commits suicide, teens are more likely to consider or attempt suicide themselves, according to a new study.

Sleepless nights may hurt school performance of kids with asthma
Urban elementary school children with poorly controlled asthma are likely to experience sleep problems and suffer academically, new research indicates.

Genes may boost woman's risk of postpartum depression
Pregnant women with specific alterations in two genes may be at increased risk of suffering depression after giving birth, a small new study suggests.

TUESDAY, June 19 (HealthDay News) -- One of the cardinal rules for expectant moms: don't drink.
But a new study out of Denmark is throwing that maxim into doubt. It finds that 5-year-olds whose mothers drank low to moderate levels of alcohol (between one and eight drinks a week) during early pregnancy showed no ill effects.
Alcohol consumption during pregnancy that exceeded the "moderate" threshold, however, was associated with a lower attention span among children in that age group.
Despite the findings, experts who reviewed the research said it shouldn't change standard recommendations.
"These findings can easily send a very dangerous message to pregnant women," said Bruce Goldman, director of Substance Abuse Services at the Zucker Hillside Hospital in Glen Oaks, N.Y. He noted that the U.S. surgeon general advises against drinking during pregnancy to avoid fetal alcohol spectrum disorders.
"Women may underestimate and have difficulty acknowledging the frequency or quantity of alcohol consumed," Goldman said. "Those suffering from alcoholism may attempt to rationalize that it is safe to drink moderately, something they may ultimately be unable to do."
In the study, researchers analyzed data from more than 1,600 women in the Danish National Birth Cohort. The amount of alcohol consumed by the women during their pregnancy was classified as either none, low (one to four drinks per week), moderate (five to eight drinks per week) or high (nine or more drinks per week). Binge drinking was defined as having five or more drinks on a single occasion.
At age 5, the women's children underwent tests to assess their IQ, attention span and thinking skills needed for planning, organization and self-control.
Overall, low to moderate weekly drinking during pregnancy had no significant effect on the children's brain development, the team reported. Nor did binge drinking. There was, however, a link between high levels of drinking during pregnancy and lower attention spans in offspring at age 5.
The findings appear in five different studies published June 20 in BJOG: An International Journal of Obstetrics and Gynecology.
Although it's still best for pregnant women to avoid alcohol, these results suggest that small amounts may not be a serious concern, concluded researchers led by Ulrik Schioler Kesmodel, a consultant gynecologist and associate professor at Aarhus University and Aarhus University Hospital.
They called, however, for more large-scale studies to further investigate the possible effects of low to moderate alcohol consumption during pregnancy.
Another U.S. expert familiar with the findings said it's still too early to give women a pass to drink while pregnant.
"I would still caution women about drinking during their pregnancies," said Dr. Jennifer Wu, an obstetrician/gynecologist at Lenox Hill Hospital in New York City. "There may be subtle neurobehavioral changes that were not picked up in the study."
"Also, it can be hard to accurately test younger children," she said, and "tests at an older age may detect larger differences."
More information
The U.S. Centers for Disease Control and Prevention has more about alcohol and pregnancy.

Copyright © 2012 HealthDay. All rights reserved.