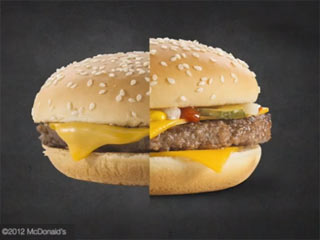 A typical burger made in the fast food joint is made, well, fast, while the model takes much longer to perfect. (Image courtesy of Digital Trends)

Pizza on Mars: NASA funds development of 3D printer that can knock out pizza
NASA has awarded a mechanical engineer a grant worth $125,000 to help him create a 3D printer for food.

How to stay anonymous online
Pretty soon, just about everything we do on the Web will be logged, analyzed, and used for things outside of our control. Here are some ways to help stop that.

Six tips to bombproof your password
How can we make our passwords more hack-resistant and manage all the passwords we need?

Facebook cuts off Social Roulette
True to its name, Social Roulette is a game of roulette in which you're gambling your digital life. After giving the app permissions, you then take a one-in-six chance of letting it delete your Facebook account.

7 bizarre Airbnb rentals that are almost too weird to believe
Weird accommodation options are part of Airbnb's charm, so we'd like to propose seven current listings that should be verified immediately.

Will a spotless inbox really supercharge your productivity?
Inbox Zero is the theory that an empty e-mail inbox is good for peace of mind and productivity. So is it?

Best iPhone 5 accessories
When it comes to iPhone 5 accessories, the options just keep on coming, and there are a lot of little extras that can really improve your experience.

Man arrested after selling his grandson on Facebook
Facebook is basically integrated into every part of our lives. You use it to catch up on friends' lives, meet people, find events, message people but it's also a place where people go to sell live human babies online.

Scan these smart pajamas to launch a bedtime story for the kids
Using the camera on a smartphone or tablet, a parent or child can scan one of forty-seven dot patterns printed on kids pajamas to launch a story.

There was no White House bombing; AP's Twitter hacked
If you're wondering why the Associated Press tweeted that there was an explosion at the White House, it's because its account was hacked.

In an interesting marketing campaign, a McDonald's representative answers a fan favorite question: Why do their advertisements make McDonald's food look better than it actually is? Director of Marketing Hope Bagozzi of McDonald's Canada takes you behind the scenes of an ad photoshoot to show the reasons and differences.
Bagozzi starts by visiting a local McD chain to order a Quarter Pounder to illustrate what customers are used to seeing: a hamburger that's generally flatter and pressed together than what you'd find in an ad. She then heads over to the photoshoot studio where a "food stylist" preps today's model. The crew explains that a typical burger made in the fast food joint is made, well, fast, while the model takes much longer to perfect. However, all the ingredients, such as the bun, patty, mustard, ketchup, pickles, and onions remain the same.
During the shoot, the burger is also not pre-stacked. Instead, the crew stacks each piece one by one, slightly reclining each layer back as they head toward the top. On a side angle, you can see how the top bun is mostly pushed back (and even held up by another piece of bread). According to McDonald's, this is to show every ingredient a customer should expect to get when they buy the product. In reality, everything is stacked on top of each other so you can't necessarily tell there are onions and pickles in between. After the photoshoot, the selected picture is then retouched to look even more enticing by saturating the colors and removing cracks in the burger buns.
Since the burgers generally come in a paper box when you order them, Bagozzi also says that a steam effect deflates the initial volume of the buns, making the real product look squashed. It's a smart campaign and rationale by McDonald's to address a popular fan question, which simplifies that advertisements and product deliveries have different purposes. Jason Kottke of Kottke.org explains it best: "[T]he burger at the restaurant is optimized for eating and the photo burger is optimized for looking delicious."
We're thankful at least the ads use the same ingredients instead of replacing them with shoe polish and hairspray to bring life to a sloppy piece of burger. Or do they? Watch the video of Bagozzi answering the infamous fan question below and tell us what you think.
In Case You Missed It:
- How about a frozen beer foam to go with that pint?
- Burritobot asks: Would you eat a burrito made by a 3D printer?
- Networked clothes hangers show how much an outfit is Facebook Liked
- Social media sites redesigned as sneakers are surprisingly fashionable