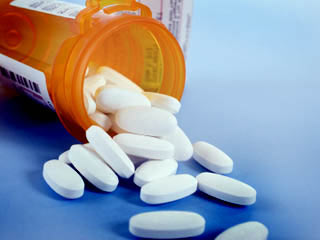 Many can blame family for their bunions
If you've got bunions, chances are others in your family suffer from the common foot disorder, with a new study finding the condition is often passed down from parents to children.

ADHD in childhood may raise risk for obesity in adulthood
Boys who are diagnosed with attention deficit-hyperactivity disorder (ADHD) are twice as likely to become obese adults as those who didn't have the disorder when they were young, a new 30-year study shows.

Latest edition of psychiatry's 'bible' launched amid controversy
As the American Psychiatric Association unveils the latest edition of what is considered the "bible" of modern psychiatry this weekend, the uproar over its many changes continues.

Swallowing magnets can be fatal for children
Children who swallow high-powered magnets often need surgery and other invasive procedures to remove the objects, according to a new study.

Study links coffee to lower risk for rare liver disease
Just a few extra cups of coffee each month might help prevent the development of an autoimmune liver disease known as primary sclerosing cholangitis (PSC), a new study suggests.

Heart attack? Doctors soon may have an app for that
There are apps that turn your smartphone into a metal detector, a musical instrument and a GPS system, and now there's an app that may help doctors save your life if you're having a heart attack.

Managing seasonal allergies
Although spring arrived late this year in parts of the United States, the summer allergy season will still be strong, according to a sinus expert at the University of Alabama at Birmingham.

'Nonsmoking' hotel rooms may not fully protect guests
People who opt for nonsmoking rooms in hotels with a partial smoking ban are not fully protected from harmful exposure to so-called "thirdhand" smoke, according to a new study.

Cellphone use may reveal your dominant brain
New research suggests the dominant side of your brain may make the call on which ear you choose to use while talking on your cellphone.

High-frequency noise boosts math skills in study
Scientists report that they were able to improve the math-calculation skills of college students by buzzing their brains with doses of random high-frequency noise.

WEDNESDAY, June 20 (HealthDay News) -- Genetics play a major role in a person's risk for addiction or unpleasant side effects when taking opioid painkillers, new research suggests.
Opioids, also called narcotics, are commonly prescribed to treat moderate to severe pain and include drugs such as morphine, methadone and oxycodone.
Some people experience debilitating side effects when taking opioids, while others have no problems. Similarly, some people can take these medications for months with little chance of addiction, while others are at risk within weeks.
To examine these patient differences, researchers from the Stanford University School of Medicine assessed the responses of more than 120 twin pairs and non-related people who were given the opioid alfentanil, a short-acting painkiller prescribed by anesthesiologists.
One finding of the study was that identical twins were more similar in their responses to the drug than non-identical twins, which suggests that genetics are a major factor.
Specifically, the researchers concluded that genetics play a significant role in a patients' variability for the risk of opioid side effects. They accounted for 59 percent of the variability for nausea, 38 percent of itchiness, 32 percent of dizziness and 30 percent of slowed breathing.
In addition, genetics accounted for 36 percent of drug disliking and 26 percent of drug liking, which are measures of addiction risk, according to the study published online June 20 in the journal Anesthesiology.
"The study is a significant step forward in efforts to understand the basis of individual variability in response to opioids, and to eventually personalize opioid treatment plans for patients," Dr. Martin Angst, one of the two principal investigators, said in a Stanford news release.
"Our findings strongly encourage the use of downstream molecular genetics to identify patients who are more likely or less likely to benefit from these drugs -- to help make decisions on how aggressive you want to be with treatment, how carefully you monitor patients and whether certain patients are suitable candidates for prolonged treatment," said Angst, a professor of anesthesia and director of the Stanford Human Pain Research Laboratory.
Earlier this year, the same team of researchers published a study that found that genetics account for 60 percent of the variability in the effectiveness of opioids in relieving pain.
More information
The U.S. Food and Drug Administration offers a guide to the safe use of pain medicines.

Copyright © 2012 HealthDay. All rights reserved.