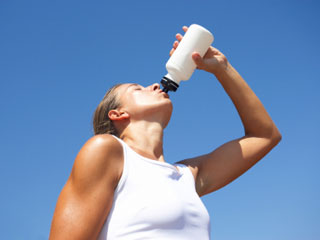 © iStockphoto.com / Wolfgang Amri

Diet soda habit as bad for teeth as meth addiction
Heavy consumption of diet soda can damage teeth as badly as methamphetamine or crack cocaine, a new study contends.

U.S. teen birth rate plummets
Teen birth rates in the United States are dropping sharply, especially among Hispanic teens, according to a new government report.

Too few kids use fast-food calorie info
Kids who eat fast food at least twice a week are 50 percent less likely to use calorie and nutritional information than kids who eat fast food less often.

American Cancer Society celebrates 100 years of progress
The American Cancer Society, which is celebrating on Wednesday a century of fighting a disease once viewed as a death sentence, is making a pledge to put itself out of business.

Simple steps can protect pets in weather disasters
In the aftermath of this week's deadly tornado, many people in Oklahoma are not only struggling to care for children and relatives, but also their pets.

More kids getting donor organs, but gaps persist
Over the last decade, the number of American children who die each year awaiting an organ donation dropped by more than half, new research reveals. And increasing numbers of children are receiving donor organs.

Americans still making unhealthy choices
The overall health of Americans isn't improving much, with about six in 10 people either overweight or obese and large numbers engaging in unhealthy behaviors like smoking, heavy drinking or not exercising.

Weather worries can threaten a child's mental health
The monstrous tornado that devastated Moore, Okla., on Monday, killing dozens of adults and children, is a stunning example of violent weather that can affect a child's mental well-being.

Student suicide may spur similar thoughts in teens
When a classmate commits suicide, teens are more likely to consider or attempt suicide themselves, according to a new study.

Sleepless nights may hurt school performance of kids with asthma
Urban elementary school children with poorly controlled asthma are likely to experience sleep problems and suffer academically, new research indicates.

WEDNESDAY, June 20 (HealthDay News) -- As the first major heat wave of the summer engulfs the continental United States, health experts are urging people to take special precautions when dealing with scorching temperatures and oppressive humidity.
One of the most important things to do is to drink plenty of water throughout the day to avoid dehydration, said Dr. Robert Glatter, an emergency physician at Lenox Hill Hospital in New York City.
Sports drinks that contain electrolytes such as sodium and potassium with small amounts of glucose may help to combat dehydration, Glatter noted, but caffeinated beverages and products with high amounts of sugar can worsen dehydration.
Because children and the elderly are particularly vulnerable to dehydration, they should be checked on often and encouraged to drink lots of fluids, he added.
Many seniors take medications, including diuretics and some blood pressure drugs, that hamper the body's ability to cool itself through sweating, and people who are overweight may also be prone to heat sickness because of their tendency to retain more body heat, according to the U.S. Centers for Disease Control and Prevention.
Along with consuming lots of fluids, try not to stay outside any longer than necessary, Glatter added.
"Stay indoors if possible, preferably in an air-conditioned space," he said. "If only a fan is available, misting with cool water may help to cool you by evaporation."
If you do have to spend time outdoors, wear loose, light-colored clothing and a wide-brimmed hat, to shield yourself from the sun's rays, Glatter noted.
The CDC recommends a "buddy system" when working in the heat, to monitor the health of your co-workers and have them do the same for you. Heat-induced illness can cause a person to become confused or lose consciousness, and you should call 911 immediately if you see this happening.
Even short periods of searing temperatures can cause serious health problems, so the CDC recommends that you listen to local media reports or contact local health departments for safety updates. Overexerting yourself on a hot day, spending too much time in the sun or staying too long in an overheated place can all cause heat-related illnesses.
According to the CDC, there are several types of heat illnesses that you need to watch out for, both in yourself and among others:
Heat stroke happens when the body can't regulate its own temperature. Your ability to sweat stops, and your body is unable to cool down. Your body temperature may rise to 106 degrees Fahrenheit or higher in the space of 10 to 15 minutes. Heat stroke can cause death or permanent disability if emergency treatment is not given. Some of the symptoms include red, hot, dry skin, a rapid and strong pulse, a throbbing headache, dizziness, nausea and confusion. Once these symptoms occur, the victim has to be cooled rapidly using whatever methods you have, which include putting the person in a cool tub of water or a cool shower, spraying the person with a hose or wrapping the victim in a cool sheet. Do not give the victim fluids to drink, and get medical help as soon as possible.
Heat exhaustion is a milder form of heat illness that can develop after several days of exposure to high temperatures and lack of fluids. Those most prone to heat exhaustion are elderly people, those with high blood pressure and people working or exercising in a hot environment. Symptoms include heavy sweating, paleness, muscle cramps, fatigue, dizziness, headache, nausea, vomiting or fainting. The skin may be cool and moist, and the pulse rate fast and weak while breathing may be fast and shallow. Help the victim to cool off, and seek medical attention if symptoms worsen or last longer than an hour.
Heat cramps typically happen after you sweat a lot during strenuous activity. The low salt level in the muscles may be the cause of heat cramps. Heat cramps may also be a symptom of heat exhaustion. Symptoms include muscle pains or spasms, usually in the stomach, arms or legs. You should stop all activity immediately and sit down in a cool place. Drink clear liquids or sports drinks, and do not return to strenuous activity for a few hours. Seek medical attention if the cramps do not stop within an hour.
More information
For more on heat waves, go to the U.S. Centers for Disease Control and Prevention.

Copyright © 2012 HealthDay. All rights reserved.