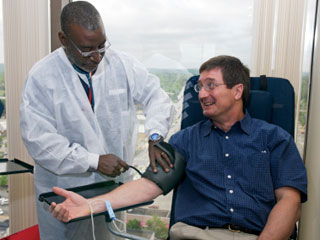 © iStockphoto.com / David H. Lewis

U.S. teen birth rate plummets
Teen birth rates in the United States are dropping sharply, especially among Hispanic teens, according to a new government report.

Too few kids use fast-food calorie info
Kids who eat fast food at least twice a week are 50 percent less likely to use calorie and nutritional information than kids who eat fast food less often.

American Cancer Society celebrates 100 years of progress
The American Cancer Society, which is celebrating on Wednesday a century of fighting a disease once viewed as a death sentence, is making a pledge to put itself out of business.

Simple steps can protect pets in weather disasters
In the aftermath of this week's deadly tornado, many people in Oklahoma are not only struggling to care for children and relatives, but also their pets.

More kids getting donor organs, but gaps persist
Over the last decade, the number of American children who die each year awaiting an organ donation dropped by more than half, new research reveals. And increasing numbers of children are receiving donor organs.

Americans still making unhealthy choices
The overall health of Americans isn't improving much, with about six in 10 people either overweight or obese and large numbers engaging in unhealthy behaviors like smoking, heavy drinking or not exercising.

Weather worries can threaten a child's mental health
The monstrous tornado that devastated Moore, Okla., on Monday, killing dozens of adults and children, is a stunning example of violent weather that can affect a child's mental well-being.

Student suicide may spur similar thoughts in teens
When a classmate commits suicide, teens are more likely to consider or attempt suicide themselves, according to a new study.

Sleepless nights may hurt school performance of kids with asthma
Urban elementary school children with poorly controlled asthma are likely to experience sleep problems and suffer academically, new research indicates.

Genes may boost woman's risk of postpartum depression
Pregnant women with specific alterations in two genes may be at increased risk of suffering depression after giving birth, a small new study suggests.

TUESDAY, June 26 (HealthDay News) -- Blood supplies have dropped to dangerously low levels in the United States, according to the American Red Cross.
Although the group must collect more than 17,000 pints of blood every day to meet nationwide demands, the Red Cross reported it received 50,000 fewer blood donations in June. Right now, only half the blood products that were in supply this time last year are currently available. The organization said donors of all blood types are needed to meet the needs of patients this summer.
"There is always the chance that a physician could postpone an elective surgery if the needed blood products aren't readily available," Dr. Richard Benjamin, chief medical officer for the American Red Cross, said in a Red Cross news release. "In a worst case scenario, a physician may have to forego performing a more serious procedure for a patient because of a shortage of blood. We need to do everything we can to make sure it doesn't get to that point."
Unseasonably warm weather may have contributed to the shortage in blood donors, the Red Cross noted. The group explained that many regular donors may already be involved in their summer activities and not taking the time to give blood or platelets.
Complicating matters, the Red Cross pointed out the Fourth of July falls during the middle of the week this year, which has reduced the number of planned blood drives. The Red Cross called upon individual donors to make appointments to give blood in the near future. The organization noted one pint of blood can save more than one life.
To learn more about becoming a blood or platelet donor, call 1-800-RED CROSS or visit redcrossblood.org. Blood donors must be at least 17 years old, weight at least 110 pounds and be in generally good health. To give blood, people also need a blood donor card or driver's license, or two other forms of identification.
More information
The American Red Cross provides more information on how to donate blood.

Copyright © 2012 HealthDay. All rights reserved.