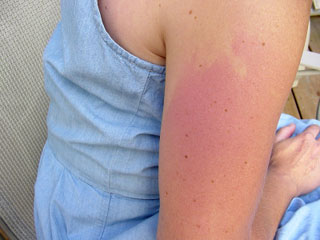 © iStockphoto.com / Frances Twitty

Diet soda habit as bad for teeth as meth addiction
Heavy consumption of diet soda can damage teeth as badly as methamphetamine or crack cocaine, a new study contends.

U.S. teen birth rate plummets
Teen birth rates in the United States are dropping sharply, especially among Hispanic teens, according to a new government report.

Too few kids use fast-food calorie info
Kids who eat fast food at least twice a week are 50 percent less likely to use calorie and nutritional information than kids who eat fast food less often.

American Cancer Society celebrates 100 years of progress
The American Cancer Society, which is celebrating on Wednesday a century of fighting a disease once viewed as a death sentence, is making a pledge to put itself out of business.

Simple steps can protect pets in weather disasters
In the aftermath of this week's deadly tornado, many people in Oklahoma are not only struggling to care for children and relatives, but also their pets.

More kids getting donor organs, but gaps persist
Over the last decade, the number of American children who die each year awaiting an organ donation dropped by more than half, new research reveals. And increasing numbers of children are receiving donor organs.

Americans still making unhealthy choices
The overall health of Americans isn't improving much, with about six in 10 people either overweight or obese and large numbers engaging in unhealthy behaviors like smoking, heavy drinking or not exercising.

Weather worries can threaten a child's mental health
The monstrous tornado that devastated Moore, Okla., on Monday, killing dozens of adults and children, is a stunning example of violent weather that can affect a child's mental well-being.

Student suicide may spur similar thoughts in teens
When a classmate commits suicide, teens are more likely to consider or attempt suicide themselves, according to a new study.

Sleepless nights may hurt school performance of kids with asthma
Urban elementary school children with poorly controlled asthma are likely to experience sleep problems and suffer academically, new research indicates.

SUNDAY, July 8 (HealthDay News) -- In examining exactly what happens when skin gets sunburned, researchers studying human skin cells and mice found that sunburn is the result of RNA damage.
The red and painful burn is an immune response triggered by this altered genetic material to remove sun-damaged cells, according to the study published in the July 8 online edition of Nature Medicine.
Researchers from the University of California, San Diego (UCSD), suggested their findings could help scientists find a way to block this inflammatory process, which could have implications for a number of medical conditions and treatments, including psoriasis.
"For example, diseases like psoriasis are treated by UV [ultraviolet] light, but a big side effect is that this treatment increases the risk of skin cancer," lead investigator Dr. Richard Gallo, a professor of medicine at UCSD and Veterans Affairs San Diego Healthcare System, said in a university news release.
"Our discovery suggests a way to get the beneficial effects of UV therapy without actually exposing our patients to the harmful UV light. Also, some people have excess sensitivity to UV light, patients with lupus, for example. We are exploring if we can help them by blocking the pathway we discovered," Gallo added.
Using human skin cells and a mouse model, the investigators found that ultraviolet B radiation fractures and tangles elements of a special type of RNA that doesn't directly make proteins, known as non-coding micro-RNA. When skin cells are exposed to radiation, they release this altered RNA. As a result, nearby healthy cells trigger an inflammatory response to remove sun-damaged cells. This process is what results in a painful and red sunburn, according to the authors.
"The inflammatory response is important to start the process of healing after cell death," explained Gallo. "We also believe the inflammatory process may clean up cells with genetic damage before they can become cancer. Of course, this process is imperfect and with more UV exposure, there is more chance of cells becoming cancerous," he said in the news release.
How gender, skin pigmentation and individual genetics affect the inflammatory response that people experience as sunburn remains unclear, the study authors noted.
"Genetics is closely linked to the ability to defend against UV damage and develop skin cancers," Gallo said. "We know in our mouse genetic models that specific genes will change how the mice get sunburn. Humans have similar genes, but it is not known if people have mutations in these genes that affect their sun response."
Research involving animals should be considered preliminary because the results often don't have implications for humans.
More information
The U.S. National Library of Medicine has more about sunburn.

Copyright © 2012 HealthDay. All rights reserved.