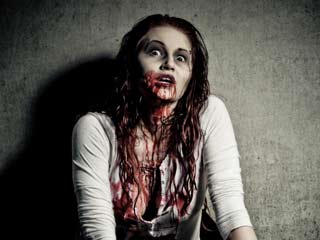 Fans of all things zombie-related might want to listen up. (©iStockphoto/Thinkstock)

Pizza on Mars: NASA funds development of 3D printer that can knock out pizza
NASA has awarded a mechanical engineer a grant worth $125,000 to help him create a 3D printer for food.

How to stay anonymous online
Pretty soon, just about everything we do on the Web will be logged, analyzed, and used for things outside of our control. Here are some ways to help stop that.

Six tips to bombproof your password
How can we make our passwords more hack-resistant and manage all the passwords we need?

Facebook cuts off Social Roulette
True to its name, Social Roulette is a game of roulette in which you're gambling your digital life. After giving the app permissions, you then take a one-in-six chance of letting it delete your Facebook account.

7 bizarre Airbnb rentals that are almost too weird to believe
Weird accommodation options are part of Airbnb's charm, so we'd like to propose seven current listings that should be verified immediately.

Will a spotless inbox really supercharge your productivity?
Inbox Zero is the theory that an empty e-mail inbox is good for peace of mind and productivity. So is it?

Best iPhone 5 accessories
When it comes to iPhone 5 accessories, the options just keep on coming, and there are a lot of little extras that can really improve your experience.

Man arrested after selling his grandson on Facebook
Facebook is basically integrated into every part of our lives. You use it to catch up on friends' lives, meet people, find events, message people but it's also a place where people go to sell live human babies online.

Scan these smart pajamas to launch a bedtime story for the kids
Using the camera on a smartphone or tablet, a parent or child can scan one of forty-seven dot patterns printed on kids pajamas to launch a story.

There was no White House bombing; AP's Twitter hacked
If you're wondering why the Associated Press tweeted that there was an explosion at the White House, it's because its account was hacked.

Fans of all things zombie-related might want to listen up. If you haven't already begun preparing for the inevitable zombie apocalypse (and have a ton of cash to blow), OpticsPlanet has got the complete survival kit sure to win you the war against the undead.
For $24,000, the Zombie Extermination, Research and Operations (Z.E.R.O.) kit comes with every kind of weapon accessories and gear you'll possibly need to fend off those flesh-eating monsters. Don't want to touch those zombies with your bare hands? The Blackhawk S.O.L.A.G. Kevlar Gloves will keep your hands safe from cuts and possible blood mixes with those things, and help you knock the zombies out if you ever misplace a weapon. Scared of a zombie attack deep into the night? Have a person in your camp group keep watch with the OPMOD PVS-14 Night Vision Scope to ensure nothing funny is happening while the rest of you are getting some sleep.
While the kit does not provide actual, full-size weapons (surprise, surprise), tons of accessories come included in the package. You can attach a thermal imaging camera to detect odd movements from afar, or the shatter-resistant red dot holographic rifle sight to pinpoint your target. Need to power your gears? A 62-watt solar charger is even thrown in for good measures.
The Z.E.R.O. kit is also totally prepared for both some action-packed apocalyptic afterlife as well as hardcore research. If you happen to have a scientist in the group, it might be a good idea to start looking for a cure for a virus rather than just killing off zombies after another. The kit also comes with beakers, pipettes, and a microscope to let the brainiac study and sample cells to see how one might possibly stop the mutation.
Is $24,000 an absurd amount of money? Yes (hey, the kit is already on sale from the retail price of $31,735). Is it worth all the gear? Well, considering a lab microscope can already run you several hundred bucks, the bulk kit might end technically saving you money in the long run. But when the day comes when the dead rises from underground, maybe you can just consider breaking into a lab and stealing the much needed equipment? Survival of the fittest at its finest.
Just remember: having the best gears doesn't guarantee you will survive. Good stamina, precision, and basic life skills to hunt food are still necessary to fend off the monsters while you try to live another day. If you're unsatisfied with the Z.E.R.O. kit, OpticsPlanet will accept returns. Though, at that point, who's to say anyone will be left in the world to handle your customer service disputes? Stay safe!
See the full list of included gears at the official OpticsPlanet site.
In Case You Missed It:
Center for Disease Control denies ongoing zombie apocalypse
Now you can live out the fantasies of fighting zombies in an abandoned mall
Gerber Bear Grylls Ultimate Survival Kit: For the over-prepared adventurer
$1.75M Cold War cabin is the perfect place to bunker down for zombie apocalypse
This article was originally posted on Digital Trends