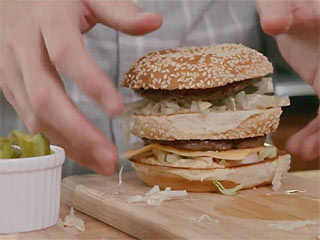 Image courtesy of Digital Trends

Pizza on Mars: NASA funds development of 3D printer that can knock out pizza
NASA has awarded a mechanical engineer a grant worth $125,000 to help him create a 3D printer for food.

How to stay anonymous online
Pretty soon, just about everything we do on the Web will be logged, analyzed, and used for things outside of our control. Here are some ways to help stop that.

Six tips to bombproof your password
How can we make our passwords more hack-resistant and manage all the passwords we need?

Facebook cuts off Social Roulette
True to its name, Social Roulette is a game of roulette in which you're gambling your digital life. After giving the app permissions, you then take a one-in-six chance of letting it delete your Facebook account.

7 bizarre Airbnb rentals that are almost too weird to believe
Weird accommodation options are part of Airbnb's charm, so we'd like to propose seven current listings that should be verified immediately.

Will a spotless inbox really supercharge your productivity?
Inbox Zero is the theory that an empty e-mail inbox is good for peace of mind and productivity. So is it?

Best iPhone 5 accessories
When it comes to iPhone 5 accessories, the options just keep on coming, and there are a lot of little extras that can really improve your experience.

Man arrested after selling his grandson on Facebook
Facebook is basically integrated into every part of our lives. You use it to catch up on friends' lives, meet people, find events, message people but it's also a place where people go to sell live human babies online.

Scan these smart pajamas to launch a bedtime story for the kids
Using the camera on a smartphone or tablet, a parent or child can scan one of forty-seven dot patterns printed on kids pajamas to launch a story.

There was no White House bombing; AP's Twitter hacked
If you're wondering why the Associated Press tweeted that there was an explosion at the White House, it's because its account was hacked.


From the same producers that brought you the behind the scenes look at why McDonald's advertisements make food products look different than the actual thing, McDonald's Canada is back to answer fan questions with a video demonstration.
The question at hand this time concerns the sauce used in a Big Mac, with the consumer wondering what exactly is in the sauce. If you expect McDonald's to present an answer that reveals anything less than fresh, think again — this is an advertising strategy for the fast food chain, after all.

Instead of a straight answer, McDonald's turns the fan question into an opportunity for viewers at home to learn how to make an authentic Big Mac right in their kitchen without waiting around for the frozen stuff you can buy in-store or the quickly-made one in an actual McDonald's.
The video shows McDonald's Executive Chef Dan Coudreaut cooking the burger "exactly" as he would in a retail store's kitchen, except instead of using pre-made ingredients, he starts from scratch.

As it turns out, a McD's Big Mac is pretty simple to recreate, and uses basic ingredients you can find in any grocery store without any secret recipe. Coudreaut shows you everything from how to mix the sauce to shaping the burger patty to flavoring the meat as you cook it on the skillet and finally, how to construct and stack the two-layer burger.

He also explains why the flavor profile is chosen to work that way, and what spices are used to add a certain tang and sweetness to the sauce. If only this video came out right before the Fourth of July.
Of the many videos McDonald's Canada has released since the boom over the behind the scenes photoshoot a few weeks ago, this cooking tutorial proves to be one of the more helpful and interesting answers. Though this is smart advertising strategy for the fast food chain to both be more transparent and gain fan interactivity, not all videos are deemed successful.

For example, another recent question asked was "Why is the food at McDonald's so cheap?" and the short answer to the question was economy of scale (when McDonald's purchase ingredients in bulk, they are able to offer competitive pricing thanks to the discount they get from sourcing).

This video was unfortunately met with about 64 percent dislikes despite that the answer did hold some truth — for McDonald's and all restaurants. Wonder why viewers seemed unhappy with the McDonald's Canada CEO's response.
If you want to learn how to make a original Big Mac, watch the video here.



In Case You Missed It:
- Online Ad Revenues Hit $12.5 Bln in 2005
- Online Ad Spending Up 26 Pct over 2004
- Koolatron's portable grill lets you cook a meal in your car
This article was originally posted on Digital Trends