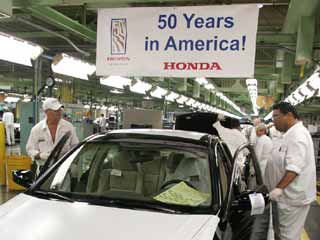 Associates at Honda's first U.S. auto plant in Marysville, Ohio, assemble vehicles on the 50th anniversary of the establishment of American Honda Motor Co. on June 11, 1959. (©Honda)

| | |
| --- | --- |
| | More from High Gear Media |
| | | |
| --- | --- | --- |
| | The Car Connection archives | more>> |
Black box recorders: Groundbreaking safety devices or end of privacy?
The vast majority of vehicles sold in the U.S. today come with black box recorders, and soon the gizmos will be found on all of them.


Death list 2014: The cars you won't see next year
It's time to wave some more goodbyes--some fond, some not so much--to the clutch of vehicles that won't be hitting the road next year.

Hands-free texting is no safer than typing
A debate is raging about taking and making hands-free calls behind the wheel.


Screen test: Five frustrating infotainment in-car interfaces
So-called infotainment interfaces are becoming a center point to the in-car experience—an essential part, if you ask some vehicle shoppers.

Hyundai, Kia recall affects 1.7 Million vehicles with electrical problems
In the largest-ever recall affecting Korean automakers Hyundai and Kia, Hyundai is recalling more than one million vehicles for electrical problems.


Ford tops General Motors, Toyota in loyalty; Hybrids gain traction
Ford Motor Company may not be as big as General Motors, Toyota, or Volkswagen, but when it comes to the loyalty of American customers, Ford has the competition beat.

Louisiana tops list of most expensive states for car insurance
According to a new study from Insure.com, Louisianans pay nearly three times as much for car insurance as drivers in some states.

Ford recalls 2013 Focus, C-Max, Escape for faulty child safety lock
Ford is conducting a voluntary safety recall of 5,675 2013 model year Ford Focus sedans, C-Max hybrids and Escape SUVs in the U.S. due to faulty child safety door locks.

February car sales: Strong despite sequester, payroll tax
The impact of the Great Recession is still being felt in the auto industry, but the idea of recovery is now a "when," not an "if" -- and when appears to be coming soon.


Vehicles under $50k that don't hold their value
For those who don't have their own personal detailing crew—depreciation matters.


When you're looking for a new ride, which is more important: the company that makes the car or the country where it's made?
Once upon a time, that question would've seemed absurd. Honda is a Japanese company, so its cars are made in Japan, right?
But thanks to increasingly international corporations, that's not so true anymore. Automakers like Honda and Volkswagen build huge numbers of vehicles in the U.S., and Detroit's own Ford makes its popular Fiesta in Mexico.
With auto bodies, drivetrains, and other components moving freely across borders, it's sometimes hard to say what counts as an "American" car anymore.
Asking Americans
But that's not to say that consumers don't notice. In fact, our friends at AutoTrader recently surveyed shoppers and found that while 41% believe that it's "important to purchase a vehicle built in the U.S. by U.S. workers", only 28% prioritize buying cars from U.S. automakers, regardless of where those cars were made.
When asked about such feelings, 78% of the "made in America" fans felt that American-made vehicles help protect American jobs. Another 74% said that buying American-made products supports the U.S. economy, and 62% said that doing so "keeps American dollars at home".
But perhaps most interesting of all is this little tidbit: "a vehicle that is made in the U.S. by a foreign automaker is more likely to be seen as 'American made' (57 percent) than one from a U.S. automaker that was built outside the U.S. (43 percent)".
Our take
Unfortunately, AutoTrader didn't supply information about its survey methodology, so we don't know the number of shoppers surveyed or how the study was conducted. That makes us wonder if these numbers would hold up across the general population.
Do these findings match your own experiences and priorities? Do you pay attention to where your vehicle was built? Do you care?
This story originally appeared at The Car Connection