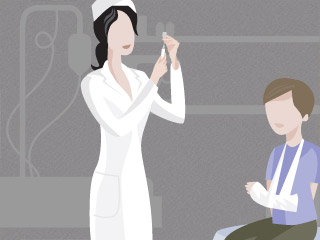 Diet soda habit as bad for teeth as meth addiction
Heavy consumption of diet soda can damage teeth as badly as methamphetamine or crack cocaine, a new study contends.

U.S. teen birth rate plummets
Teen birth rates in the United States are dropping sharply, especially among Hispanic teens, according to a new government report.

Too few kids use fast-food calorie info
Kids who eat fast food at least twice a week are 50 percent less likely to use calorie and nutritional information than kids who eat fast food less often.

American Cancer Society celebrates 100 years of progress
The American Cancer Society, which is celebrating on Wednesday a century of fighting a disease once viewed as a death sentence, is making a pledge to put itself out of business.

Simple steps can protect pets in weather disasters
In the aftermath of this week's deadly tornado, many people in Oklahoma are not only struggling to care for children and relatives, but also their pets.

More kids getting donor organs, but gaps persist
Over the last decade, the number of American children who die each year awaiting an organ donation dropped by more than half, new research reveals. And increasing numbers of children are receiving donor organs.

Americans still making unhealthy choices
The overall health of Americans isn't improving much, with about six in 10 people either overweight or obese and large numbers engaging in unhealthy behaviors like smoking, heavy drinking or not exercising.

Weather worries can threaten a child's mental health
The monstrous tornado that devastated Moore, Okla., on Monday, killing dozens of adults and children, is a stunning example of violent weather that can affect a child's mental well-being.

Student suicide may spur similar thoughts in teens
When a classmate commits suicide, teens are more likely to consider or attempt suicide themselves, according to a new study.

Sleepless nights may hurt school performance of kids with asthma
Urban elementary school children with poorly controlled asthma are likely to experience sleep problems and suffer academically, new research indicates.

By Steven Reinberg
HealthDay Reporter
FRIDAY, July 13 (HealthDay News) -- Infant mortality, preterm births and teen births have dropped across the United States as have violent crime and victimization among children, U.S. health officials reported Friday.
But more children are living in poverty and fewer parents are working in these economically trying times, according to the annual government report assessing the well-being of the nation's children. And the fight against childhood obesity is not making much headway.
"There is good and bad here," Dr. Alan Guttmacher, director of the Eunice Kennedy Shriver U.S. National Institute of Child Health and Human Development, said during a Wednesday morning press conference on the report, America's Children in Brief: Key National Indicators of Well-Being, 2012.
"Many of the health indicators continue a good trend, but childhood obesity and childhood asthma continue to be major problems," he said. "Clearly, there are issues in children's health that refer to our present economic situation, and we look forward to improvements in that as well. So I think it's a mixed picture but, overall, I think it's a good one."
On the downside, 10 percent of children don't have health insurance, and many of these children don't have a regular source for health care, he noted.
On the upside, the news on infant mortality, which has been falling for many years.
"This is the all-time low," Edward Sondik, director of the U.S. Centers for Disease Control and Prevention's National Center for Health Statistics, said during the press conference.
"We are also encouraged by the fourth consecutive annual drop in the preterm birth rate," Guttmacher added.
Highlights of the report include:
The Bad News
Obesity rates for kids aged 6 to 17 stood at 18 percent in 2009-2010, down only 1 percent from 2007-2008.
Asthma rates for those under 17 were virtually unchanged, at 9.4 percent in 2010 versus 9.6 percent in 2009.
Fewer kids are living with an employed parent: 71 percent in 2010 versus 72 percent in 2009.
More kids are living in poverty: 22 percent in 2010 compared to 21 percent in 2009. And they're younger: one in four was 5 years old or younger.
More kids are living are in counties with above allowable air pollution: 67 percent in 2010; 59 percent in 2009.
The Good News
The teen birth rate dropped to 17 per 1,000 in 2010, from 20 per 1,000 in 2009.
Preterm birth rate dropped to 12 percent in 2010, from 12.2 in 2009.
Infant deaths dropped to 6.1 per 1,000 in 2010, from 6.4 per 1,000 births in 2009.
Fewer kids are living in "food insecure" homes: 22 percent in 2010 versus 23 percent in 2009.
More kids are being vaccinated with meningitis vaccine: 63 percent in 2010 versus 12 percent in 2006.
Fewer teens are victims of violent crime: seven in 1,000 in 2010 versus 11 per 1,000 in 2009.
Fewer kids are living in homes with smokers: 6.1 percent in 2010 versus 8.4 percent in 2005.
"I find this report very encouraging about the present, and very worrisome with regard to the future," said Dr. David Katz, director of the Yale Prevention Research Center at the Yale University School of Medicine.
Most of the actual health measures indicate improvement, he added. "This is testimony to the power of knowledge based on research, and to the benefits of applying what we know from epidemiology to public health in the real world. These are encouraging and gratifying trends," he said.
"But even as health improves, thanks to research conducted and applied, we are raising more children in poverty. Along with the important potential ill effects of poverty in the short-term, there is a potential adverse effect on personal advancement and educational attainment over the longer term," Katz added.
The report showed that in 2011, there were 73.9 million children in the United States, and they made up 24 percent of the population, down from a peak 36 percent at the end of the "baby boom" in 1964.
More information
For more information on children's health, visit the U.S. National Library of Medicine.

Copyright © 2012 HealthDay. All rights reserved.