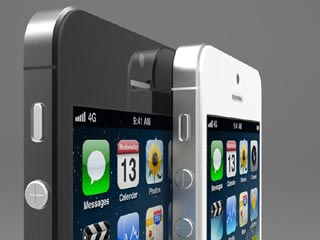 The iPhone 5 is set to be released sometime between October 1 and December 31, 2012. (Image courtesy of Digital Trends)

Pizza on Mars: NASA funds development of 3D printer that can knock out pizza
NASA has awarded a mechanical engineer a grant worth $125,000 to help him create a 3D printer for food.

How to stay anonymous online
Pretty soon, just about everything we do on the Web will be logged, analyzed, and used for things outside of our control. Here are some ways to help stop that.

Six tips to bombproof your password
How can we make our passwords more hack-resistant and manage all the passwords we need?

Facebook cuts off Social Roulette
True to its name, Social Roulette is a game of roulette in which you're gambling your digital life. After giving the app permissions, you then take a one-in-six chance of letting it delete your Facebook account.

7 bizarre Airbnb rentals that are almost too weird to believe
Weird accommodation options are part of Airbnb's charm, so we'd like to propose seven current listings that should be verified immediately.

Will a spotless inbox really supercharge your productivity?
Inbox Zero is the theory that an empty e-mail inbox is good for peace of mind and productivity. So is it?

Best iPhone 5 accessories
When it comes to iPhone 5 accessories, the options just keep on coming, and there are a lot of little extras that can really improve your experience.

Man arrested after selling his grandson on Facebook
Facebook is basically integrated into every part of our lives. You use it to catch up on friends' lives, meet people, find events, message people but it's also a place where people go to sell live human babies online.

Scan these smart pajamas to launch a bedtime story for the kids
Using the camera on a smartphone or tablet, a parent or child can scan one of forty-seven dot patterns printed on kids pajamas to launch a story.

There was no White House bombing; AP's Twitter hacked
If you're wondering why the Associated Press tweeted that there was an explosion at the White House, it's because its account was hacked.

Mentioned on yesterday's Verizon earnings call that discussed the company's financial performance during the second quarter of 2012, Verizon chief financial officer Fran Shammo dropped a hint about the upcoming launch of Apple's new iPhone later this year. During the call, Shammo stated "the company could be expecting a big phone to launch during the fourth quarter of this year," but did not specify an exact date when the smartphone would be released. Set to be released sometime between October 1 and December 31, 2012, it's likely that Apple will release the new smartphone before the holiday shopping season gets into full swing. Possibly following a similar pattern to last year, Apple announced the iPhone 4S on October 4, 2011 and the smartphone went on sale on October 14, 2011 in Australia, Canada, France, Germany, Japan, the United Kingdom and the United States.
During the second quarter of 2012, Verizon sold approximately 2.7 million iPhones as the wireless service provider carries both the iPhone 4S as well as the iPhone 4. However, that number has dropped since the first quarter of 2012 when Verizon sold 3.2 million iPhones. In addition, Verizon sold 2.9 million Android devices during the second quarter and more than 85 percent of those phones are operating on Verizon's 4G LTE network.
Beyond the Android smartphones and the iPhone, Verizon sold an additional 300,000 smartphones which were likely Blackberries or smartphones with the Windows Phone operating system. Looking to the third quarter of 2012, it's likely that sales of Samsung's Galaxy S III will increase Android's share of the smartphone market on the major carriers.
Forty percent of the Verizon customers that upgraded their cellular phone during the second quarter moved to a smartphone platform for the first time. In addition, Verizon added nearly 900,000 more postpaid customers to a subscriber base that just broke 94 million. Shammo also claimed that feedback about the Verizon "Share Everything" plan has been positive among customers despite early criticism of the increased costs. The launch of Verizon's shared data plan also inspired AT&T to launch a similar plan in order to compete more effectively against the wireless service provider.
According to the latest rumor report from
BGR
, the current version of the Apple's iPhone 5 is still being tested by groups of engineers. Apple has several stages of development for each version of the iPhone and every stage can last between two to three weeks. This means the company has yet to start production of the final version of the hardware, a process that likely won't begin until late August or early September. The version of the smartphone that's currently being tested is rumored to include 1GB of RAM, 4G LTE compatibility as well as NFC hardware.
According to IT Wire, European telecommunication companies are stocking up on nano-SIM cards in preparation of the iPhone 5 launch. While the generally basic functionality of the SIM card is identical, the form factor has been reduced yet again. If Apple does use the new nano-SIM card in the iPhone 5, anyone upgrading to the new smartphone will be required to change their SIM card. In addition, this could make it more difficult to revert to an older smartphone if the iPhone 5 is accidentally broken for any reason.
In Case You Missed It:
AT&T launching LTE network
Apple iPhone 5 not out till October, report says
Latest iPhone 5 rumors point to 4G LTE support, Oct. 7 release
Foxconn employee points to summer 2012 launch for next iPhone