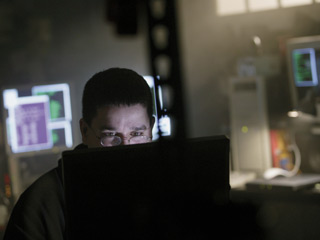 There are a few factors that would prevent not-yet-released Stalkbook from ever making it to the general audience. (©Comstock/Thinkstock)

How to stay anonymous online
Pretty soon, just about everything we do on the Web will be logged, analyzed, and used for things outside of our control. Here are some ways to help stop that.

Six tips to bombproof your password
How can we make our passwords more hack-resistant and manage all the passwords we need?

Facebook cuts off Social Roulette
True to its name, Social Roulette is a game of roulette in which you're gambling your digital life. After giving the app permissions, you then take a one-in-six chance of letting it delete your Facebook account.

7 bizarre Airbnb rentals that are almost too weird to believe
Weird accommodation options are part of Airbnb's charm, so we'd like to propose seven current listings that should be verified immediately.

Will a spotless inbox really supercharge your productivity?
Inbox Zero is the theory that an empty e-mail inbox is good for peace of mind and productivity. So is it?

Best iPhone 5 accessories
When it comes to iPhone 5 accessories, the options just keep on coming, and there are a lot of little extras that can really improve your experience.

Man arrested after selling his grandson on Facebook
Facebook is basically integrated into every part of our lives. You use it to catch up on friends' lives, meet people, find events, message people but it's also a place where people go to sell live human babies online.

Scan these smart pajamas to launch a bedtime story for the kids
Using the camera on a smartphone or tablet, a parent or child can scan one of forty-seven dot patterns printed on kids pajamas to launch a story.

There was no White House bombing; AP's Twitter hacked
If you're wondering why the Associated Press tweeted that there was an explosion at the White House, it's because its account was hacked.

Facebook Home reaches 500,000 downloads
Mobile analyst Ben Evans has noted a milestone of 500,000 Facebook Home downloads since the service launched on Google Play.

Whether you're a job seeking college graduate or working professional, if you want to keep your career and personal life separate, chances are you have meticulously managed your Facebook's privacy settings so that strangers are unable to view your photos, check-ins, and other private information. However, even if you think you have it all under control, one web developer found a way around the entire Facebook privacy system that will allow anyone to see your profile if you have mutual friends.
Appropriately named Stalkbook, MIT graduate Oliver Yeh has created a Facebook app that collects user data as a third party developer via the Facebook API. This information can show Yeh personal information of a stranger, which he can essentially exploit and share on Stalkbook. Yeh shares an example.
"[W]ith this API, I can have access to my friend Trevor's information. And what Stalkbook does is it goes through all of a user's information and all of the friends of the user's information and stores a cache copy on the website, so that when somebody else visits Stalkbook, they now have access to a cache version of Facebook's data, even though they don't have permission to access Trevor's information," he explains to IEEE.
Simply speaking, the app works by putting you, the user, under the guise of your Facebook friend so you can see personal information of another profile you aren't friends with.
"So, the photo version works by whenever a person signs on to the application; not only does he reveal his or her own information but he also compromises all of his or her friends' information too," Yeh said. "If I sign on to the site, then my friend Trevor would also be signed on to the site because I'm friends with Trevor. And because with my credentials, I can see Trevor's information. Now, everyone on the Internet can also see Trevor's information by using my credentials.
"And as more people sign up to Stalkbook, you get this network effect, in which you only need perhaps 10 percent of Facebook to join to compromise 80 to 90 percent of Facebook."
If this is still confusing, consult the pictograph here. Pretty much, whenever someone logs into their Facebook account, all their friends' information are compromised. Yeh did note that only Likes, photo tags, comments, and status updates would be viewable but not private messages.
Now that you understand how wild the concept is and are sufficiently freaked out, take a seat. There are a few factors that would prevent not-yet-released Stalkbook from ever making it to the general audience.
While it is normal for developers to receive some user data to run their apps, it is against Facebook's terms of service to solicit information and login access belong to someone else. Under the rules for developer apps, one guideline also states that the developer "will not use, display, share, or transfer a user's data in a manner inconsistent with your privacy policy" while another restricts developers from such action by requiring them to "comply with all other restrictions contained in our Facebook Platform Policies."
So there. In case you were planning to stalk your ex-lovers via your mutual friends using Stalkbook, you might need to stick to the old fashion route of actually friending them, or get your mutual friends to dish the dirty deets. What Stalkbook does show, however, is that getting around Facebook's privacy settings isn't as difficult as you'd think so whatever you end up sharing on Facebook will never truly be private.
In Case You Missed It:
What you can export from Facebook and how
Facebook finally overhauls its privacy, sharing, and tagging systems
Study shows face recognition technology can reveal much more than your image
Facebook's 'Read. Watch. Listen.' announcements mark a turning point for the site
This article was originally posted on Digital Trends