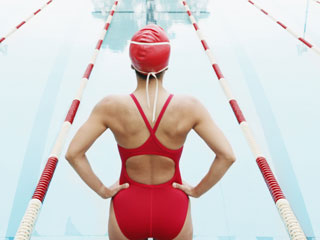 The study showed that expressions of triumph occurred, on average, four seconds after the athletes won a match. (©Brand-X Pictures/Thinkstock)

Diet soda habit as bad for teeth as meth addiction
Heavy consumption of diet soda can damage teeth as badly as methamphetamine or crack cocaine, a new study contends.

U.S. teen birth rate plummets
Teen birth rates in the United States are dropping sharply, especially among Hispanic teens, according to a new government report.

Too few kids use fast-food calorie info
Kids who eat fast food at least twice a week are 50 percent less likely to use calorie and nutritional information than kids who eat fast food less often.

American Cancer Society celebrates 100 years of progress
The American Cancer Society, which is celebrating on Wednesday a century of fighting a disease once viewed as a death sentence, is making a pledge to put itself out of business.

Simple steps can protect pets in weather disasters
In the aftermath of this week's deadly tornado, many people in Oklahoma are not only struggling to care for children and relatives, but also their pets.

More kids getting donor organs, but gaps persist
Over the last decade, the number of American children who die each year awaiting an organ donation dropped by more than half, new research reveals. And increasing numbers of children are receiving donor organs.

Americans still making unhealthy choices
The overall health of Americans isn't improving much, with about six in 10 people either overweight or obese and large numbers engaging in unhealthy behaviors like smoking, heavy drinking or not exercising.

Weather worries can threaten a child's mental health
The monstrous tornado that devastated Moore, Okla., on Monday, killing dozens of adults and children, is a stunning example of violent weather that can affect a child's mental well-being.

Student suicide may spur similar thoughts in teens
When a classmate commits suicide, teens are more likely to consider or attempt suicide themselves, according to a new study.

Sleepless nights may hurt school performance of kids with asthma
Urban elementary school children with poorly controlled asthma are likely to experience sleep problems and suffer academically, new research indicates.

THURSDAY, July 26 (HealthDay News) -- As Olympians take to the world stage in London this week, watch the body language of the gold medalists for clues to their feelings of triumph and pride.
Those athletes who throw their arms above their head, clench their fists and grimace -- a universal expression of triumph -- are not to be confused with those expressing pride by tilting their head back, holding their arms out from their body and smiling, researchers say.
"We found that displays of triumph include different behaviors to those of pride, and occur more immediately after a victory or win," David Matsumoto, a professor of psychology at San Francisco State University, said in a university news release. "Triumph has its own signature expression that is immediate, automatic and universal across cultures."
One of the differences between triumph and pride is seen in the face, Matsumoto said.
"When someone feels triumphant after a contest or challenge, their face can look quite aggressive," he said. "It's like Michael Phelps's reaction after winning the 2008 Olympics. It looks quite different to the small smile we see when someone is showing pride."
In conducting the study, the researchers showed people from the United States and South Korea pictures of judo athletes from 17 countries who had just won a medal match at the 2004 Olympics in Athens. Research has shown that South Korean culture downplays individual achievement and displays of emotion.
The participants consistently labeled the pictures of grimacing or yelling athletes with their arms raised and fists clenched as triumph. Meanwhile, the photos of athletes with their arms out at their sides, hands open and head tilted back were labeled as pride. The athletes in the "pride" photos, the researchers pointed out, were also smiling.
The study also showed that expressions of triumph occurred, on average, four seconds after the athletes won a match. Displays of pride, however, occurred an average of 16 seconds after the match ended.
Expressions of triumph are an immediate reflection of a person's success, the study's authors explained. Expressions of pride, on the other hand, come later since they reflect how the athletes feel about themselves.
"Watch that immediate reaction in the first few seconds after an athlete has won their medal match -- no matter what the sport is -- and you'll see this triumph response from athletes all around the world, regardless of culture," Matsumoto said.
Expressions of triumph, the authors concluded, may have played a role in evolution by helping people in early societies demonstrate their status or dominance.
The study will be published in the September issue of the journal Evolution and Human Behavior.
More information
The University of California at Santa Cruz more information on nonverbal communication.

Copyright © 2012 HealthDay. All rights reserved.