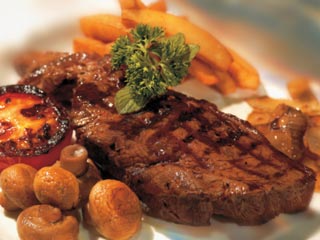 © Stockbyte / Thinkstock

Diet soda habit as bad for teeth as meth addiction
Heavy consumption of diet soda can damage teeth as badly as methamphetamine or crack cocaine, a new study contends.

U.S. teen birth rate plummets
Teen birth rates in the United States are dropping sharply, especially among Hispanic teens, according to a new government report.

Too few kids use fast-food calorie info
Kids who eat fast food at least twice a week are 50 percent less likely to use calorie and nutritional information than kids who eat fast food less often.

American Cancer Society celebrates 100 years of progress
The American Cancer Society, which is celebrating on Wednesday a century of fighting a disease once viewed as a death sentence, is making a pledge to put itself out of business.

Simple steps can protect pets in weather disasters
In the aftermath of this week's deadly tornado, many people in Oklahoma are not only struggling to care for children and relatives, but also their pets.

More kids getting donor organs, but gaps persist
Over the last decade, the number of American children who die each year awaiting an organ donation dropped by more than half, new research reveals. And increasing numbers of children are receiving donor organs.

Americans still making unhealthy choices
The overall health of Americans isn't improving much, with about six in 10 people either overweight or obese and large numbers engaging in unhealthy behaviors like smoking, heavy drinking or not exercising.

Weather worries can threaten a child's mental health
The monstrous tornado that devastated Moore, Okla., on Monday, killing dozens of adults and children, is a stunning example of violent weather that can affect a child's mental well-being.

Student suicide may spur similar thoughts in teens
When a classmate commits suicide, teens are more likely to consider or attempt suicide themselves, according to a new study.

Sleepless nights may hurt school performance of kids with asthma
Urban elementary school children with poorly controlled asthma are likely to experience sleep problems and suffer academically, new research indicates.

By Denise Mann
HealthDay Reporter
THURSDAY, July 26 (HealthDay News) -- Can a tick bite turn you off red meat for good?
It can if it is the bite of a Lone Star tick, a type that's endemic in the southeastern United States. This phenomenon has been known for a while, but now new research published online July 20 in the Journal of General Internal Medicine reports on three case studies to illustrate exactly how it may occur.
The Lone Star tick injects spit into a person's body when it bites. The body then develops antibodies in response to a carbohydrate called alpha-gal that is present in the spit. This carbohydrate substance is also present in red meat. When the bitten person eats meat again, their immune system goes on the warpath, causing an allergic reaction. This reaction is typically delayed, occurring about three to six hours after eating meat.
The reaction can range in severity from mild hives and itching to full-blown anaphylactic shock, according to Dr. Susan Wolver and Dr. Diane Sun at the Virginia Commonwealth University, in Richmond.
This connection was first discovered somewhat serendipitously by researchers who were trying to determine why a cancer drug called cetuximab (Erbitux) was causing severe allergic reactions in people in the southern states. The sugars in Erbitux are also present in beef, pork and cows' milk.
Calling the phenomenon "the cow's revenge," Dr. Bruce Hirsch, an infectious diseases specialist at North Shore University Hospital in Manhasset, N.Y., said, "Lone Star tick bites may well be turning a portion of people in the southeast into involuntary vegetarians."
Tick bites cause a host of other diseases and infections including Lyme disease and Rocky Mountain spotted fever. The best thing to do is to avoid ticks altogether, Hirsch said. For starters, avoid wooded and bushy areas with high grass and use insect repellents that contain 20 percent or more DEET (N, N-diethyl-m-toluamide) on all exposed skin.
Dr. Bernard Feigenbaum, an allergist at the NYU Langone Medical Center in New York City, said that most people think about Lyme disease when they think about ticks and tick bites. "This study shows that there can be other allergic consequences," he said. "If a person discovers having reactions or unusual symptoms after eating meat, follow up with a primary care doctor or an allergist to see what is going on."
If you are allergic to red meat, you will need to avoid beef, pork, lamb, venison and other meat from mammals, said Despina Hyde, a nutritionist at the NYU Langone School of Medicine. "Poultry, fish and chicken are OK."
More information
Learn how to avoid ticks where they lurk at the U.S. Centers for Disease Control and Prevention.

Copyright © 2012 HealthDay. All rights reserved.