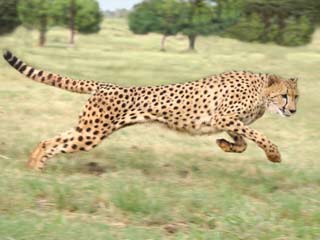 Cheetahs and pronghorn antelopes are among the animals that are faster than Usain Bolt. (©iStockphoto/Thinkstock)

Genes may boost woman's risk of postpartum depression
Pregnant women with specific alterations in two genes may be at increased risk of suffering depression after giving birth, a small new study suggests.

Racial disparities seen in U.S. lung cancer treatment
Racial disparities exist in the treatment of non-small cell lung cancer among hospitals in the United States, according to a large new study.

Favorite music may ease anxiety for patients
Music can help soothe the fear and anxiety of critically ill patients who have been placed on ventilators, reducing both their stress and their need for sedatives, according to a new study.

Revised sunscreen labels should help consumers make wiser choices
Dermatologists are saying that new federally mandated labeling laws for sunscreens should help Americans make smarter choices when it comes to products that provide the best sun protection.

Living near major roadways in pregnancy tied to respiratory woes in children
A child whose mother lived near heavy traffic while pregnant faces a relatively higher risk for developing a respiratory infection before the age of 3, a new study suggests.

Noise, dirty air may be double whammy for the heart
Air pollution and noise pollution both may boost the risk of heart disease, new research from Germany suggests.

Many can blame family for their bunions
If you've got bunions, chances are others in your family suffer from the common foot disorder, with a new study finding the condition is often passed down from parents to children.

ADHD in childhood may raise risk for obesity in adulthood
Boys who are diagnosed with attention deficit-hyperactivity disorder (ADHD) are twice as likely to become obese adults as those who didn't have the disorder when they were young, a new 30-year study shows.

Latest edition of psychiatry's 'bible' launched amid controversy
As the American Psychiatric Association unveils the latest edition of what is considered the "bible" of modern psychiatry this weekend, the uproar over its many changes continues.

Swallowing magnets can be fatal for children
Children who swallow high-powered magnets often need surgery and other invasive procedures to remove the objects, according to a new study.

FRIDAY, July 27 (HealthDay News) -- When it comes to speed, strength and endurance, even Olympic athletes can't compete with the animals who are champions in their fields, a British researcher says.
For example, cheetahs and pronghorn antelopes are among the animals that are faster than Usain Bolt, who is currently the fastest person in the world, according to Craig Sharp of the Center for Sports Medicine and Human Performance at Brunel University in London.
The fastest a human can run is 23.4 miles per hour (mph). A cheetah is nearly twice as fast, at 64 mph, while a pronghorn antelope can run at 55 mph.
An ostrich is the world's fastest running bird at 40 mph, or 59 feet per second. The fastest greyhound has been clocked at 43 mph and the fastest thoroughbred racehorse at 55 mph.
When it comes to strength, an African elephant can lift 661 pounds with its trunk and carry 1,807 pounds. A gorilla can lift 1,984 pounds and a grizzly bear can lift 1,000 pounds.
Humans have various features that make them well-suited for long-distance running, such as long legs, short toes, arched feet and ample fuel storage capacity, Sharp said. But the top marathoners would be hard-pressed to beat camels, which can maintain speeds of 10 mph for more than 18 hours, or the Siberian huskies that set a record in 2011, racing for eight days, 19 hours and 47 minutes, covering 114 miles a day.
In long jumping, a red kangaroo has covered 42 feet, compared with the human record of 29 feet. In high jump, the red kangaroo can leap 10 feet, compared with the human record of 8 feet.
However, no single animal species matches the physical versatility of humans, which is what the Olympic Games are designed to showcase to best effect, Sharp concluded.
The article was published July 28 in the journal Veterinary Record.
More information
The U.S. National Heart, Lung, and Blood Institute offers a guide to physical activity.

Copyright © 2012 HealthDay. All rights reserved.