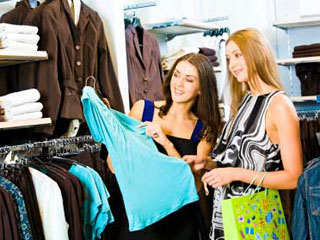 During their fertile days, women are also more likely to buy clothes, the study showed. (©iStockphoto.com/Dmitriy Shironosov)

More kids getting donor organs, but gaps persist
Over the last decade, the number of American children who die each year awaiting an organ donation dropped by more than half, new research reveals. And increasing numbers of children are receiving donor organs.

Americans still making unhealthy choices
The overall health of Americans isn't improving much, with about six in 10 people either overweight or obese and large numbers engaging in unhealthy behaviors like smoking, heavy drinking or not exercising.

Weather worries can threaten a child's mental health
The monstrous tornado that devastated Moore, Okla., on Monday, killing dozens of adults and children, is a stunning example of violent weather that can affect a child's mental well-being.

Student suicide may spur similar thoughts in teens
When a classmate commits suicide, teens are more likely to consider or attempt suicide themselves, according to a new study.

Sleepless nights may hurt school performance of kids with asthma
Urban elementary school children with poorly controlled asthma are likely to experience sleep problems and suffer academically, new research indicates.

Genes may boost woman's risk of postpartum depression
Pregnant women with specific alterations in two genes may be at increased risk of suffering depression after giving birth, a small new study suggests.

Racial disparities seen in U.S. lung cancer treatment
Racial disparities exist in the treatment of non-small cell lung cancer among hospitals in the United States, according to a large new study.

Favorite music may ease anxiety for patients
Music can help soothe the fear and anxiety of critically ill patients who have been placed on ventilators, reducing both their stress and their need for sedatives, according to a new study.

Revised sunscreen labels should help consumers make wiser choices
Dermatologists are saying that new federally mandated labeling laws for sunscreens should help Americans make smarter choices when it comes to products that provide the best sun protection.

Living near major roadways in pregnancy tied to respiratory woes in children
A child whose mother lived near heavy traffic while pregnant faces a relatively higher risk for developing a respiratory infection before the age of 3, a new study suggests.

TUESDAY, July 31 (HealthDay News) -- The hormonal fluctuations associated with women's menstrual cycles could color their shopping habits, research suggests.
"Our goal was to investigate how a woman's menstrual cycle impacts consumption desires, product usage, and dollars spent within the food and beautification domains," study first author Gad Saad, a professor of marketing at the John Molson School of Business, said in a news release from Concordia University in Montreal.
In conducting the study, the researchers selected 59 women and asked them to keep detailed diaries on their beauty routine, clothing choices, calorie consumption and everything they bought over the course of 35 days.
The researchers also analyzed daily surveys the women answered on these topics, which asked them about their clothing choices and how long they spent grooming. The participants were also asked about activities such as sunbathing and eating high-calorie foods. The study revealed a distinct pattern in the women's behavior.
During the fertile phase of the women's menstrual cycles (roughly day eight to 15 of a 28-day cycle), the researchers found a significant increase in their focus on appearance. During their fertile days, women are also more likely to buy clothes, the study showed.
The study authors suggested that the explanation for this pattern of behavior can be traced back to women's evolutionary roots.
"In ancestral times, women had to focus more time on mating-related activities during the fertile phase of the menstrual cycle, when the likelihood of conception was highest," Saad explained in the news release. "Those same psychological and physiological mechanisms now lead women to engage in greater consumption of products relevant to reproductive drives during the fertile phase of their cycle."
Although food consumption among the women fell during their fertile days, the study revealed their appetites peaked in the luteal or infertile phase of their menstrual cycle (roughly day 16 to 28 of a 28-day cycle). The researchers noted the women's cravings for high-calorie foods spiked during this time, along with their food purchases.
"Women consume more calories during the luteal phase because they've evolved psychological and physiological mechanisms that favored non-mating-related activities like food foraging during the non-fertile phase of their cycles," noted Saad. "Different Darwin pulls, such as mating versus food, take precedence depending on a woman's menstrual status."
The study authors said their findings could shed light on these patterns of behavior and help women make more conscious decisions, which could affect their spending and eating habits.
"These consumption behaviors take place without women's conscious awareness of how hormonal fluctuations affect their choices as consumers," said Saad. "Our research helps highlight when women are most vulnerable to succumbing to cyclical temptations for high-calorie foods and appearance-enhancing products. These findings can help women to make choices for themselves contrary to the old canard of biological determinism."
A consumption-related smartphone app could help women track their daily shopping vulnerabilities by alerting them to certain high-risk days in their cycle, the study authors suggested.
The study was published recently in the Journal of Consumer Psychology.
More information
The U.S. Department of Health and Human Services has more about the menstrual cycle.

Copyright © 2012 HealthDay. All rights reserved.