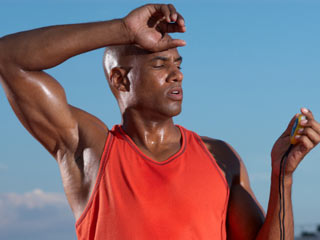 © Wendy Hope / Thinkstock

Diet soda habit as bad for teeth as meth addiction
Heavy consumption of diet soda can damage teeth as badly as methamphetamine or crack cocaine, a new study contends.

U.S. teen birth rate plummets
Teen birth rates in the United States are dropping sharply, especially among Hispanic teens, according to a new government report.

Too few kids use fast-food calorie info
Kids who eat fast food at least twice a week are 50 percent less likely to use calorie and nutritional information than kids who eat fast food less often.

American Cancer Society celebrates 100 years of progress
The American Cancer Society, which is celebrating on Wednesday a century of fighting a disease once viewed as a death sentence, is making a pledge to put itself out of business.

Simple steps can protect pets in weather disasters
In the aftermath of this week's deadly tornado, many people in Oklahoma are not only struggling to care for children and relatives, but also their pets.

More kids getting donor organs, but gaps persist
Over the last decade, the number of American children who die each year awaiting an organ donation dropped by more than half, new research reveals. And increasing numbers of children are receiving donor organs.

Americans still making unhealthy choices
The overall health of Americans isn't improving much, with about six in 10 people either overweight or obese and large numbers engaging in unhealthy behaviors like smoking, heavy drinking or not exercising.

Weather worries can threaten a child's mental health
The monstrous tornado that devastated Moore, Okla., on Monday, killing dozens of adults and children, is a stunning example of violent weather that can affect a child's mental well-being.

Student suicide may spur similar thoughts in teens
When a classmate commits suicide, teens are more likely to consider or attempt suicide themselves, according to a new study.

Sleepless nights may hurt school performance of kids with asthma
Urban elementary school children with poorly controlled asthma are likely to experience sleep problems and suffer academically, new research indicates.

THURSDAY, Aug. 2 (HealthDay News) -- Asthma and airway hyper-responsiveness are the most common chronic conditions among Olympic athletes, affecting about 8 percent of the competitors, according to a new study.
The Australian researcher suggested the conditions may be linked to the athletes' intense training, particularly those who participate in endurance sports or winter sports. The inhalation of cold air contributes to airway damage.
Airway hyper-responsiveness involves marked narrowing of the airways in response to some kind of outside trigger.
"Inhaling polluted or cold air is considered an important factor which might explain the cause in some sports, but not in all," explained study author Kenneth Fitch, of the University of Western Australia, in a university news release. "The quality of inhaled air could be harmful to the airways, but does not cause the same effect in all sports."
Fitch counted the number of athletes with asthma and airway hyper-responsiveness from the five Olympic games between 2002 and 2010. He identified the athletes by tracking the use of inhaled beta-2 agonists, an anti-asthma drug commonly used by top athletes.
In 2001, the International Olympic Committee recognized the increased use of the drug between 1996 and 2000, and issued a new rule requiring athletes to provide proof of their condition to safeguard the health of Olympic athletes, not as an anti-doping measure, according to the news release.
Fitch noted that athletes with asthma have routinely beaten their opponents. He added, however, there is no proof that treatments for the condition improved their performance. He suggested that training harder than other athletes could help explain why many athletes develop asthma or airway hyper-responsiveness as adults.
The study was published online in the British Journal of Sports Medicine.
More information
The U.S. National Heart, Lung, and Blood Institute provides more information on asthma.

Copyright © 2012 HealthDay. All rights reserved.