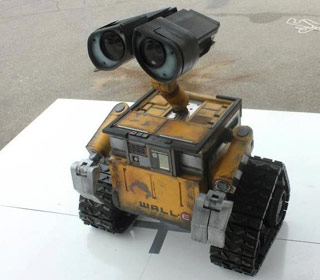 More on Mike Senna's Wall-E can be found at http://sennaswalle.blogspot.gr/ (Image courtesy of Digital Trends)

Pizza on Mars: NASA funds development of 3D printer that can knock out pizza
NASA has awarded a mechanical engineer a grant worth $125,000 to help him create a 3D printer for food.

How to stay anonymous online
Pretty soon, just about everything we do on the Web will be logged, analyzed, and used for things outside of our control. Here are some ways to help stop that.

Six tips to bombproof your password
How can we make our passwords more hack-resistant and manage all the passwords we need?

Facebook cuts off Social Roulette
True to its name, Social Roulette is a game of roulette in which you're gambling your digital life. After giving the app permissions, you then take a one-in-six chance of letting it delete your Facebook account.

7 bizarre Airbnb rentals that are almost too weird to believe
Weird accommodation options are part of Airbnb's charm, so we'd like to propose seven current listings that should be verified immediately.

Will a spotless inbox really supercharge your productivity?
Inbox Zero is the theory that an empty e-mail inbox is good for peace of mind and productivity. So is it?

Best iPhone 5 accessories
When it comes to iPhone 5 accessories, the options just keep on coming, and there are a lot of little extras that can really improve your experience.

Man arrested after selling his grandson on Facebook
Facebook is basically integrated into every part of our lives. You use it to catch up on friends' lives, meet people, find events, message people but it's also a place where people go to sell live human babies online.

Scan these smart pajamas to launch a bedtime story for the kids
Using the camera on a smartphone or tablet, a parent or child can scan one of forty-seven dot patterns printed on kids pajamas to launch a story.

There was no White House bombing; AP's Twitter hacked
If you're wondering why the Associated Press tweeted that there was an explosion at the White House, it's because its account was hacked.

A Google search of the phrase "Wall-E made me cry" returns more than 13 thousand results, a figure which can surely be multiplied several times over to include all the people who did cry at the little robot's adventures, but consider themselves too "tough" to admit it.
Well, grab your handkerchiefs and start practicing your best "there's something in my eye" line, as we're about to introduce you to Mike Senna's amazing recreation of the titular 'bot.
It all began back in 2010, when Senna was looking for a new challenge after finishing his own working replica of R2-D2. After observing how children reacted to meeting R2 when he visited the City of Hope hospital in California, the equally lovable, but even more emotionally engaging, Wall-E seemed like the perfect choice for his next project.
But this is no off-the-shelf build, as there are no kits, no pre-built parts and no instructions available; meaning it would have to be built entirely from scratch and by using the film as the blueprint.
As a keen roboticist, Senna's Wall-E isn't simply a static model, and it can move around, wave to people, turn its head to look at you and even say its name. The attention to detail is astonishing, as all those movements look almost identical to its animated counterpart.
This level of care continues when you take a closer look at Wall-E's body, as each panel has been painted and weathered to match what we saw on screen too.
An obvious perfectionist, Senna almost gave up after 18 months, as the workload was so huge, but he pushed forward and after approximately 3,800 hours of work, Wall-E has been finished.
The final result makes it all worthwhile though, and Senna's return to the City of Hope hospital with Wall-E can be seen, along with a demonstration of the robot's abilities, in Yahoo's video report here. The other video was taken just as the build was being completed, and shows how Wall-E is controlled.
Here's hoping Eve is next on Senna's list.
In Case You Missed It:
Meet Tawabo, a new quadrilingual tour guide robot at Tokyo Tower
Sen. Schumer proposes 'Nerd Bus' route for NYC tech startup community
Headlights, camera, action: Hollywood's top 10 most memorable cars
FDA approves edible electronic pills that sense when you take your medication