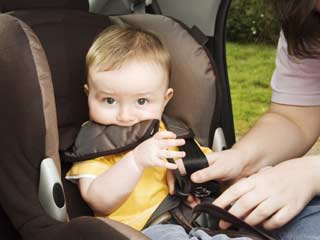 © iStockphoto.com

Genes may boost woman's risk of postpartum depression
Pregnant women with specific alterations in two genes may be at increased risk of suffering depression after giving birth, a small new study suggests.

Racial disparities seen in U.S. lung cancer treatment
Racial disparities exist in the treatment of non-small cell lung cancer among hospitals in the United States, according to a large new study.

Favorite music may ease anxiety for patients
Music can help soothe the fear and anxiety of critically ill patients who have been placed on ventilators, reducing both their stress and their need for sedatives, according to a new study.

Revised sunscreen labels should help consumers make wiser choices
Dermatologists are saying that new federally mandated labeling laws for sunscreens should help Americans make smarter choices when it comes to products that provide the best sun protection.

Living near major roadways in pregnancy tied to respiratory woes in children
A child whose mother lived near heavy traffic while pregnant faces a relatively higher risk for developing a respiratory infection before the age of 3, a new study suggests.

Noise, dirty air may be double whammy for the heart
Air pollution and noise pollution both may boost the risk of heart disease, new research from Germany suggests.

Many can blame family for their bunions
If you've got bunions, chances are others in your family suffer from the common foot disorder, with a new study finding the condition is often passed down from parents to children.

ADHD in childhood may raise risk for obesity in adulthood
Boys who are diagnosed with attention deficit-hyperactivity disorder (ADHD) are twice as likely to become obese adults as those who didn't have the disorder when they were young, a new 30-year study shows.

Latest edition of psychiatry's 'bible' launched amid controversy
As the American Psychiatric Association unveils the latest edition of what is considered the "bible" of modern psychiatry this weekend, the uproar over its many changes continues.

Swallowing magnets can be fatal for children
Children who swallow high-powered magnets often need surgery and other invasive procedures to remove the objects, according to a new study.

TUESDAY, Aug. 7 (HealthDay News) -- Many American children are not meeting recommended car passenger safety guidelines for their age group, a new study finds.
Too many of these youngsters are also riding in the front seat before they're ready, putting them at greater risk on the road, according to research published in the September issue of the American Journal of Preventive Medicine.
"The most important finding from this study is that, while age and racial disparities exist, overall few children are using the restraints recommended for their age group, and many children over 5 are sitting in the front seat," study co-author Dr. Michelle Macy, with the Child Health Evaluation and Research Unit at the C.S. Mott Children's Hospital at the University of Michigan, Ann Arbor, said in a journal news release.
The American Academy of Pediatrics issued new guidelines on child passenger safety in 2011.
The AAP advised that children be placed in rear-facing car seats until they are at least 2 years old. Next, children should use forward-facing car seats with a five-point harness until they reach the maximum height and weight requirement recommended by the seat's manufacturer.
Children should continue to use a booster seat until they are about 57 inches tall (the average height of an 11-year-old child) and an adult seat belt fits them properly. Children under 13 years old should ride in the back seat, the AAP said.
For the new study, the investigators examined information on nearly 21,500 children from the U.S National Highway Traffic Safety Administration National Survey on the Use of Booster Seats.
Data collectors observed drivers with child passengers as they drove into gas stations, fast-food restaurants, recreation centers and child care facilities. They recorded the type of restraints being used by the children, where the children sat and if the children were boys or girls. They also noted the type of restraints used by the adults and the type of car they were driving.
The researchers also interviewed the drivers to learn their age as well as the ages of all the children riding in the car. The drivers also gave the race and ethnicity of the child passengers.
As children got older, they were less likely to be restrained in cars and follow recommended car safety guidelines.
"We found that few children remain rear-facing after age 1, fewer than 2 percent use a booster seat after age 7, many over age 6 sit in the front seat," Macy said.
Hispanic and black children were even less likely to use age-appropriate restraints than white children.
"Our findings demonstrate that not all children have been reached equally by community-based public education campaigns and the passage of child safety seat laws in 48 states," Macy said. "Further development and dissemination of culturally specific programs that have demonstrated success in promoting restraint use among minority children are necessary. Further, the findings may also help in developing strategies to lower the racial and ethnic disparities seen in children experiencing crash-related injuries."
More information
The U.S. National Highway Traffic Safety Administration has more about children and car safety.

Copyright © 2012 HealthDay. All rights reserved.