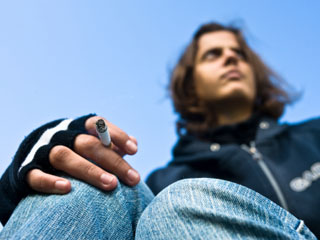 © iStockphoto.com / Patrick Laverdant

U.S. teen birth rate plummets
Teen birth rates in the United States are dropping sharply, especially among Hispanic teens, according to a new government report.

Too few kids use fast-food calorie info
Kids who eat fast food at least twice a week are 50 percent less likely to use calorie and nutritional information than kids who eat fast food less often.

American Cancer Society celebrates 100 years of progress
The American Cancer Society, which is celebrating on Wednesday a century of fighting a disease once viewed as a death sentence, is making a pledge to put itself out of business.

Simple steps can protect pets in weather disasters
In the aftermath of this week's deadly tornado, many people in Oklahoma are not only struggling to care for children and relatives, but also their pets.

More kids getting donor organs, but gaps persist
Over the last decade, the number of American children who die each year awaiting an organ donation dropped by more than half, new research reveals. And increasing numbers of children are receiving donor organs.

Americans still making unhealthy choices
The overall health of Americans isn't improving much, with about six in 10 people either overweight or obese and large numbers engaging in unhealthy behaviors like smoking, heavy drinking or not exercising.

Weather worries can threaten a child's mental health
The monstrous tornado that devastated Moore, Okla., on Monday, killing dozens of adults and children, is a stunning example of violent weather that can affect a child's mental well-being.

Student suicide may spur similar thoughts in teens
When a classmate commits suicide, teens are more likely to consider or attempt suicide themselves, according to a new study.

Sleepless nights may hurt school performance of kids with asthma
Urban elementary school children with poorly controlled asthma are likely to experience sleep problems and suffer academically, new research indicates.

Genes may boost woman's risk of postpartum depression
Pregnant women with specific alterations in two genes may be at increased risk of suffering depression after giving birth, a small new study suggests.

By Steven Reinberg
HealthDay Reporter
THURSDAY, Aug. 9 (HealthDay News) -- New data shows that while fewer American teenagers are smoking now than a decade ago, the rate of decline has slowed considerably.
"Despite an 11-year downward trend among middle and high school students, there has been little or no change in tobacco use between 2009 and 2011," said Dr. Tim McAfee, director of CDC's Office on Smoking and Health, which issued the new report.
From 1997 to 2003, the United States saw robust declines in teen smoking rates, the CDC says, but since 2002 those gains have slowed as states cut funding for tobacco-cessation programs.
In fact, teen smoking rates haven't changed significantly since 2009, while the number of high school students who smoke has remained at stubbornly high levels. Among high school-age males, "nearly 30 percent were using some form of tobacco in 2011," McAfee said. That includes tobacco products that are smoked, chewed or sniffed.
In 2011, almost 18 percent of high school girls used tobacco, the report noted. Among middle school students, more than 8 percent of boys and 6 percent of girls used some form of tobacco product.
"Another disturbing finding was that cigar use among black high school students increased significantly just in that two-year period," McAfee noted. The increase appears to be driven by the availability of cigarette-like cigars that tobacco companies have marketed in an effort to circumvent federal and state tax laws and U.S. Food and Drug Administration regulations, McAfee said.
There were some heartening trends. From 2000 to 2011, overall tobacco use among middle school students dropped from about 15 percent of students to just over 7 percent, and for high school students from 34.4 percent to just over 23 percent, the researchers noted.
Hispanic high school students also saw significant, recent declines in cigarette smoking, from about 19 percent in 2009 to just under 16 percent in 2011, the researchers pointed out.
Still, the bottom line, according to McAfee, is that "18- to 25-year-olds have the highest rates of tobacco use of any age group in the U.S. Basically, the adult rate has been declining and the tobacco industry marketing has been focusing aggressively on the 18- to 25-year-old age bracket."
In addition, states have cut funding for tobacco-control programs by up to 40 percent, at a time when revenue from tobacco has risen more than 30 percent, McAfee said.
"That's why we are so concerned," he said. "If we want to get the decline moving again we are going to have to become refocused, as a society, on the goal of having our youth be tobacco-free," he said.
The report is published in the Aug. 10 issue of the CDC's Morbidity and Mortality Weekly Report.
More information
For more information on teen smoking, visit Smokefree Teen.

Copyright © 2012 HealthDay. All rights reserved.