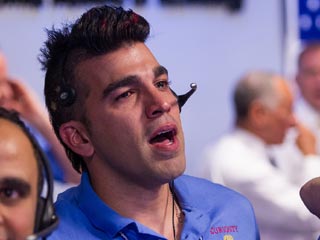 Mars Science Laboratory Systems Engineer Bobak Ferdowsi has become a viral hit as the "NASA Mohawk Guy." (©NASA/Bill Ingalls via Flickr)

Pizza on Mars: NASA funds development of 3D printer that can knock out pizza
NASA has awarded a mechanical engineer a grant worth $125,000 to help him create a 3D printer for food.

How to stay anonymous online
Pretty soon, just about everything we do on the Web will be logged, analyzed, and used for things outside of our control. Here are some ways to help stop that.

Six tips to bombproof your password
How can we make our passwords more hack-resistant and manage all the passwords we need?

Facebook cuts off Social Roulette
True to its name, Social Roulette is a game of roulette in which you're gambling your digital life. After giving the app permissions, you then take a one-in-six chance of letting it delete your Facebook account.

7 bizarre Airbnb rentals that are almost too weird to believe
Weird accommodation options are part of Airbnb's charm, so we'd like to propose seven current listings that should be verified immediately.

Will a spotless inbox really supercharge your productivity?
Inbox Zero is the theory that an empty e-mail inbox is good for peace of mind and productivity. So is it?

Best iPhone 5 accessories
When it comes to iPhone 5 accessories, the options just keep on coming, and there are a lot of little extras that can really improve your experience.

Man arrested after selling his grandson on Facebook
Facebook is basically integrated into every part of our lives. You use it to catch up on friends' lives, meet people, find events, message people but it's also a place where people go to sell live human babies online.

Scan these smart pajamas to launch a bedtime story for the kids
Using the camera on a smartphone or tablet, a parent or child can scan one of forty-seven dot patterns printed on kids pajamas to launch a story.

There was no White House bombing; AP's Twitter hacked
If you're wondering why the Associated Press tweeted that there was an explosion at the White House, it's because its account was hacked.

Judgment Day, as foretold by the Terminator series, must be near. We sent a robot to Mars earlier this week and it started tweeting back to us with facts about the mission. It also engaged in some banter with Sesame Street and dropped the popular "I'm in you!" Internet meme. It's like a titanium version of Kevin Smith.
And it's also the best thing NASA could have done.
What was probably started as a joke in one of the JPL's meetings (probably by the guy with the mohawk) has turned into one of the biggest PR coups NASA has had in years. People love the tweeting rover, even if it's not precisely the rover that's tweeting. You can tell them that the Curiosity rover cost $2.5 billion and they will say, to a man, that the money was well-spent because they are now emotionally involved.
The American people haven't been emotionally involved in a space mission since the Hubble Space Telescope, and that's the fundamental reason why we barely have a space program today.
Let me give you some background. I grew up in the shadow of Kennedy Space Center, yet had only been on the property a handful of times, even though plenty of my friends' parents worked out there and could arrange passes. Why go out there and deal with the people and security if you could simply walk out your front door, as I could, and watch the most complicated machine ever built shake your neighbors' windows?
The current malaise of America's space program offered a rare opportunity for my family to take another trip to Kennedy Space Center recently. We strode past gates that few people went beyond when I was a kid. "Shoot first, ask questions later" kinds of places. All for the price of a tour ticket. No background check. No perusal of identification. Children received a discount, so we took my 3-year-old daughter.
The Vehicle Assembly Building was the largest building in the world by volume when it was completed. I have actually visited one of the buildings that surpassed it, the Boeing assembly building near Seattle, and I met it with a "meh?" I knew what impressive buildings looked like (I passed the VAB on the way to the beach or the mall as a kid), and Boeing's overgrown warehouse wasn't impressive. An open cube 52 stories high was impressive.
Our tour guide made it a point of telling us that NASA still considers the VAB the world's largest one-story building. Like that will ever be a question on "Jeopardy!"
What saddened me wasn't the fact that a man with a speaker attached to him was leading us around this iconic structure (again, a place stray tourists would have been shot 10 years ago), his voice echoing around one completely vacant hangar bay, but that the adjacent hangar bay wasn't vacant at all.
Parked at an angle, as if someone had left the engine running and was just jumping out for a quick second to pick up something at 7-11, was the Space Shuttle Discovery (of course, the engines weren't actually left running; we would have been incinerated).
It wasn't hanging from the massive cranes attached to the roof, as it had been while being fitted to its fuel tank and rockets for each of its 39 missions. It was simply cast aside, waiting for its ride to the Smithsonian. It might as well have had a handicapped parking tag on the rear-view mirror.
We were able to spend about 10 minutes in the VAB. If it weren't for Discovery, that would have been about 5 minutes more than needed. Not because it wasn't awe-inspiring, but because there are only so many pictures of an empty cube your friends will tolerate on Facebook. To be there when things were actually happening, that would have taken days.
The plans for KSC are fluid. One private company wants to lease a certain building. Two or three want to sublet the VAB. In other words, the Center is slowly being auctioned off.
Notice how I didn't say anything about NASA? If we can stop paying for wars, maybe they'll use it to go to Mars. But space exploration is not for countries that are bankrupt, either of money or imagination. You would be hard-pressed to find a NASA employee out there (if you can find one in general) who wouldn't say this country has run out of both.
Curiosity isn't the solution itself. Its mission is designed to last for more than a year and a half. People will have forgotten about it long before then. But the lesson of involving the American citizen in the space program again is a lesson that can be reused over and over again.
NASA needs to start selling itself once more. Show us benefits. Show us excitement. Show us leading the world and we'll be willing to bankroll anything, but we have to be invested in the process. Involve us, and not just when it comes time to name a spaceship.
Believe it or not, the politicians still listen to us occasionally. If we want something, like a person on Mars instead of a personable robot, they will find the trillion dollars it takes.
But if you let us forget that NASA exists, we will.
In Case You Missed It:
The problem with social media? Too many Joneses to keep up with
DT Debates: Are social media sites enhancing the Olympics, or ruining it?
High stakes for social media: The fate of the world could literally be on the line
Watch what you tweet: How online troll crackdowns threaten freedom of speech

This article was originally posted on Digital Trends