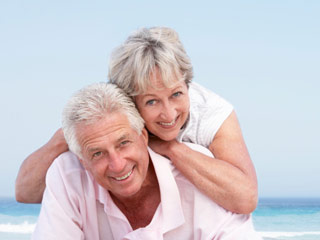 © iStockphoto / Thinkstock

Genes may boost woman's risk of postpartum depression
Pregnant women with specific alterations in two genes may be at increased risk of suffering depression after giving birth, a small new study suggests.

Racial disparities seen in U.S. lung cancer treatment
Racial disparities exist in the treatment of non-small cell lung cancer among hospitals in the United States, according to a large new study.

Favorite music may ease anxiety for patients
Music can help soothe the fear and anxiety of critically ill patients who have been placed on ventilators, reducing both their stress and their need for sedatives, according to a new study.

Revised sunscreen labels should help consumers make wiser choices
Dermatologists are saying that new federally mandated labeling laws for sunscreens should help Americans make smarter choices when it comes to products that provide the best sun protection.

Living near major roadways in pregnancy tied to respiratory woes in children
A child whose mother lived near heavy traffic while pregnant faces a relatively higher risk for developing a respiratory infection before the age of 3, a new study suggests.

Noise, dirty air may be double whammy for the heart
Air pollution and noise pollution both may boost the risk of heart disease, new research from Germany suggests.

Many can blame family for their bunions
If you've got bunions, chances are others in your family suffer from the common foot disorder, with a new study finding the condition is often passed down from parents to children.

ADHD in childhood may raise risk for obesity in adulthood
Boys who are diagnosed with attention deficit-hyperactivity disorder (ADHD) are twice as likely to become obese adults as those who didn't have the disorder when they were young, a new 30-year study shows.

Latest edition of psychiatry's 'bible' launched amid controversy
As the American Psychiatric Association unveils the latest edition of what is considered the "bible" of modern psychiatry this weekend, the uproar over its many changes continues.

Swallowing magnets can be fatal for children
Children who swallow high-powered magnets often need surgery and other invasive procedures to remove the objects, according to a new study.

SUNDAY, Aug. 12 (HealthDay News) -- When their last or only child leaves for college, parents may have a difficult time adapting to the "empty nest" and their newfound freedom.
There are, however, many things parents can do to have an easier time with the transition, says University of Indianapolis psychologist Kelly Miller.
One way to overcome the normal feelings of loss, especially in the first few weeks, is to have dinner or movie nights with friends, take classes or get back into hobbies that had been put aside during the child-rearing years. This is also a good time for partners to get reacquainted, Miller said in a university news release.
Parents need to remember that their relationship with their child isn't coming to an end. They can continue to be an important source of support and wisdom in decision-making as their kids develop their adult identities and deal with new issues, Miller said.
Don't make any immediate major lifestyle changes, such as selling the family home or going for a long cruise, she suggested. Both parents and children need some sense of stability at this time.
It's also a good idea to delay renovating the child's room. Even independent young adults appreciate familiar surroundings when they feel lonely or homesick.
Although it is important to preserve meaningful family traditions and rituals, parents should be open to creating new ones as they develop new adult relationships with their children.
Parents might also find it helpful to seek out other empty nesters or friends who they can talk to about their feelings. They also can take advantage of resources such as books and websites to help them cope.
Most importantly, empty nesters should expect both good and bad experiences and learn to roll with them. A great way to manage unexpected events is to keep a sense of humor and stay flexible. Changing your perspective from "loss" to "opportunity" will help you, Miller said.
More information
The U.S. Centers for Disease Control and Prevention offers resources about health and safety for college students.

Copyright © 2012 HealthDay. All rights reserved.