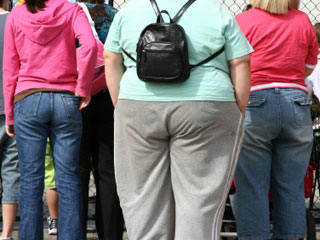 © iStockphoto.com / Lisa Fletcher

Many can blame family for their bunions
If you've got bunions, chances are others in your family suffer from the common foot disorder, with a new study finding the condition is often passed down from parents to children.

ADHD in childhood may raise risk for obesity in adulthood
Boys who are diagnosed with attention deficit-hyperactivity disorder (ADHD) are twice as likely to become obese adults as those who didn't have the disorder when they were young, a new 30-year study shows.

Latest edition of psychiatry's 'bible' launched amid controversy
As the American Psychiatric Association unveils the latest edition of what is considered the "bible" of modern psychiatry this weekend, the uproar over its many changes continues.

Swallowing magnets can be fatal for children
Children who swallow high-powered magnets often need surgery and other invasive procedures to remove the objects, according to a new study.

Study links coffee to lower risk for rare liver disease
Just a few extra cups of coffee each month might help prevent the development of an autoimmune liver disease known as primary sclerosing cholangitis (PSC), a new study suggests.

Heart attack? Doctors soon may have an app for that
There are apps that turn your smartphone into a metal detector, a musical instrument and a GPS system, and now there's an app that may help doctors save your life if you're having a heart attack.

Managing seasonal allergies
Although spring arrived late this year in parts of the United States, the summer allergy season will still be strong, according to a sinus expert at the University of Alabama at Birmingham.

'Nonsmoking' hotel rooms may not fully protect guests
People who opt for nonsmoking rooms in hotels with a partial smoking ban are not fully protected from harmful exposure to so-called "thirdhand" smoke, according to a new study.

Cellphone use may reveal your dominant brain
New research suggests the dominant side of your brain may make the call on which ear you choose to use while talking on your cellphone.

High-frequency noise boosts math skills in study
Scientists report that they were able to improve the math-calculation skills of college students by buzzing their brains with doses of random high-frequency noise.

MONDAY, Aug. 13 (HealthDay News) -- Roughly one-third of adults in 12 states are obese, with Mississippi topping the list at 34.9 percent, according to a new analysis of U.S. figures.
Twenty-six of the 30 states with the highest adult obesity rates are in the Midwest and the South, found researchers from the Trust for America's Health and the Robert Wood Johnson Foundation after reviewing data released Monday by the U.S. Centers for Disease Control and Prevention.
"Obesity has contributed to a stunning rise in chronic disease rates and health care costs. It is one of the biggest health crises the country has ever faced," Jeffrey Levi, executive director at the Trust for America's Health, said in a news release from the nonprofit organization.
"The good news is that we have a growing body of evidence and approaches that we know can help reduce obesity, improve nutrition and increase physical activity based on making healthier choices easier for Americans," said Levi. "The bad news is we're not investing anywhere near what we need to in order to bend the obesity curve and see the returns in terms of health and savings."
Aside from Mississippi, the states with the highest obesity rates include Louisiana at 33.4 percent; West Virginia at 32.4 percent; Alabama, 32 percent; and Michigan, 31.3 percent.
Colorado, at the slimmer end of the spectrum, has the lowest percentage of obese adults -- 20.7 percent, followed by Hawaii, 21.8 percent, and Massachusetts, 22.7 percent.
Later this summer, the researchers plan to release the annual edition of a report analyzing regulatory efforts to address the obesity epidemic and providing policy recommendations. The 2012 edition will also forecast 2030 obesity rates in each state and the probable rise in associated diseases and health-care costs. Health-care costs related to obesity typically stem from treating obesity-related diseases, such as type 2 diabetes, they said.
"Our nation has made important inroads to creating healthier communities," Dr. Risa Lavizzo-Mourey, president and CEO of the Robert Wood Johnson Foundation, said in the news release. "Some cities and states that have taken comprehensive action to address the epidemic are beginning to see declines in their obesity rates. But we need to expand and intensify our efforts. Investing in prevention today will mean a healthier tomorrow for our children."
Obesity-related medical costs accounted for nearly 10 percent of total medical spending in 2006, according to a study published last year in Health Affairs.
Obesity is measured using a calculation based on height and weight known as body mass index (BMI). A BMI of 18 to 24 is considered normal weight, while a BMI of 30 or more is obese.
More information
The U.S. National Library of Medicine has more about obesity.

Copyright © 2012 HealthDay. All rights reserved.