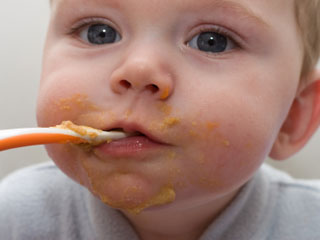 © iStockphoto.com / Christine Tripp

Genes may boost woman's risk of postpartum depression
Pregnant women with specific alterations in two genes may be at increased risk of suffering depression after giving birth, a small new study suggests.

Racial disparities seen in U.S. lung cancer treatment
Racial disparities exist in the treatment of non-small cell lung cancer among hospitals in the United States, according to a large new study.

Favorite music may ease anxiety for patients
Music can help soothe the fear and anxiety of critically ill patients who have been placed on ventilators, reducing both their stress and their need for sedatives, according to a new study.

Revised sunscreen labels should help consumers make wiser choices
Dermatologists are saying that new federally mandated labeling laws for sunscreens should help Americans make smarter choices when it comes to products that provide the best sun protection.

Living near major roadways in pregnancy tied to respiratory woes in children
A child whose mother lived near heavy traffic while pregnant faces a relatively higher risk for developing a respiratory infection before the age of 3, a new study suggests.

Noise, dirty air may be double whammy for the heart
Air pollution and noise pollution both may boost the risk of heart disease, new research from Germany suggests.

Many can blame family for their bunions
If you've got bunions, chances are others in your family suffer from the common foot disorder, with a new study finding the condition is often passed down from parents to children.

ADHD in childhood may raise risk for obesity in adulthood
Boys who are diagnosed with attention deficit-hyperactivity disorder (ADHD) are twice as likely to become obese adults as those who didn't have the disorder when they were young, a new 30-year study shows.

Latest edition of psychiatry's 'bible' launched amid controversy
As the American Psychiatric Association unveils the latest edition of what is considered the "bible" of modern psychiatry this weekend, the uproar over its many changes continues.

Swallowing magnets can be fatal for children
Children who swallow high-powered magnets often need surgery and other invasive procedures to remove the objects, according to a new study.

TUESDAY, Aug. 14 (HealthDay News) -- Babies and toddlers fed a healthy diet may have slightly higher IQs by the time they are 8 years old than children fed less healthy foods at a young age, according to a new study.
Researchers from the University of Adelaide, in Australia, found an early diet rich in junk foods could cost children up to two IQ points.
"Diet supplies the nutrients needed for the development of brain tissues in the first two years of life, and the aim of this study was to look at what impact diet would have on children's IQs," said the study's leader, Lisa Smithers, a public health researcher at the University of Adelaide, in a university news release.
"While the differences in IQ are not huge, this study provides some of the strongest evidence to date that dietary patterns from six to 24 months have a small but significant effect on IQ at eight years of age," said Smithers. "It is important that we consider the longer-term impact of the foods we feed our children."
For the study, recently published online in the European Journal of Epidemiology, the researchers looked at the dietary habits of more than 7,000 children. The children's diets were assessed when they were 6 months, 15 months and 2 years old. The analysis included the home-cooked foods they ate along with ready-made baby foods, breast-feeding and junk foods.
"We found that children who were breast-fed at 6 months and had a healthy diet regularly including foods such as legumes, cheese, fruit and vegetables at 15 and 24 months, had an IQ up to two points higher by age 8," Smithers noted. "Those children who had a diet regularly involving biscuits, chocolate, sweets, soft drinks and chips in the first two years of life had IQs up to two points lower by age 8.
The researchers pointed out that pre-packed baby foods had some negative impact on the children's IQ when given at 6 months of age, but this ready-made food had some benefits on IQ when given to the children when they were 2 years old.
The study concluded healthy foods are critical for children during their formative years.
However, while the study found an association between healthy eating and higher IQ, it did not show a cause-and-effect relationship. Other factors may have influenced the IQ scores as well.
More information
The U.S. National Institutes of Health provides more information on child nutrition.

Copyright © 2012 HealthDay. All rights reserved.