Week 10
Lisa's Plan

There's no single way to lose weight that works for everybody. To come up with the right plan for yourself, start by assessing your personal challenges.

Week 11
Lisa's Tips for Beating the Scale Slowdown

Sometimes you're sticking to your plan and working hard to push towards your goals... and the scale just doesn't reflect results. Here are some tips to help you celebrate your successes no matter what the scale says.

Week 12
Lisa Beats the Buffet!

With a little bit of planning and the right attitude, a buffet or all-you-can-eat dinner doesn't have to derail your healthy eating habits.

Weeks 13 and 14
After a Holiday Weekend -- Getting Your Diet Plan Back on Track

I had the best intentions going into the Memorial Day weekend, but never quite felt like I was hitting my stride and keeping strong. A cookie here... some chips there... too much cheese a little later. I was sure I'd record a gain at my weigh-in -- And I did. Now what?

Week 15
Lisa's Bookshelf: "Hungry Girl" and "Eat This, Not That!"

This week was about re-evaluating, re-focusing, and re-thinking my weight loss plan. I even bought a couple of new diet books to help me along the way! (Click through for a sample recipe from the "Hungry Girl" book.)

Week 16
Sticking to Your Diet... When You Belly Up to the Bar!

If you do any socializing at bars, these tips will help you stick to your diet... even while the drinks are flowing around you.

Week 17
Tips for Choosing a Gym and Getting the Most Out of Your Membership

After spending the last two evenings at the gym, I'm shocked to realize that I have turned into one of those people who go to the gym 3-4 days a week. How did this happen??

Weeks 18 and 19
Factoring in a vacation when you're watching your weight

A vacation is supposed to relax you... but if you're watching your weight, how do you make sure you don't sabotage your efforts as soon as you jet away?

Week 20
When the Diet Panic Strikes

I had a bit of the scale panics this week... And surprisingly lost two pounds and picked up a few good habits.

Week 21
Breakfast Tips to Get Your Day Going

Breakfast is critical to any weight loss effort -- and just good sense in general! Here are some tips for how to get your day started right.

Week 22
Tips for Exercising Safely in the Heat

I realized this week that I can't hide from the heat forever! Here are some important tips to keep in mind as you exercise in the heat.

Week 23
Breaking the Scale Habit

Did Lisa make it a whole week without weighing herself?

Week 24
Why Add Strength Training to Your Fitness Plan?

Now that I'm losing weight, I talked to my trainer about the ways we can, and can't, target specific problem areas with exercise.

Week 25
When a Diet Becomes a Lifestyle Change

My 25th week was a good week. No highs. No lows. No real struggles. Just a good, solid, run-of-the-mill week, ending in an incremental loss. So... what to write about?

Week 26
6 Months In... and 54.5 Pounds Down!

Yesterday was a big day for me - six months to the day since I signed up for Weight Watchers and really started focusing on exercise. So now is a good time to talk about goals, rewards and support.

Week 27
5 Tips for Maintaining Weight Loss

What if, worst case scenario, I don't lose another pound? I feel great. I look better than I did six months ago. I'm making healthy choices. But, how do I make sure that, no matter what, I don't go back to where I was?

Week 28
Recognizing Your Triggers and Avoiding Old Habits

I've been feeling a bit stressed lately - and I'm determined to make sure it doesn't affect my eating habits.

Week 30
Taking a Break and Re-Evaluating Goals

Last week I gave myself a birthday present -- a break from my efforts to watch my food and exercise. I indulged and enjoyed myself and, at the end of the week, I was more than ready to get back to my improved habits and focus again on my goals.

Week 31
Shopping While You Shrink

If I buy clothes that fit me now, they'll be too big in a month. If I buy clothes that are too small, I'll have nothing to wear now. What to do? Here are some suggestions.

Week 33
A Picture is Worth... 60 or 100 or 150 Pounds!

Nothing helps motivate during weight loss like before and after photos!

Week 35
An Old Dress Gives New Motivation

Any slowing down of your weight loss can be frustrating, but I had an experience this weekend that made me feel so good that I don't really care that I haven't lost anything new as long as I'm maintaining at this low (for now!) point.

Week 36
9 Tips for Keeping Your Diet Intact Through the Holidays

This is a scary time of the year - and I don't mean just because of Halloween! After Halloween, there's Thanksgiving... and then all sorts of parties in December for Christmas and Hanukkah... and then New Year's. So, how to get through?

Weeks 37 & 38
Exercising while you're traveling for the holidays

Since I'll be staying with friends and family during the holidays and won't have access to a gym like I'm used to, I asked one of my personal trainers to give me some tips for exercising effectively without special equipment.

Week 39
Snack tips to help you get through the day

Snacking doesn't have to derail your dieting efforts. In fact, if you do it right, snacking is an important part of a successful weight loss program. Click through for suggestions on how to get from meal to meal with the help of tasty and healthy snacks.

Week 41
What to do when you hit a plateau

Plateaus are a normal part of weight loss. And while they're seemingly unavoidable and sometimes feel insurmountable, we can get through them!

Week 43
Sticking to your healthy habits through the holiday season

When I first emailed Laura and Danny to ask them for their tips for staying focused through the holiday season, they both responded with a version of "eat now and worry about it later!" But then, after a guilty laugh, they came through with more specific help.

Week 44
Dressing to fit the new you

This may sound like the most obvious observation in the world, but it bears notice: Wearing clothes that actually fit will make you look thinner!

Week 46
Getting past your biggest weight gain

A weight gain after the holiday season wasn't totally unexpected though it was dissapointing. It did, however, bring into focus an important lesson about the right way to get back on track.

Week 47
The good, the bad and the ugly -- a peek inside Lisa's food diary

I'm not any kind of expert and I certainly can't promise that anyone who was to follow my meal plan would necessarily lose weight, but I thought it might be interesting to see and might also give you some ideas regarding your own plans.

Week 48
Beyond the calories -- why we eat is as important as what we eat

One of the things we need to keep in mind as we struggle with weight loss efforts is that if it were simply a matter of discipline and burning more calories than we eat, so many fewer people would be overweight.

Week 49
A little time in the kitchen after grocery shopping makes dieting easier

Spending a little time thinking about and preparing food for the week makes daily decisions easier and ensures that snacks are healthy and cost effective.

Week 50
70 pounds down! What made this time different?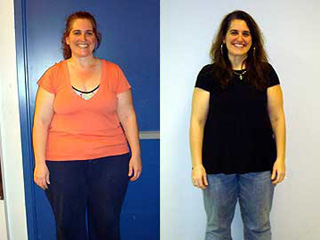 What a difference 43 weeks makes!


Looking back at the flat line in my weight tracker for the past 2 months, I'm pleasantly surprised by my success in sticking to my program and not giving up. After countless tries, this is absolutely the longest time I've ever stuck to a weight loss program: 50 weeks!

Week 51
Like Boy Scouts, dieters have to be prepared

I'm definitely a big snacker. I probably eat something every 2-3 hours every day so if I don't plan and count, it's very easy to overeat without even realizing it. My main work strategy is to keep a fully stocked snack drawer so I have good choices within reach.

Week 52
One year down: sticking to a diet for the long haul

I've now been at this a full year -- and I've never stuck to a weight loss program for this long. At the risk of sounding repetitive, I'm going to talk about the two things that I think have made this attempt to lose weight different from the countless other attempts I've made throughout my life: making a lifestyle change and seeking out support.

Week 53
It's only fitting: A new outfit for a new outlook

When your comfort zone isn't changing as quickly as your weight, something as simple as choosing an outfit for the gym can make you stop and think.

Week 54
Lisa tries it for a week: Amy's Diet Plan

As I try to change things up in my weight loss program and also try to keep things interesting in this blog, I thought I might spend some time periodically reviewing different meal plans or food delivery programs. Here is my first experiment!

Week 55
Money saving tips for your diet

One of the things I'm grappling with is how to lose weight on a budget. It's easy to ignore mounting bills and waning bank accounts when you rationalize that you can't put a cost on being healthy. But they are ways to make a healthy lifestyle more cost effective.

Week 56
When dieting becomes a group effort

When I started writing this, I was disappointed in myself. But now that I've thought about my friends and talked to them about their progress, I'm inspired and ready to get back in gear. If I can do this, anybody can do this. We can all do this.

Week 60
Bring a bit of home along on vacation to stick to your diet plan

I've written about sticking to a diet on vacation before, but I'm going to do it again - because I had a markedly different experience this time and learned some new strategies.

Week 61
Easy portion-controlled snack ideas

This week has been all about new snack ideas for me. And it's because of one simple purchase.

Week 62
Recovering from a diet challenge is a mind game

This week was probably one of the hardest I've had in respect to eating since starting my healthier lifestyle - and the fact that I feel like I've "beaten" it means it's also one of my best.

Week 63
Differences between a diet and a lifestyle change

Almost every time I've posted a weight gain for a week, it's been followed by a loss, and often a significant one. What's it mean? I can't really take much away except "Stick to it!"

Week 64
Spring makes dieting easier

The changing weather can be a mixed blessing when it comes to weight loss. On the one hand, the prospect of shorts and bathing suits can cause stress and panic - but on the other, fresh fruits and vegetables are bountiful and exercise always seems more fun when it's outside!

Week 65
Sometimes you have to focus on the little things in your diet

Usually I'm all about the big picture and lifestyle changes and putting things in perspective. But right now that is sort of overwhelming me and I think I need to actually just focus on some very simple things that will make me feel in control again.

Week 66
Enjoying a holiday weekend without derailing your diet

A holiday weekend can be a challenge when you're watching what you eat. Here are some tips on getting through a barbecue with your plan unscathed.

Week 67
The first step to weight loss – putting yourself first

I realized this week that the biggest difference making my weight loss effort successful right now is my mindset - I decided last February that losing weight was the most important thing in my life.

Week 68
When the dieting gets tough, go back to basics

It's hard sometimes to stick to something for the long haul and not get a little sloppy and unfocused. I want to get back into my official gung-ho mindset and power through to my 100-pound milestone!

Week 70
Remembering you can't control everything helps you control what you can

As I work toward making permanent changes and try to focus on the big picture, I try to take setbacks for what they are -- temporary limitations.

Week 71
Lessons learned from an overeating binge

This was a good week, even though it started with one of the biggest eating binges I've had in a very long time. I don't even really remember what set me off. But I do remember a few important things.

Week 72
Busting through a weight loss plateau

I think plateaus are probably among the most frustrating obstacles for dieters. You feel like you're doing everything right and trying your hardest and the scale just won't budge.

Week 75
The scale isn't your only measure of success

Even though I wasn't writing the past few weeks, I was thinking a lot about my weight loss journey over the past 18 months and how my life has changed since I started.

Week 77
Losing weight can be a mind game

This is a treacherous part of my weight loss journey -- when I get close to a goal and the work become about more than just calories-in and calories-out.

Week 78
Joining a gym can be a crucial part of your weight loss program

I'm still struggling with sticking to my program right now. But I did lose weight this week! I think the big difference is that no matter what I'm doing as far as eating, I've been consistently very good about sticking to my gym regimen. Here are some tips for finding and going to a gym.

Week 79
How important is that last 1.5 pounds?

I've never want to get so caught up in the numbers on the scale and trying to reach certain goals that I sacrifice to the point that I'm resentful, so there was no good reason to change my behavior drastically just to make a goal this week.

Week 81
Staying motivated when weight loss progress isn't as obvious

I've been trying to lose weight for a lot of reasons - for better health, for comfort and, admittedly, for how I look. And suddenly it felt like I had been working so hard and making so many sacrifices for so little return.

Week 82
What's next after losing 100 pounds?

I spent so much time (18 months!) focused on this 100-pounds-by-my-40th goal that I didn't really spend a lot of time considering the next step.

Week 83
Abandoning a diet plan – and then picking it up again

I gave myself a week to indulge -- and my week to get back on track starts now.

Week 84
When hitting a goal is the worst thing to happen to your weight loss

In a weird way, hitting my birthday goal was the worst thing to happen to my weight loss plan.

Week 85
Getting through a rough patch in your weight loss

I didn't want to write this week. And once I decided to go ahead and write, I didn't want to report my weight gain. And then I decided it was okay to admit it... everybody has rough patches... even me.

Week 86
Turning the tide after a weight gain

Getting back on track this week was all about setting new goals. I realized that I don't do well with "negative goals": ie, "I don't want to gain this week." I really need forward moving goals, such as "I want to lose 10 pounds by October 31st " or "I want to lose 25 pounds by the end of the year."

Week 87
Learning to deal with deviations from the diet routine

I really need to work on keeping focused on my goals and remembering that my body doesn't know when there is a special event or other excuse to eat something extravagant - it only knows calories-in and calories-out.

Week 88
5 tips for smart snacking on a diet
As I tried to get back on track this week, one thing it helped to focus on was smart snacking.

Week 89
Struggling with moderation in your diet
I'm trying something a little different this week -- setting goals in moderation instead of perfection.

Week 90
Learning moderation is (almost) harder than dieting!
Last week I set some goals in moderation instead of perfection. This week I'm taking a look at how I did.

Week 91
Is it a plateau or is it maintenance?
As far as I'm concerned, the difference between a plateau and maintenance is all mental. To me, a plateau is frustrating and feels a little like a failure, while maintenance is its own kind of struggle, but ultimately is a success.