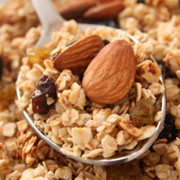 © iStockphoto.com/Marcelo Wain


Ingredients:
3 cups oats, uncooked
¾ cup honey
4 T melted butter
1 ½ tsp vanilla
1 cup chopped almonds
½ cup wheat germ
½ cup sesame seeds
1 cup dried cranberries
½ cup dried apricots, chopped
½ cup golden raisins
Bake oats on cookie sheet at 350° for 15 minutes, stirring every 5 minutes. Combine honey, butter and vanilla in a large bowl. Add oats, nuts, wheat germ, and sesame seeds, stirring to coat.
Return the mixture to a cookie sheet and bake at 350° for 15-20 minutes, stirring every 5 minutes. Remove from oven when mixture is golden brown. Cool completely.
Transfer baked mixture to large bowl and mix in fruit. Serve.